White Lake, North Carolina, USA
Lake Locations:
USA - South - North Carolina - Coast -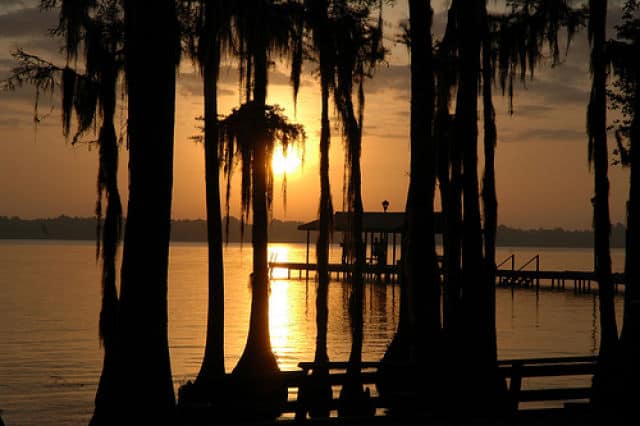 A rare treasure in the North Carolina Coast region, White Lake invites visitors to its sandy shores. One of only a few intact 'Carolina Bay' lakes, White Lake's exceedingly clear waters allow observers to see the white sand bottom in nearly all areas. Its waters are prized for swimming, boating, personal watercraft and fishing. The lake is shallow* with wide expanses of sandy bottom for safe child swimming. With no boating restrictions, the 1,065-acre surface offers an excellent expanse of water for water skiing, sailing, wakeboarding, sail-boarding and tubing. White Lake itself belongs to the North Carolina State Parks system, but the entire shoreline is in private hands. Luckily, a number of those private lands are campgrounds, lakefront resorts, and a marina with a pay launch dock and parking. Although the Town of White Lake has only 500 permanent residents, the wide variety of resort and recreational opportunities welcome 400 times that number to the lake annually.
Located 50 miles northwest of Wilmington in the Cape Fear River Basin, White Lake is one of the geologically-unique Carolina Bay lakes: a series of inland lakes along the Atlantic Coast from New Jersey to Florida. All oriented in a northwest-to-southeast direction, the lakes are primarily oval in shape and don't exceed ten feet in depth. Geologists aren't sure what caused these lakes to be created, and many have either been drained for additional farmland or eventually became bogs or marshes. Local legend describes these lakes as formed by long-burning peat bogs that left a depression, but that does not explain all of them, nor the existence of those that show little evidence of peat deposits such as White Lake.
While Lake is unique even within these Bay lakes as having neither an inlet nor an outlet. The water comes primarily from an underground aquifer via springs. The lake has few nutrients so few aquatic plants grow along the bottom, keeping the water clean and clear. Because of this lack of weed cover, fishermen often overlook the lake and consider it a poorly-producing fishery. However, the lake has some whopper yellow perch, a fish that seldom thrives in muddy southern lakes. Largemouth bass exceeding eight pounds are sometimes caught here, although they are not plentiful. Bluegills grow to a nice size. It's a great lake for taking children fishing, because they can often see the fish nibbling at their hooks, keeping them excited and interested.
The community that has grown up around White Lake is focused commercially on entertaining lake visitors desiring a resort-style experience. A seven-mile drive encircles the lake, along with a full-featured water park, an amusement park, numerous motels and resort cabin complexes, and several campgrounds. Streets near the shoreline feature arcades, restaurants, and small galleries and shops catering to the visiting specialty shopper. Most of the resort cabin complexes and campgrounds offer their own swimming beaches and often rent boats and small watercraft. Several housing developments along the shore offer private housing and condos increasingly popular as seasonal homes.
As with any good resort community, White Lake produces a number of activities designed to keep both residents and visitors occupied. The White Lake Water Festival, held in May, includes a beauty pageant, parade, music, food, and crafts. Classes in wakeboarding and 'wake-skating' are offered at the marina. White Lake Triathlon attracts over 400 athletes yearly to compete in swimming, biking and running. The annual Cardboard Boat race is one of the high points of hilarity each year as the spectators get into the act trying to swamp the elaborately-constructed cardboard boats with buckets of water. Fun at the lake is the by-line of the informal White Lake community, and they certainly know how to make lots of it.
Resort visitors spending a week or more at White Lake can expect to find other off-water activities in the surrounding area. Elizabethtown is only eight miles to the west on the Cape Fear River. The US Army Corps Lock and Dam #2 is a respected fishing spot for shad. Tory Hole Park in Elizabethtown is the site of a Revolutionary War battle. Picnic areas, a playground, a fitness trail, and an amphitheater are part of the park. Less than 15 miles to the northwest, the Harmony Hall Plantation provides a museum complex filled with buildings of historical significance; the main house predates the Revolutionary War. Nearby Jones Lake State Park allows for hiking trails, camping, and examination of two Carolina Bay lakes in their natural state, surrounded by the sweet bay, loblolly bay and red bay shrubs that give the lakes their name.
About 50 miles southeast along the Cape Fear River, the old city of Wilmington greets visitors with a wealth of museums, historic sites and several excellent Atlantic beaches. Revolutionary and Civil War battles were fought here, and the USS North Carolina reminds visitors of the battles fought in the South Pacific during WWII. Self-guided walking tours of the battleship are available during scheduled hours, while the Carolina Living History Guild produces historical exhibits commemorating yet another battleship, the CSS North Carolina form the Civil War period. The Cape Fear Museum has ongoing and special exhibits detailing historical items and events from the region's rich history. The Children's Museum of Wilmington is a must-see for families traveling with children, while the North Carolina Aquarium at Fort Fisher will delight young and old alike. Wilmington holds a full complement of restaurants, nightlife and cultural venues. The Cape Fear Passport website will help visitors select those that meet their interests.
With plenty of lodgings available, White Lake can offer the best of a southeastern North Carolina vacation. White Lake forms the perfect home-base for both local and regional side-trips. Lazy days on the boat or historical excursions spanning the history of North Carolina are available within an hour's drive. The best of North Carolina can be experienced from either your resort cabin or seasonal summer home at White Lake. Real estate is available, sometimes directly on White Lake. Other properties can be found in the surrounding area. So bring the boat and the water toys and settle down at White Lake for a week or two-or maybe more.
*Depth not recorded, but most Carolina Bay lakes are six to ten feet in depth.
Things to do at White Lake NC
Vacation Rentals
Fishing
Boating
Sailing
Swimming
Beach
Water Skiing
Wakeboarding
Tubing
Camping
Campground
Picnicking
Cabin Rentals
Hiking
Biking
State Park
Museum
Playground
Amusement Park
Fish species found at White Lake NC
Bass
Black Bass
Bluegill
Largemouth Bass
Perch
Shad
Yellow Perch
---
White Lake NC Photo Gallery
White Lake NC Statistics & Helpful Links
At LakeLubbers.com, we strive to keep our information as accurate and up-to-date as possible, but if you've found something in this article that needs updating, we'd certainly love to hear from you!
Please let us know about it on our Content Correction form.
Spread the word! Share our White Lake NC article with your fellow Lake Lubbers!