Bay Tree Lakes, North Carolina, USA
Lake Locations:
USA - South - North Carolina - Piedmont -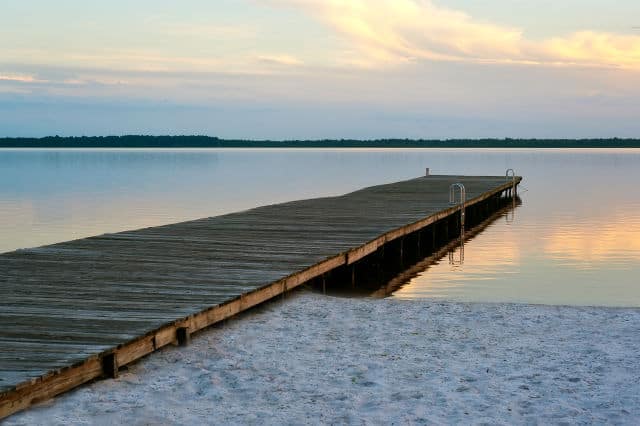 Canals reminiscent of Venice weave through the private community of Bay Tree Lakes in the Piedmont region of North Carolina. The manmade canals connect Bay Tree Lake with Horsepen Lake and ensure that almost every home in the community has direct water access. With the amenities of a luxury gated community and the recreation opportunities of over 1,792 acres of water, the Bay Tree Lakes are a unique Carolina Bays getaway.
The community of Bay Tree Lakes centers around the "bay" lakes, Horsepen Lake and Bay Tree Lake. Scientists aren't sure what caused the formation of the Carolina Bays; perhaps meteors or icebergs were responsible. Not all of them are filled with water, but they are all almost perfect sand-lined, oval depressions. The bays are a distinctive feature of the Cape Fear area, and the highest predominance of them can be found in Bladen County, North Carolina. Regardless of the cause, 1,418-acre Bay Tree Lake and 310-acres Horsepen Lake are beautiful examples of the Carolina Bays.
With the exception of rainwater, the lakes have no main surface inflow and in 1970, developers closed Bay Tree Lake's outlet. In 1972, the same developers created a series of canals connecting the lakes and providing backyard access to the water from most lots. The canals are 90 to 120 feet wide with a depth of 20 feet and provide over four miles of interconnected waterways that are navigable for boats. The elevation of the canals is two feet higher than the lakes, so a boat lift provides direct access to Bay Tree and Horsepen Lakes. The lakes have more than enough water for boating, kayaking, canoeing, water skiing, jet skiing, tubing and fishing.
Bay Tree Lake and Horsepen Lake, along with all other North Carolina bay lakes over 50 acres, are considered state parks. There is a public access ramp, and anglers can exect to find largemouth bass, smallmouth bass and yellow perch in the lakes. Bay Tree Lake was originally known as Black Lake because of the tannin that stained its water. Developers lowered water levels and tried to remove the tannin, but it eventually returned. As a result, Bay Tree Lake is slightly more alkaline than most bay lakes and is more fertile with better fishing.
Bay Tree Lakes is a gated community with both year round and seasonal residents. There is real estate available for sale including waterfront lots and lakefront vacation rentals. The community has a cabana with tennis and basketball courts, and walking trails provide the perfect place to relax at the end of the day. A beach club and sand beach allows residents and guests access to the water for swimming and sunbathing, and there is a pier for fishing.
Bay Tree Lakes are located in Bladen County, about 45 minutes from Wilmington and an hour and a half from Raleigh. Elizabethtown is a few miles from the lakes. Established in 1773, it is one of the oldest towns in the state, and visitors will enjoy strolling through the historic downtown, shopping in the quaint stores and lunching in one of the town's restaurants.
Bladen County is also home to the Bladen Lakes State Forest. Covering 32,700 acres, the forest includes areas for hunting as well as designated archery areas. Equestrian trails along with hiking trails and campgrounds can all be found in the state forest, a short drive from Bay Tree Lakes. The Singletary Lake State Park is surrounded by the state forest. Named for Richard Singletary who received a land grant in 1729, the park is 649 acres with a 572-acre natural bay lake. The state park was officially created in 1954. It is ideally suited for group camping, wildlife viewing and recreation.
Truly unique, the Carolina Bays are a striking feature of the Cape Fear area, and Horsepen Lake and Bay Tree Lake are beautiful examples of the sandy-bottomed freshwater lakes. Add the amenities and security of a gated community all with waterfront access, and the Bay Tree Lakes community becomes a spectacular destination for a year round residence or seasonal getaway.
Things to do at Bay Tree Lakes
Vacation Rentals
Fishing
Boating
Swimming
Beach
Canoeing
Kayaking
Jet Skiing
Water Skiing
Tubing
Tennis
Camping
Campground
Hiking
Horseback Riding
Hunting
Wildlife Viewing
State Park
State Forest
Shopping
Fish species found at Bay Tree Lakes
Bass
Black Bass
Largemouth Bass
Perch
Smallmouth Bass
Yellow Perch
---
Bay Tree Lakes Photo Gallery
Bay Tree Lakes Statistics & Helpful Links
Spread the word! Share our Bay Tree Lakes article with your fellow Lake Lubbers!