Lake Mattamuskeet, North Carolina, USA
Lake Locations:
USA - South - North Carolina - Coast -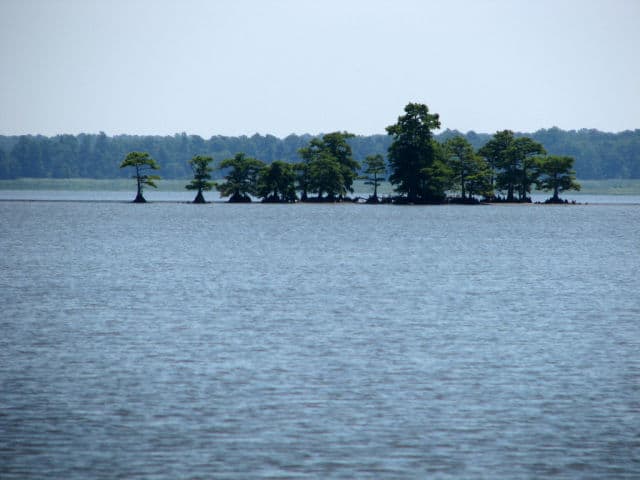 40,000-acre Lake Mattamuskeet is located in North Carolina's Coastal tourism region. Although the lake averages only 2-3 feet deep, it is one of the most beautiful lakes in Hyde County, west of the Outer Banks. Dating back to 1585, Lake Mattamuskeet was visited by 60 explorers from Sir Walter Raleigh's Roanoke Island expedition. Today Lake Mattamuskeet is known as an outdoor destination offering fishing, hunting, boating, wildlife viewing, kayaking/canoeing, bird watching, and hiking.
Named for the Native American word meaning "near marsh or bog", Lake Mattamuskeet is the largest natural lake in the state. The lake is a wetlands that fills with rainwater and natural runoff from the surrounding land. There are no underground springs or headwaters feeding the lake, which has sections that are three to five feet below sea level.
Lake Mattamuskeet makes up most of Mattamuskeet National Wildlife Refuge, a 50,000 acre refuge made up of marshes, woods, and water. Established in 1934, the refuge was created as a migratory bird home where more than 800 species of wildlife and birds can be found. In the winter months expect to see Tundra swans, Canada geese, snow geese, pintails, black ducks, ospreys, bald eagles, and mallards.
According to Native American legend, the lake was formed when a peat fire burned for 13 moons leaving an indention in the earth that eventually filled with water. Due to the shallowness of the lake, the idea of draining the lake and creating farm land has been thrown around for centuries dating back to the 1700's. The creation of the Mattamuskeet Drainage District drained and reclaimed the lake three times in 1916, 1920, and 1926. The Mattamuskeet Foundation was established in 1995 to preserve the history of the lake and to ensure its viability in the future.
Anglers should expect to catch largemouth bass, striped bass, carp, catfish, bream, and blue crab from March 1 through November 1. Fish for bass, catfish, and bream in the canals and along the lake shore and use bows for bow fishing for carp. Public boat access is found on Wildlife Drive, beside the USFWS Headquarters, on Lake Landing Road, and off Turnpike Road and U.S. 264. When fishing by boat, remember that much of the lake is very shallow with depths often less than three feet.
For off-the-water activities, head to the Mattamuskeet National Wildlife Refuge or to Fairfield, Engelhard, Ocracoke, or Ponzer. Each of the small towns offers lodging, dining, and shopping along with some of the best biking roads in the area. There is limited real estate and vacation rentals on the lake since most of Lake Mattamuskeet is located in the refuge.
If you are looking for a serene, beautiful lake close to the Outer Banks, head to Lake Mattamuskeet and the quiet of the National Wildlife Refuge. The winter months are ideal for bird watching and the summer offers a great water experience of fishing and kayaking. This unique and special lake has a lot to offer to those who wish for the laid-back life of lake living.
Things to do at Lake Mattamuskeet
Vacation Rentals
Fishing
Boating
Canoeing
Kayaking
Hiking
Biking
Hunting
Wildlife Viewing
Birding
National Wildlife Refuge
Shopping
Fish species found at Lake Mattamuskeet
Bass
Black Bass
Carp
Catfish
Largemouth Bass
Striped Bass
---
Lake Mattamuskeet Photo Gallery
Lake Mattamuskeet Statistics & Helpful Links
Spread the word! Share our Lake Mattamuskeet article with your fellow Lake Lubbers!