West Branch Lake, Ohio, USA
Lake Locations:
USA - Midwest - Ohio - Northeast -
Also known as:  Michael J. Kirwan Reservoir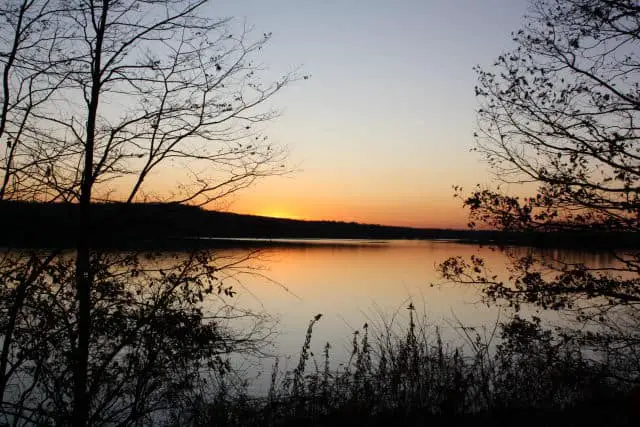 West Branch Lake is set in Northeast Ohio's glaciated land, where large boulders of ice left marshy wetlands in their recession thousands of years ago. The fresh and luscious plains are settled by Portage County's fertile farmlands, where delicate fruit of blueberries, raspberries and strawberries cover acres of moist green. West Branch Lake, also known by its more official name, the Michael J. Kirwan Reservoir, is a diverse and bountiful resource that offers visitors thousands of acres of fun, adventure and rejuvenation.
One of 16 flood control projects in the US Army Corps of Engineers' Pittsburgh District, Michael J. Kirwan Reservoir alleviates flooding for the Mahoning River Valley and the Beaver and upper Ohio Rivers. Impounded on the West Branch of the Mahoning River, the reservoir has the capacity to store excess precipitation and also to release water downstream when the weather becomes too dry. Completed in 1965, West Branch Lake does more than just provide flood control. It also acts as a water supply, an excellent recreation area and a fish and wildlife management resource.
By 1966, the West Branch State Park was opened on the 2,665-acre reservoir, leased by the Corps to the Ohio Department of Natural Resources. Together, the lake and surrounding land encompass 6,332 acres. The park helps to guide visitors in their usage of West Branch Lake's pristine waters and surrounding meadows and woodlands. It offers diverse camping facilities along with restrooms, water facilities, showers, toilets and other convenient amenities. A volleyball court and playgrounds, picnic areas and a sandy beach offer further options for outdoor recreation.
West Branch Lake has no limit on horsepower. Small and large crafts, sailboats and canoes, fishing boats and cruisers glide, skip and float up and down the lake's 10-mile length or in and out of rocky coves. (Be sure to find out about the lake's no-wake zones.) The lake has contours that create ranges from warm and shallow to deep and cool and supports some great angling opportunities for trophy-size fish.
Anglers will delight at the strong and acrobatic muskies that have made a reputation for themselves on the lake. Walleye and striped bass can also be found in trophy sizes; and largemouth bass, smallmouth bass and bluegill all thrive in abundance. Northeast Ohio has mild summers and sunny, colourful falls perfect for the temperate personality. Winter, however, brings biting temperatures below freezing, heavy snowfall and the excitement of ice fishing. After checking with the State or Corps Park Office for ice conditions, venture onto West Branch Lake's frozen surface for some walleye and panfish.
The bike trails at West Branch State Park boast a five-star rating and will excite any seasoned cyclist. Trails meander throughout the park, in and out of ravines, over rocks, and through a gorge. Less difficult trails for beginner cyclists offer a more leisurely pace. The dam's two-mile access road provides an expansive view of the lake. Non-accessible to vehicles, it is another "trail" for bikers and for those on foot. Hiking, snowmobile, cross-country skiing and bridle trails are also plentiful around West Branch Lake.
In hunting season, waterfowl and deer are common hunting targets around West Branch Lake. Hunters may use only shotguns and primitive weapons, and target shooting is prohibited.
Another attraction to complement your visit is the host of summer programs offered by the State and Corps. At West Branch Lake's Visitor Information Center, naturalists, park rangers, and adventurers intrigue visitors with engaging presentations about the natural, cultural and historical significance of both the reservoir and its environment. Take a walk with a naturalist during a full moon and learn things you never knew about the moon or listen to the fascinating recounts of adventurers' nature travels; learn about the unique animals and plants that have made the reservoir their home.
If your hunger for adventure leads you outside of the West Branch area, you are not far from Cleveland and the Lake Erie coast. Since you are so close, that would be a worthwhile trip, but with so many miles of such pristine beauty, a vacation at West Branch Lake will provide more than enough recreation and relaxation.
Things to do at West Branch Lake
Fishing
Ice Fishing
Boating
Sailing
Swimming
Beach
Canoeing
Camping
Picnicking
Hiking
Cross-Country Skiing
Snowmobiling
Hunting
Wildlife Viewing
State Park
Playground
Fish species found at West Branch Lake
Bass
Black Bass
Bluegill
Largemouth Bass
Perch
Smallmouth Bass
Striped Bass
Sunfish
Walleye
---
West Branch Lake Photo Gallery
West Branch Lake Statistics & Helpful Links
Spread the word! Share our West Branch Lake article with your fellow Lake Lubbers!