Tappan Lake, Ohio, USA
Lake Locations:
USA - Midwest - Ohio - Northeast -
Also known as:  Tappan Reservoir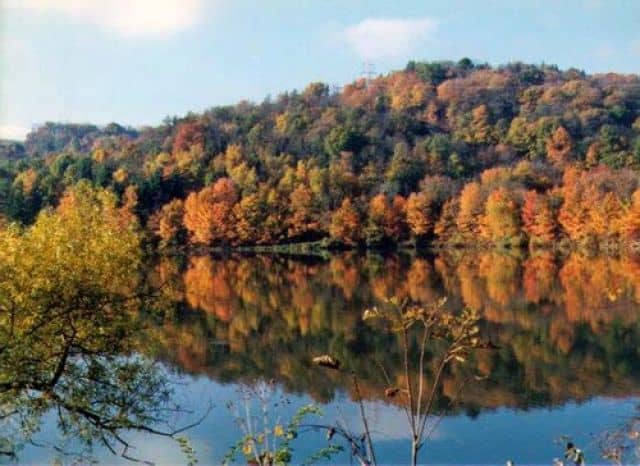 Tappan Lake is a 2,350-acre reservoir in Northeast Ohio, one of a series of lakes managed by the Muskingum Watershed Conservancy District. The U.S. Army Corps of Engineers created the lake in 1936 with construction of a dam across the Little Stillwater Creek. Tappan Lake controlled flooding along the Muskingum River as part of the Ohio-Mississippi Flood Control Program. There are ten permanent dams with lakes draining to the Muskingum River and four 'dry dams' which impound water only during periods of high water. The Muskingum Watershed Conservancy District manages activities in the lake easement areas- land controlled along the shoreline to allow for flood-stage storage. Two additional dams have since been built but are not under MWCD management. Tappan Lake has become a favorite recreation destination since its creation.
In addition fo 2,350 acres of water, another 5,000 acres of land along the 47-mile shoreline offer many activities for the public to enjoy. A series of causeway bridges carry US 250 traffic along the northern shore and over several arms of the reservoir. Part of the area along the northern shore is developed with lake view homes; however, the homeowners do not own to the water's edge. A lucky few can lease dock space from the MWCD. There is plenty of space for the general public to access the lake for all types of recreation. Two public launch sites, including one at the marina, offer boaters access to the water. A 399 horsepower limit exists on the lake, and no-wake areas and rules must be followed. Water skiing, tubing, sailing, wake-boarding, sail-boarding and power boating are all enjoyed. The shallow arms of the reservoir are particularly popular for canoeing and kayaking. A swimming beach is available at Tappan Lake Park along with a concession stand, picnic grounds, and playground. A hiking trail leads to Tappan Wetlands, a designated Watchable Wildlife Area.
Tappan Lake Park also offers over 500 camping spaces, many with full hook-ups. Both rustic camping cabins and 'vacation' cabins are also available and even have WiFi. A laundry, nature center, and an activity center all assure that there will be few cases of boredom among young visitors. Seasonal rental of campsites is so popular that a lottery is held to award space. The well-known Buckeye Trail System has its headquarters at Tappan Lake. From the lake serious hikers can access hundreds of miles of 'blue-blazed' trails encircling the entire state. Hunting in season is permitted in certain areas of the MWCD management area, both near Tappan Lake and within the nearly 55,000 acres of land under their control in the area.
Tappan Lake is a popular fishery. Channel catfish, crappie, largemouth bass, saugeye, smallmouth bass, sunfish and white bass are all caught. The Ohio Division of Wildlife regulates both fishing and hunting on MWCD lands and requires appropriate licenses be held and all regulations followed. Tappan Lake is especially popular for shore fishing as it contains more accessible shoreline than most reservoirs in the area. Its many arms offer excellent spawning habitat for many of the fish species, and casting from a boat in toward shore is usually productive. The marina rents boats including small pontoon rafts and sells bait, along with providing a restaurant and both overnight and seasonal docking. The marina arranges the rental of vacation cabins and hosts tournaments and seasonal events at the lake.
The towns of Uhrichville and Cadiz are less than ten miles in either direction. Both offer grocery stores, restaurants, and other shopping. A water park near Uhrichville will please the youngsters, while Cadiz holds a special treat for movie fans: Clark Gable's birthplace and museum. The Clark Gable Birth Home, Museum and Store is a reconstruction of the original building where the movie idol was born in an upstairs room. Both the home and the bed-and-breakfast next door are decorated in period furnishings and hold Gable memorabilia. Gable didn't grow up here: after his birth in the boarding house, his mother died seven months later and he moved with his father to a town not far away. That town, Hopedale, has nothing to commemorate Gable so the Cadiz Museum is a combined effort.
If these diversions are too tame, the City of Wheeling, WV is only 50 miles away and offers a ton of history and entertainment. This often-overlooked historic gem was the first capital of West Virginia and played an important role in the development of the young nation. A number of historical buildings still remain downtown. The Wheeling Artisan Center is being developed in former industrial space in the downtown area and already offers a variety of arts and crafts shops open for visitors' shopping pleasure. Those wishing a little nightlife to add to their vacation should check out the entertainment venues in Wheeling. Both the Oglebay Institute and the Wheeling Symphony offer fine arts performances on a regular basis. The area in and around Wheeling also offers a variety of lodgings for those whose tolerance for camping has been exhausted.
Along with the camping and vacation cabin choices at Tappan Lake, visitors can often find private rentals near the shoreline. Other lodgings in the way of guest cottages, small motels, and bed-and breakfasts are found nearby. Conventional hotel rooms are found in the larger cities. Real estate is usually available near the lakefront, often with contractual rights to dock space on the lake itself. So if an Ohio vacation beckons, make the trip to Tappan Lake.
Things to do at Tappan Lake
Vacation Rentals
Fishing
Boating
Sailing
Swimming
Beach
Canoeing
Kayaking
Water Skiing
Tubing
Camping
Picnicking
Cabin Rentals
Hiking
Hunting
Wildlife Viewing
Museum
Playground
Shopping
Fish species found at Tappan Lake
Bass
Black Bass
Catfish
Channel Catfish
Crappie
Largemouth Bass
Saugeye Perch
Smallmouth Bass
Sunfish
White Bass
---
Tappan Lake Photo Gallery
Tappan Lake Statistics & Helpful Links
Spread the word! Share our Tappan Lake article with your fellow Lake Lubbers!