Wamplers Lake, Michigan, USA
Welcome to the ultimate guide for history, statistics, local fun facts and the best things to do at Wamplers Lake.
If you're considering Wamplers Lake vacation rentals, we've made it super easy to explore accommodations and nearby hotels using the interactive map below. Simply click on a listing to compare similar properties, best rates and availability for your dates. Or keep scrolling to read our Wamplers Lake guide!
Wamplers Lake visitor and community guide
The favorite destination of many summer visitors, 750-acre Wamplers Lake has delighted countless generations seeking water-based fun. Nestled in the picturesque Irish Hills of southeast Michigan, Wamplers Lake occupies the corner intersections of Jackson, Lenawee and Washtenaw counties. Located beside the old stagecoach road from Detroit to Chicago, adventurous settlers moved into this area of the Michigan Territory by the 1830s and promptly declared Wamplers Lake a good place to settle. Teeming with fish and surrounded by the many green hills reminiscent of Ireland with small lakes lapping at their feet, Wamplers Lake quickly became the perfect summer home of area residents, many of whom were Irish immigrants. But secrets like Wamplers Lake don't keep; soon residents from Toledo and Detroit were building summer cottages at Wamplers Lake.
An all-sports lake, Wamplers Lake is a great spot for boating, wind-surfing, tubing, water skiing, personal watercraft, sailing and pontooning. A marina rents most smaller watercraft and offers launch facilities for private boats. The sandy beach at the state park borders shallow water with a gradual slope ideal for children. A dockside pub offers food and spirits to thirsty boaters and also hosts events throughout the year, such as a cardboard boat race, and holiday events. Cedar Hill State Park was opened on the eastern shore in 1920 as one of the state's first state parks. Later renamed Walter J Hayes State Park, the park is still a sought-after swimming, fishing and camping location. The 650-acre park offers 185 campsites with amenities, playground, hiking trails, sanitation facilities, mini-cabins, children's programs, picnic shelter, two boat launches and a fishing pier. The park also provides access to neighboring Round Lake, a small 66-acre no-wake lake rimmed in wetlands that is a favorite for canoeing and kayaking. Both lakes offer excellent fishing for black crappie, bluegill, largemouth bass, northern pike, pumpkinseed, rock bass, smallmouth bass, walleye and yellow perch. Particularly the pike and perch draw ice fishermen in winter. Ice fishing tournaments are commonly held here, and fishing shanties appear as soon as the ice is safe for travel. The Department of Natural Resources stocks several species as scientifically determined necessary to promote optimum fishing.
Wamplers Lake is primarily spring-fed, but gains some water from neighboring Round Lake to the east. A small water-control structure on the stream to Mud Lake keeps water levels stable. As population numbers grew at surrounding lakes, a navigable channel was dug to Iron Lake to the south. Another channel, this one to Sand Lake, was dug in the 1930s to increase water levels in Sand Lake during a drought but is no longer in evidence. Wamplers Lake is surrounded with a large number of smaller lakes such as Timber Lake only few yards to the west. Most are home to private cottages and have little public access, but public boat ramps are located on Vineyard Lake, Sand Lake, Allen's Lake, Deep Lake and One-Mile Lake. Early in its development Wamplers Lake became home to several children's camps and church retreat camps. The Michigan Girl Scouts maintains a camp for their members on the north side of the lake, and a church-based retreat facility holds a spot near the state park.
During the Big Band era, Wamplers Lake boasted of a dancehall that drew headliners like the Les Brown Band and Louis Armstrong. The Wamplers Lake Pavilion survived long enough to feature the famed Michigan rockers Bob Segar and Ted Nugent before succumbing to the ravages of age and a change in concert venues. Locals still reminisce about the events of the period, including a raid by the local sheriff who confiscated all the beer (apparently there was a licensing problem) except for 10 or so kegs which 'accidentally' rolled into the lake. The Irish Hills area along US 12 featured a large number of tourist attractions well into the 1980s. Most are now gone as tourism tastes changed, but the Twin Observation Towers still stand along the road to the west of Wamplers Lake. Although they are no longer open for climbing, the towers hold a spot on the National Register of Historic Places. Go-cart tracks, water slides, miniature golf, ice cream stands, BBQ stands and any number of antique and curio shops delight the casual browser. Michigan International Speedway is about five miles west of Wamplers Lake and offers, besides NASCAR races, such activities as wine tasting events, car shows and automotive testing events. Michigan State University's Hidden Lake Gardens is less than 10 miles away. The 750-acre botanical garden features a dwarf and rare conifers collection, bonsai collection, conservatory and hosta collection set among miles of forested winding paths. The Gardens are a favorite spot for leisurely walks and photography.
Nearby St. Joseph Shrine overlooks neighboring Iron Lake to the south, The historic stone church was built by Irish immigrants in the 1840s and is both an active parish and a favored overlook above the lake below. The original outdoor Stations of The Cross, built between 1932 and 1936 on the overlook path are a wonderful example of the artistry found in rustic materials. Built in dressed stone, decorative concrete and mosaics, the Stations are in the process of being restored. Some of the Stations feature the particular artistry in decorative concrete that graced many nearby locations at one time and can still be seen on some private properties in the area. Mexican concrete artists sculpted these structures shaped into tree trunks, wood, rope and bark. The Irish Hills once displayed many such structures; most have unfortunately given way to age and deterioration. The best remaining example of this style of concrete art can be seen about 15 miles west on US 12 in the tiny town of Somerset Center. Here, a wealthy oilman imported Mexican artisans and charged them with creating a private oasis on his estate. The two 'trees' that stand guard at the front of the property are also constructed by the same 'el trabeio rustico' method and serve as chimneys for the underground rathskeller (an underground tavern) and garages. William McCourtie donated the 42-acre estate to the village during the Depression. It has since been named a county park. It's well worth a visit with camera in hand. While in Somerset Center, check out the finds at the local antique shops, or head a mile north to one of the area's favorite fruit farms for fresh cider, apples or peaches in season.
Although Wamplers Lake once offered many camps, today updated properties offer rental cabins and cottages with private docks and housekeeping amenities. A new condo development along the north shore boasts lake views from every room and boat slips for each unit. Both a golf course and an RV park are located within a mile of the lake. Bait shops, groceries and supplies of all types can be found nearby in the town of Brooklyn. Other nearby lakes also offer choices of lodgings, from lakefront motels with beaches to individual cabins, private cottages, and bed and breakfasts. Real estate is available in all price ranges. With all of these lodgings available, visitors shouldn't have much trouble locating just the right property for either a short vacation or an entire season. Reservations coinciding with the NASCAR schedule should be made months in advance. Even with all of this going on, Wamplers lake will evoke a touch of nostalgia among those who spent happy summers lakefront on friendly, family lakes. So come, bring the family and allow the kids to create memories of Wamplers Lake that will stay with them for a lifetime.
Custom Wamplers Lake house decor
Read our full review of these personalized lake house signs.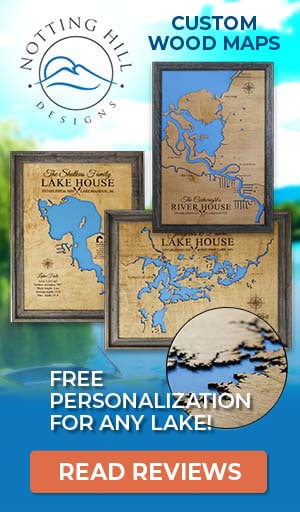 Things to do at Wamplers Lake
Vacation Rentals
Fishing
Fishing Tournaments
Ice Fishing
Boating
Sailing
Swimming
Beach
Canoeing
Kayaking
Water Skiing
Wind Surfing
Tubing
Golf
Camping
Picnicking
Cabin Rentals
Hiking
State Park
Playground
Miniature Golf
Antiquing
NASCAR
Fish species found at Wamplers Lake
Bass
Black Bass
Black Crappie
Bluegill
Crappie
Largemouth Bass
Northern Pike
Perch
Pike
Pumpkinseed
Smallmouth Bass
Sunfish
Walleye
Yellow Perch
---
Best hotels and vacation rentals at Wamplers Lake
The Wamplers Lake map shown above is a simple and stress-free way to search for trip accommodations. But if you want to take a deeper dive to find the ideal waterfront home, cabin, condo, hotel or resort, visit our favorite lodging partners by clicking the buttons below.
Note: These are affiliate links so we may earn a small commission if you book through them. While there is no extra cost to you, it helps provide resources to keep our site running (thank you)! You can read our full disclosure policy here.
---
Wamplers Lake photo gallery
New photos coming soon!
Wamplers Lake statistics & helpful links
We strive to keep the information on LakeLubbers as accurate as possible. However, if you've found something in this article that needs updating, we'd certainly love to hear from you! Please fill out our Content Correction form.
Advertise your Wamplers Lake vacation rental
LakeLubbers will soon offer homeowners and property managers the opportunity to to showcase their vacation rentals to the thousands of lake lovers searching our site daily for accommodations. If you'd like additional details, please contact our advertising team here.
Looking for the Wamplers Lake forum?
LakeLubbers previously offered visitors the ability to create accounts and participate in lake forums. When we overhauled the site's content management system in 2021 we had to disable those features. We're evaluating options and welcome your comments and feedback here.
We also encourage you to join our lake-lovin' community on Facebook and Instagram!
Spread the word! Share our Wamplers Lake article with your fellow Lake Lubbers!