Whitmore Lake, Michigan, USA
Lake Locations:
USA - Midwest - Michigan - Southeast -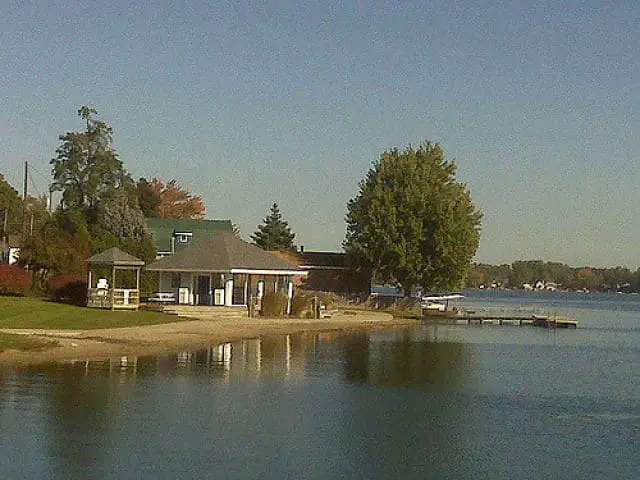 By far the most popular residential lake in the Ann Arbor area is Whitmore Lake. For nearly 100 years this natural lake in the Southeast region of Michigan has been home to seasonal and year-round lakelubbers who enjoy fishing, swimming, boating, waterskiing, tubing, sailing and all types of water sports. Spring-fed, the lake has no natural inlets and no permanent outlets, but a small water control weir helps maintain the lake level at the legally required 895.8 feet. In order to augment the water levels during dry periods, a channel was dug in the past from nearby Horseshoe Lake, and water is now pumped into the lake from that same source.
Whitmore Lake holds year-round homes along nearly all of the shoreline. The lake has no public beaches or parks and only one Department of Natural Resources (DNR) boat tamp to provide access to non-residents; a State Recreation Passport is required to launch. A commercial marina also offers space for launching private boats, along with slip rental and docking space. Boat rentals are also offered, including row boats, fishing boats and pontoons. Whitmore Lake is one of the most popular lakes near Ann Arbor and Howell to water-ski, so the lake is often quite busy. There are a number of 'neighborhoods' located around the 667-acre lake, along with a few condo complexes and the small unincorporated town of Whitmore Lake located along the southwestern shore.
Homeowners at Whitmore Lake have all the enjoyments of a close neighborhood of friends and all of the amenities of small town living, while missing nothing in the way of exciting nightlife, eclectic artisan shops and exotic cuisine in Ann Arbor less than ten miles to the southeast. Ann Arbor also offers all of the cultural and sports attractions of a major university at the University of Michigan. Upscale shopping in Howell and Brighton is less than 10 miles to the north. Detroit Metro Airport is about 30 miles away.
Fishing at Whitmore Lake is popular with a good variety of sport fish. Bluegill, largemouth bass, northern pike, smallmouth bass, pumpkinseed, black crappie, redear sunfish and yellow perch are all caught, with a smattering of tiger muskie. Michigan DNR has monitored the fishery for over 60 years and experimented with a number of stocking programs. The tiger muskie have been stocked regularly since 1969 but have never become very prevalent in Whitmore Lake, nor have northern pike. Some speculate that the large amount of boat traffic on the lake doesn't allow some of the largest predators to thrive. The bass seem to do fine, however, as do the panfish. Some naturalists speculate that the highly developed shoreline leaves little spawning area for the pike, but that drawback doesn't prevent large numbers of anglers from enjoying a day on the water.
Resorts and guest accommodations were once common on Whitmore Lake. The resort hotels of old are long gone, but some homeowners rent their homes or guest cottages to short-term visitors. There is a large chain hotel in the town of Whitmore Lake and others along US 23, the nearby highway. Several well-known state recreation spots are nearby, including Pinckney Recreation Area, Brighton Recreation Area, Island Lake State Recreation Area and several Metroparks. Along with these opportunities for outdoor recreation, a number of small motels, guest resorts and campgrounds provide lodgings, often on a small lake. Just southwest of the town of Whitmore Lake, Independence Lake County Park has a public swimming beach, a spray park, picnic areas, a boat launch for boats under 10 horsepower and rentals of paddleboats and rowboats. Trails for nature observation meander through wetlands, woods and prairies, offering space for biking and rollerblading and in winter, cross-country skiing and snowshoeing.
The town of Whitmore Lake offers several annual activities and events that are appreciated by residents and visitors alike. Free 'Movies Under the Stars' are offered on the lakefront near the library in summer, and the Fourth of July celebration lasts an entire weekend, with boat parades, fireworks, races and ski show produced by the Whitmore Lake Water Ski Club. Whitmore Lake Harvest Festival occurs in late September. Besides the regular festivals and arts events in Ann Arbor such as the well-known Ann Arbor Art Fair, more unusual events happen year round. The Orphan Car Show occurs each year in Ypsilanti at the Automotive Heritage Museum & National Hudson Motor Car Company Museum. The show features autos from the long-extinct companies such as the Hudson and is likely the only glimpse of these legendary vehicles the aficionado will get. Brighton Recreation Area holds annual Hovercraft Races while the City of Brighton presents the Smokin' Jazz & Barbecue Blues Festival. There is never a shortage of activities to enjoy in the area.
Whitmore Lake was named after Leon Whitmore who, oddly, never lived at the lake. He and a local surveyor from Ann Arbor Township were out 'land-looking' in the area and stopped to camp overnight near the lake. In the morning, the surveyor exercised that prerogative of all early surveyors and listed the lake as Whitmore Lake on his map. The name stuck. Now, everyone in the area knows of Whitmore Lake and likely knows someone who lives there. Real estate is often available and in a wide range of prices. Very little vacant land can be found for building, but there are existing homes in every type of configuration waiting for a buyer. Because commuting to some of the most prosperous cities in Michigan is within a short distance, Whitmore Lake is a most desirable address and a great place to come home to. So, come and visit, then come to stay. Make Whitmore Lake your favorite lake home.
Things to do at Whitmore Lake
Vacation Rentals
Fishing
Boating
Sailing
Swimming
Beach
Water Skiing
Tubing
Campground
Picnicking
Hiking
Biking
Cross-Country Skiing
Snowshoeing
Museum
Shopping
Fish species found at Whitmore Lake
Bass
Black Bass
Black Crappie
Bluegill
Crappie
Largemouth Bass
Muskellunge
Northern Pike
Perch
Pike
Pumpkinseed
Redear Sunfish (Shellcracker)
Smallmouth Bass
Sunfish
Tiger Muskellunge
Yellow Perch
---
Whitmore Lake Photo Gallery
Whitmore Lake Statistics & Helpful Links
Spread the word! Share our Whitmore Lake article with your fellow Lake Lubbers!