Walnut Lake, Michigan, USA
Also known as:  Black Walnut Lake
Welcome to the ultimate guide for history, statistics, local fun facts and the best things to do at Walnut Lake.
If you're considering Walnut Lake vacation rentals, we've made it super easy to explore accommodations and nearby hotels using the interactive map below. Simply click on a listing to compare similar properties, best rates and availability for your dates. Or keep scrolling to read our Walnut Lake guide!
Walnut Lake visitor and community guide
Walnut Lake is a suburban secret. Sometimes, the best lakes are found in the most unexpected places. Walnut Lake, in the Southeast Region of Michigan is one of them. Located in busy Oakland County just outside of Pontiac, private Walnut Lake is surrounded by fine homes. Nearly enclosed by upscale Herndon's Walnut Lake Estates, the lake is encircled by spectacular homes with extraordinary views. A part of West Bloomfield Township, the Walnut Lake area has been the desirable address of middle management and executives for nearly 50 years. Here, both frontage and canal owners and back lot inhabitants gain access to private club houses, swimming beaches and boat slips. Walnut Lake is the ideal spot to raise a family close to both work and play.
The area around Walnut Lake (originally called Black Walnut Lake) was the home of Native Americans when the French constructed fortifications at Detroit 25 miles to the southeast. Relationships between the tribes and the French were for the most part friendly, but degraded after the British took over the territory. Oakland County, with over 320 lakes, would have been prime hunting territory and likely considered worth defending by the local tribes. Warriors led by the great Chief Pontiac were unsuccessful in dislodging the British from the area and many reports say Chief Pontiac, forced from the area by the British, later died near either St Louis or Peoria, IL. Local legend has always held that Pontiac returned, died in the area and is buried on an island in nearby Orchard Lake. The city of Pontiac was named for him, as was the famed General Motors brand of cars.
Once the area was considered safe for settlement, farming began on the fertile plains between the lakes and wetlands. A village was formed at the site of the future Pontiac and by 1837, business was thriving. Electric train lines ran from Detroit to Pontiac, making transportation to the future Oakland County feasible. Few records of the time discuss Walnut Lake but scholar Thomas Leroy Hankinson published a biological study of the lake in 1908 for the Michigan State Normal College – later to become Michigan State University. In the study, Mr Hankinson makes note of the fact that the area around the lakeshore was quite marshy and that few had made their homes there. Mr Hankinson also notes that local residents stated there was no natural outlet from the lake until a short canal was dug along a shallow valley to connect the lake to Franklin Creek, a tributary stream of the Rogue River. Locals stated that the completed ditch lowered lake levels by several feet. Even in 1908, the report remarks that the water is exceptionally clear and the marl/sand perimeter made for a solid bottom for several hundred feet from shore until the lake bottom dropped off more steeply.
Recent reports from West Bloomfield Township show that Walnut Lake may now be giving shelter to zebra mussels – an invasive species that causes eventual degradation of lake quality due to voracious consumption of the plankton needed by small fish to survive. In the short run, however, zebra mussels actually improve water clarity. The township will be working with the State DNR to remove these tiny crustaceans from the lake before they can do any damage. The lake is still exceptionally clear and clean. Although the State has not published any mapping of the lake or any fish census, nearby Orchard Lake of similar depth and water quality supports an excellent population of game fish, including northern pike, bluegill, crappie, rock bass, perch,walleye, largemouth bass and smallmouth bass. There is every reason to believe Walnut Lake is an equally good fishery. As usual, those intending to eat caught fish should check with State fish consumption guidelines. Ice skating and ice fishing can be enjoyed here in the winter months.
Walnut Lake is an all-sports lake, with water skiing, tubing, pontooning, power boating, kayaking and canoeing all enjoyed. Swimming is popular at the small community beach areas, most of which contain a clubhouse, playgrounds and picnic areas. Golf courses, groceries, shopping, banks and schools are all located within a two-mile radius of the lake, although there are no commercial enterprises on the lake itself. Schools in the area are considered excellent. High-end shopping is locate just a few miles away in Bloomfield Hills, Farmington, Auburn Hills and West Bloomfield. The Township of West Bloomfield maintains several public parks and the 162-acre West Bloomfield Woods Nature Preserve only a mile west of the lake. A local Ski and Snowboarding club gives skiing lessons and arranges club skiing events. There is even one of southeast Michigan's largest ski areas less than 15 miles from Walnut Lake. The West Bloomfield Trail, a 'rails to trails project', meanders for over 4 miles through West Bloomfield, Orchard Lake, Keego Harbor and Sylvan Lake. With interpretive sites along the route the Trail is a favorite for cross-country skiing, hiking and mountain biking.
Few vacation rentals are to be found along Walnut Lake itself, but month-to-month leases often can be found in the area. Nearby lakes have more vacation lodging possibilities: bed-and breakfasts, hotels and vacation resort cottages are available. Real estate is usually available around Walnut Lake. Although there is little space for new development, exiting homes are can be found, some with lakefront and personal beach. If you've ever wanted to enjoy exclusive lakefront living, now is the time to check out Walnut Lake.
Custom Walnut Lake house decor
Read our full review of these personalized lake house signs.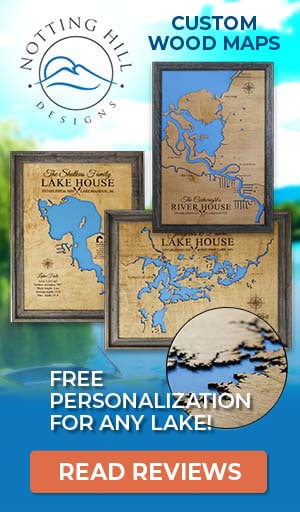 Things to do at Walnut Lake
Vacation Rentals
Fishing
Ice Fishing
Boating
Swimming
Beach
Canoeing
Kayaking
Water Skiing
Tubing
Golf
Picnicking
Hiking
Ice Skating
Biking
Snowboarding
Cross-Country Skiing
Hunting
Playground
Shopping
Fish species found at Walnut Lake
Bass
Black Bass
Bluegill
Crappie
Largemouth Bass
Northern Pike
Perch
Pike
Smallmouth Bass
Sunfish
Walleye
---
Best hotels and vacation rentals at Walnut Lake
The Walnut Lake map shown above is a simple and stress-free way to search for trip accommodations. But if you want to take a deeper dive to find the ideal waterfront home, cabin, condo, hotel or resort, visit our favorite lodging partners by clicking the buttons below.
Note: These are affiliate links so we may earn a small commission if you book through them. While there is no extra cost to you, it helps provide resources to keep our site running (thank you)! You can read our full disclosure policy here.
---
Walnut Lake photo gallery
New photos coming soon!
Walnut Lake statistics & helpful links
We strive to keep the information on LakeLubbers as accurate as possible. However, if you've found something in this article that needs updating, we'd certainly love to hear from you! Please fill out our Content Correction form.
Advertise your Walnut Lake vacation rental
LakeLubbers will soon offer homeowners and property managers the opportunity to to showcase their vacation rentals to the thousands of lake lovers searching our site daily for accommodations. If you'd like additional details, please contact our advertising team here.
Looking for the Walnut Lake forum?
LakeLubbers previously offered visitors the ability to create accounts and participate in lake forums. When we overhauled the site's content management system in 2021 we had to disable those features. We're evaluating options and welcome your comments and feedback here.
We also encourage you to join our lake-lovin' community on Facebook and Instagram!
Spread the word! Share our Walnut Lake article with your fellow Lake Lubbers!