Sand Lake, Michigan, USA
Lake Locations:
USA - Midwest - Michigan - Southeast -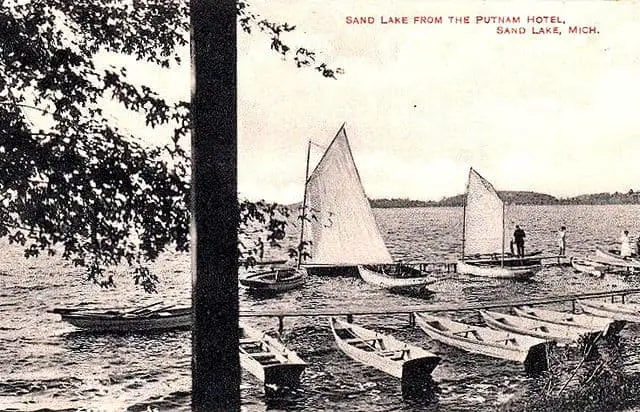 Set like a precious gem in the heart of southeast Michigan's Irish Hills, 440-acre Sand Lake has attracted people to its shores since before Michigan became a state. Starting about 1840, when Irish immigrants escaping the Potato Famine traveled the old stagecoach road from Detroit to Chicago, they were struck by the towering green hills and glacial pothole lakes that reminded them so much of Ireland. Many newcomers stayed, which is why Irish surnames are common in the area. Sand Lake is one of many small lakes in the area known as a resort haven.
The entire 4-mile shoreline of Sand Lake is dotted with cottages and year-round homes. The only public access is a basic boat launch site on the southeast corner of the lake. In years past when train service brought numerous summer visitors, the lake boasted a couple of resort hotels. The heyday of resort hotels passed with the proliferation of the private automobile, and people began to build cottages where they could spend summer weeks enjoying the water. The lake is spring-fed and clear with a primarily sandy bottom, making it suitable for swimming, fishing and water sports. Water skiing, wake-boarding, tubing, pontooning and jet skiing are popular. Canoes and kayaks skirt the shallow shoreline. Many cottage owners drive from Detroit, Toledo or even as far as Cleveland on a regular basis to spend the weekend at the lake. Currently the Sand Lake Property Owners Association keeps track of water quality and encourages visitors and residents to use the lake responsibly.
Fishing is always popular at Sand Lake. The waters hold bluebill, crappie, largemouth bass, rock bass, smallmouth bass, walleye, northern pike and yellow perch. In winter, ice fishing takes over, with the lake's surface dotted with numerous ice shanties and bundled-up fishermen hunched on bucket seats over a small hole in the ice. If the fish aren't biting at Sand Lake, anglers can head to one of the many other lakes nearby to try their luck. Many arrive by snowmobile and can travel between lakes in relative comfort. Nearby Wampler's Lake and Devils Lake hold regular ice fishing tournaments with the Wampler's Lake tourney offering some of North America's biggest cash prizes; anglers practice their techniques in anticipation of the big prize.
Before the resort hotels, entrepreneurial residents began renting boats to travelers in the late 1800s. Soon, some were renting out sleeping rooms to the fishermen. The Sand Lake Yacht Club was formed in the 1880s, meeting at members' cottages and holding regular regattas on the lake. Today, sailboat races are a common occurrence on weekends. As new generations of cottage owners have arrived, they often know little of the area's past but find evidence all around them if they look. The entire Irish Hills area was a resort and recreational destination from early in the 20th century. Many of these earlier residents left a lasting mark on the Irish Hills. Just to the west on US 12, Saint Joseph Church and Shrine was originally built by Irish Catholics as a missionary church. The lovely stone church has since been enlarged and the outdoor Way of The Cross added with examples of the work of Hispanic stone and cement masons decorating the Stations. The old cemetery overlooking Iron Lake dates to the 1850s.
Examples of these same cement artists are found throughout the Irish Hills area. Completed primarily during the 1920s and 1930s, the cement sculptures depict trees, vines and other woodland features. The concrete works are found on some private properties along with a striking number of them at McCourtie Park farther west in Somerset. Here, the sculptors created bridges over a brook made of concrete 'logs', tree trunks and various decorative objects on what was then the private property of a wealthy landowner. The property had a Prohibition-era 'Rathskeller' (basement bar/restaurant) built out of sight beneath a hill on the property. The location is now a county park open to the public and popular with photographers for wedding and graduation portraits. Other past roadside attractions have nearly all been closed but were extremely popular into the 1960s. The historic twin Observation Towers are still standing east of Sand Lake on US 12, but they suffer from neglect and efforts to find funding to save them have yet to bear fruit.
In addition to water recreation on Sand Lake, the Irish Hills area is ideal for outdoor activity. A number of walking and biking trails nearby keep fitness fans happy. Michigan State University's Hidden Lake Gardens are less than 10 miles away and offer both the 755-acre woods and specimen plantings and a conservatory with towering tropical and desert plants. There are seven golf courses located in the Irish Hills, along with one of NASCAR's most popular race tracks: Michigan International Speedway. The racing venue is often host to concerts, car shows and special events on non-race weekends. The area holds many private campgrounds, and public camping is available at Walter J Hayes State Park at Wampler's Lake. The bustling Village of Brooklyn is less than 10 miles away and serves as host to Irish Hills residents. Brooklyn holds all necessary services, several restaurants, a hotel and many small and unique shops.
Sand Lake still holds a few private housekeeping cottages that are rented by the day or week. Many include a boat or canoe and advice on the best eating and drinking establishments in the area. If there are no cottages available on Sand Lake, the area holds several small motels that cater to lakelubbers. There are also cottage resorts on nearby lakes and many activities geared to weekend visitors. A scenic drive along the curving two-lane US 12 offers a bit of everything except large cities and heavy traffic. Many come to the area for an autumn color tour when the leaves change to reds and golds, or to cross-county ski in mid-winter. There is always something to do and see near Sand Lake.
Things to do at Sand Lake MI
Vacation Rentals
Fishing
Fishing Tournaments
Ice Fishing
Boating
Sailing
Swimming
Canoeing
Kayaking
Jet Skiing
Water Skiing
Tubing
Golf
Camping
Campground
Hiking
Biking
Snowmobiling
Wildlife Viewing
State Park
NASCAR
Fish species found at Sand Lake MI
Bass
Black Bass
Crappie
Largemouth Bass
Northern Pike
Perch
Pike
Smallmouth Bass
Sunfish
Walleye
Yellow Perch
---
Sand Lake MI Photo Gallery
Sand Lake MI Statistics & Helpful Links
We strive to keep the information on LakeLubbers as accurate as possible. However, if you've found something in this article that needs updating, we'd certainly love to hear from you! Please fill out our Content Correction form.
Looking for the Sand Lake MI forum?
For years, we offered LakeLubbers visitors the option to create an account, vote on favorite lakes, edit lake descriptions and participate in forums.
In 2021, we embarked on a major site overhaul with a new content database system. While the result is a modern and faster site which is now optimized for both desktop and mobile users, it also meant we had to put account options on hold and take some time to reevaluate ways to interact with our visitors. 
We hope you'll stick around and see what's new here, and of course, we still welcome your comments and feedback regarding anything on LakeLubbers! You can do that here.
Spread the word! Share our Sand Lake MI article with your fellow Lake Lubbers!