Waldo Lake, Oregon, USA
Lake Locations:
USA - West - Oregon - Central -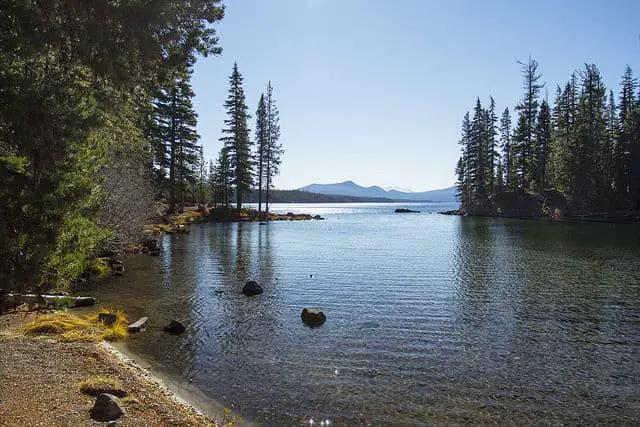 Waldo Lake is the second deepest natural lake in Oregon, sporting an impressive 420-feet deep pool of beautiful clear water with visibility exceeding 100 feet. Located on the western slopes of the Oregon Cascades, Waldo Lake's 6,300 acres are nestled against the Waldo Lake Wilderness Area between the cities of Bend and Eugene. The rocky wilderness slopes of Douglas fir, mountain hemlock, and Pacific silver fir reflect upon the lake's surface. Waldo Lake is the headwaters of the North Fork of the Willamette River, designated a National Wild and Scenic River.
For fishing enthusiasts, Waldo Lake is home to many trout and salmon. The best time and place to catch these beauties is near the shore early in the morning and late at night from June until late in October. The Oregon Department of Fish and Wildlife stocked Waldo Lake with rainbow trout, brook trout, kokanee salmon, and cutthroat trout between 1912 to 1990. Due to concerns about the negative impact of stocking on water quality, ODFW has not stocked the lake since 1990. All watercraft must use electric motors.
Located near the lake are three campgrounds, North Waldo, Islet, and Shadow Bay with about 200 developed sites complete with toilets, potable water, and boat ramps. Visitors must display a Northwest Forest Pass to use the lake's three boat ramps. For those who wish to trek among its 84 miles of trails, the lake itself offers a trail loop round trip of about 22 miles, along with trails leading to the Wahanna Lake and Six Lakes trails. A great scenic tour is the Pacific Crest National Scenic Trail which goes through the wilderness to the east.
In its toddling years the Waldo Lake Wilderness was home to many Native Americans who hunted deer and elk and feasted on edible plants, such as their favorite huckleberry. It was once believed that Waldo Lake was discovered by an early Native American pioneer and Molalla Indian by the name of Charlie Tufti. The lake's early name was Pengra Lake after a pioneer railroad enthusiast. Later, the name was changed to Waldo Lake after Judge John Breckenridge Waldo, a conservationist who helped President Grover Cleveland in the creation of the Cascade Range Forest Reserve in 1893.
Another interesting site is the Klovdahl Dam headgate and tunnel structure on Waldo Lake's southwestern shore. In 1905 the U.S. Forest Service granted permission to a private enterprise to harness the lake's water for irrigation and hydropower. Although financial and logistical difficulties led to the project's demise in 1914, the Klovdahl Dam and Tunnel have since been designated a Natural Historic Place. The water level of Waldo Lake would have lowered about 25 feet if the entrepreneurs had been successful in manipulating the lake's water levels. The U.S. Forest Service assumed jurisdiction over Waldo Lake in 1934.
The pure water of Waldo Lake has much to offer visitors passing through the beautiful green and lush mountains, waterfalls, and trails of the Pacific Northwest. Rich in history and recreational value, Waldo Lake is one lake that visitors to Oregon will not want to pass up as the sun showers its light on 420 feet of nature's beautiful mirrored view.
Things to do at Waldo Lake
Vacation Rentals
Fishing
Boating
Camping
Campground
Hiking
Waterfall
Wildlife Viewing
Fish species found at Waldo Lake
Brook Trout
Cutthroat Trout
Kokanee Salmon
Rainbow Trout
Salmon
Trout
---
Waldo Lake Statistics & Helpful Links
Spread the word! Share our Waldo Lake article with your fellow Lake Lubbers!