Upper Klamath Lake, Oregon, USA
Lake Locations:
USA - West - Oregon - Southern -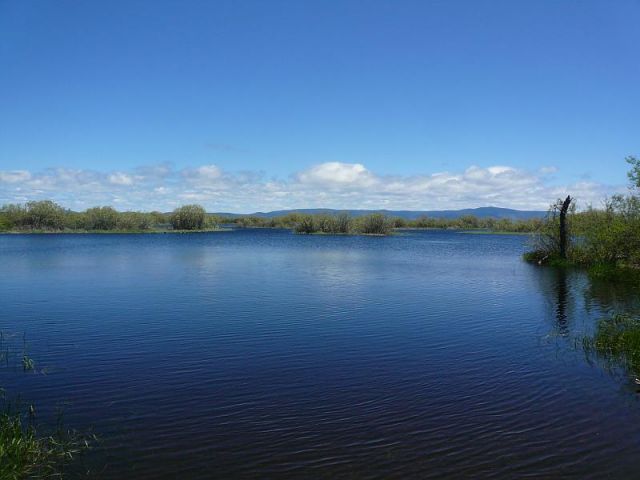 Stretching for an impressive 30 miles, Upper Klamath Lake is the largest freshwater lake in the State of Oregon. Nestled in the Klamath Basin, it is surrounded by the dramatic mountain landscapes and forested hills of the state's Southern tourism region. Upper Klamath Lake features an average depth of 14 feet and a surface area of 61,544 acres. The Link River Dam controls water flow between the reservoir and the Klamath River. This reinforced, concrete dam is 22 feet tall with a capacity of 873,000 acre-feet of water.
Upper Klamath National Wildlife Refuge has been protecting the marshes and waters of Klamath Lake since 1928. Birdwatching is a breeze in these parts, as waterfowl, American white pelicans, herons, bald eagles, and ospreys are plentiful. The best times for viewing such delicate creatures is during the fall and spring, when 1-2 million birds migrate overhead via the Pacific Flyway. Sadly, the Klamath wetlands have been reduced by 80% over the years, and these precious birds are rapidly losing their habitat.
Upper Klamath Lake's miles of remote canals are ideal for kayaking and canoeing excursions. The Upper Klamath Canoe Trail provides 9.5 miles of fun. Four different segments take paddlers through marsh, hillsides, and woodlands: Recreation Creek, Crystal Creek, Wocus Cut, and Malone Springs. The reservoir's strong (albeit at times, unpredictable) winds create perfect conditions for kite surfing, wind surfing, and sailing. Other diversions include swimming, boating, skiing, mountain biking and even skateboarding at one of the nation's biggest skate parks.
Anglers enjoy fishing for redband trout, yellow perch, and rainbow trout; catches at Upper Klamath Lake frequently weigh over ten pounds. The best times of year for fishing are June and September. Hiking is spectacular in and around the lake, particularly along the Klamath Basin Birding Trail (KBBT). The trek passes through 47 hot spots where enthusiasts are likely to observe over 350 species of bird. General wildlife watching at Upper Klamath is nothing short of phenomenal, and hikers can count on viewing mammals like muskrats, river otters, and beavers.
Exciting day trips from Upper Klamath Lake include visits to the Rogue River, Fremont, and Winema National Forests, as well as to Crater Lake National Park. Crater Lake is a picturesque body of water known as one of the bluest lakes on the planet. It is also the deepest lake in the United States, and the seventh deepest in the entire world – bottoming out at an unbelievable 1,943 feet. Just south of Upper Klamath Lake lies the community of Klamath Falls. Originally called "Linkville" at its incorporation, residents changed the name to Klamath Falls in 1892. The town features two college campuses, an international airport, and a number of shopping centers.
Throughout recent years, Upper Klamath Lake has had its fair share of environmental troubles. Scientists believe that before the turn of the 20th centry, the lake was naturally eutrophic (meaning that it contained high levels of nutrients). This resulted in great biodiversity. By the 1930s the lake began suffering from blue-green algae blooms, a sign that it had reached a hypereutrophic level – a state of degraded water quality. To this day, seasonal algae blooms still affect the lake.
Upper Klamath Lake was figuratively "put on the map" when it made headlines back in 2001. A drought had plagued the area, threatening to render extinct the already-endangered sucker fish. Irrigation waters were withheld from local basin farmers in order to protect the species, an action that sparked heated debates among Klamath farmers and officials. The story was covered by local, state and national media.
Despite the challenges Upper Klamath Lake has faced, it is still rightfully considered one of the most gorgeous lakes in the United States. As such, vacation rentals and real estate are widely available. Be it to bird watch, kayak, shop or skateboard – visitors can't help but fall in love with Oregon's resplendent Upper Klamath Lake.
Things to do at Upper Klamath Lake
Vacation Rentals
Fishing
Boating
Sailing
Swimming
Canoeing
Kayaking
Kite Surfing
Wind Surfing
Hiking
Biking
Wildlife Viewing
Birding
National Wildlife Refuge
National Park
National Forest
Shopping
Fish species found at Upper Klamath Lake
Perch
Rainbow Trout
Sucker
Trout
Yellow Perch
---
Upper Klamath Lake Photo Gallery
Upper Klamath Lake Statistics & Helpful Links
Spread the word! Share our Upper Klamath Lake article with your fellow Lake Lubbers!