Wickiup Reservoir, Oregon, USA
Lake Locations:
USA - West - Oregon - Central -
Also known as:  Wickiup Lake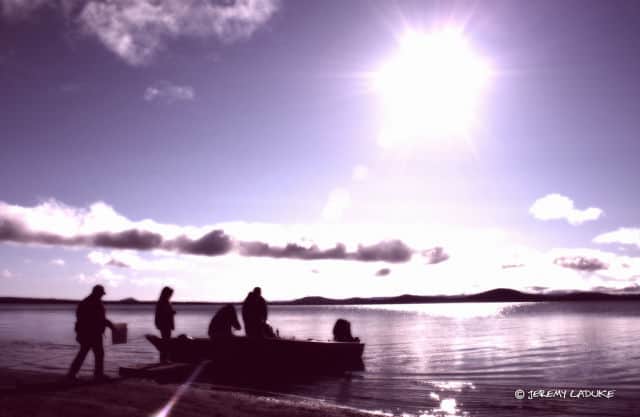 Wickiup Reservoir is an 11,000 acre angler's paradise. Camping areas are plentiful, and boat launching ramps are located at most. The reservoir gets its name from the Native American word for dwelling or shelter, synonymous with wigwam. Native Americans constructed shelters from poles, tree limbs and brush as they moved through the area while fishing and hunting. Wickiup Reservoir is embraced by the nearly pristine Deschutes and Ochoco National Forests – a true outdoor utopia.
Wickiup Reservoir is the largest of the Cascade Lakes which also include Sparks Lake, Todd Lake, Devils Lake, Elk Lake, Hosmer Lake, Lava Lakes, Cultus Lake, Crane Prairie Reservoir, Twin Lakes, Davis Lake, Crescent Lake, and Odell Lake. The 66-mile Cascade Lakes National Scenic Byway, established in 1998, provides spectacular lake and mountain views while winding through volcanic landscapes. Visitors are treated with views of Mount Bachelor, Broken Top, and the Three Sisters.
Wickiup Reservoir is located 60 miles southwest of Bend, Oregon, and was formed by the damming of the Deschutes River. It is the second of the US Bureau of Reclamation's irrigation reservoirs on the Deschutes River. The other reservoirs comprising the Deschutes Project are the Crane Prairie Reservoir and the Haystack Reservoir. The Bureau of Reclamation began construction of the Project in 1939, but construction was not completed until 1949 because of delays during World War II. The lake's average depth is 20 feet with depths to 70 feet in the channels. Irrigation drawdowns in Wickiup Reservoir can cause extreme water level fluctuations, although the drops in water level do not appear to have a negative effect on fish population. The Bureau of Reclamation owns the Deschutes Project, the North Unit Irrigation District operates the Dam, and the US Forest Service administers the lake's recreation.
Wickiup Reservoir provides some of the finest fishing in Central Oregon. Although the reservoir supports large numbers of kokanee, coho, brown trout, rainbow trout, whitefish and chub, Wickiup is most highly touted for its brown trout over 20 pounds – with normal catches in the 5 to 8 pound range. A fishing boat is almost a necessity for effective angling, although early season shore fishing is productive. Brown Trout of trophy size are usually caught in the first two weeks of fishing season, because they are ravenous after spending the winter under ice. A 26 pound brown trout was caught opening day in 1998.
There are six developed campgrounds on Wickiup Reservoir, all with toilets and water. The largest, Gull Point Campground, is the most developed with a paved launch ramp. The seven launching areas are for trailered boats and can be affected by reservoir irrigation drawdowns. When water levels are high, the pine-edged lake is popular for waterskiing, windsurfing, and swimming.
Wickiup Lake is one of the best wildlife viewing areas in Central Oregon with a variety of nesting and migratory birds. Easiest shoreline access is at recreation areas near the dam. Depending on the season, visitors will see many species of loon, grebe, gull, goose, swan, scoter, sandpiper, and birds of prey such as the Peregrine falcon.
So whether you are a water sports enthusiast, avid angler, nature lover, or landscape photographer, Wickiup Reservoir awaits your exploration. And for the geocacher, there are many caches in a five-mile area.
Things to do at Wickiup Reservoir
Vacation Rentals
Fishing
Boating
Swimming
Water Skiing
Camping
Campground
Hunting
Wildlife Viewing
Birding
National Forest
Fish species found at Wickiup Reservoir
Brown Trout
Carp
Kokanee Salmon
Rainbow Trout
Trout
Whitefish
---
Wickiup Reservoir Photo Gallery
Wickiup Reservoir Statistics & Helpful Links
We strive to keep the information on LakeLubbers as accurate as possible. However, if you've found something in this article that needs updating, we'd certainly love to hear from you! Please fill out our Content Correction form.
Looking for the Wickiup Reservoir forum?
For years, we offered LakeLubbers visitors the option to create an account, vote on favorite lakes, edit lake descriptions and participate in forums.
In 2021, we embarked on a major site overhaul with a new content database system. While the result is a modern and faster site which is now optimized for both desktop and mobile users, it also meant we had to put account options on hold and take some time to reevaluate ways to interact with our visitors. 
We hope you'll stick around and see what's new here, and of course, we still welcome your comments and feedback regarding anything on LakeLubbers! You can do that here.
Spread the word! Share our Wickiup Reservoir article with your fellow Lake Lubbers!