Vancouver Lake, Washington, USA
Welcome to the ultimate guide for history, statistics, local fun facts and the best things to do at Vancouver Lake.
If you're considering Vancouver Lake vacation rentals, we've made it super easy to explore accommodations and nearby hotels using the interactive map below. Simply click on a listing to compare similar properties, best rates and availability for your dates. Or keep scrolling to read our Vancouver Lake guide!
Vancouver Lake visitor and community guide
Lying serenely in the Southwest Region of Washington state, Vancouver Lake provides a quiet respite from the cities of Vancouver, Washington and its neighbor Portland, Oregon. This 2300-acre lake has been here since long before the City of Vancouver developed along its eastern shoreline. Vancouver Lake is one of several shallow natural lakes along the Columbia River and was likely created by periodic flooding at the end of the last glacial era. The Lewis and Clark Expedition spoke of the lake and the Native American village along its shores in their 1806 notes on their journey across the continent, calling it 'the Pond'.
Vancouver Lake was originally connected hydrologically to the Columbia River through Mulligan Slough on the south end, but the building of dikes and embankments closed that connection over a hundred years ago. Several of these shallow lakes have been drained to provide farmland, but Vancouver Lake was spared that fate by public outcry. Located less than a mile east of the Columbia River, Vancouver Lake serves as a nature observatory and recreational destination just outside the city. Extensive wetlands along the shore protected the lake from early development, and most of the shoreline is in public hands with the eastern shore owned by a railroad line. Vancouver Lake is now the place to go for an afternoon of sailing, rowing, paddling, swimming or picnicking.
The City of Vancouver maintains a 234-acre park along the western shoreline of Vancouver Lake, with 35 acres developed for picnicking, windsurfing, and sand volleyball. Swimming is allowed inside a roped-off area of the lake next to a sandy beach. Vancouver Lake Regional park is a favorite among visitors who appreciate a spectacular view: the well-known peaks of Mount Hood, Mount Adams and Mount St. Helens can all be seen from here on a clear day. In fact, five volcanoes can be seen from Vancouver Lake, as Mount Rainier and Mount Jefferson can also be seen from some vantage points.
Vancouver Lake receives many migratory waterfowl, so bird lovers make the park and its trails a regular stop for completing their 'life lists'. One trail connects Vancouver Lake Regional Park to Frenchman's Bar Park on the Columbia River. Another trail system under construction will parallel Buckmire Slough and connect to a county-owned open space along Lake River. The new trail will offer views of the extensive lake lowlands and forested bottom lands with their wealth of wildlife. A second expansion of this new trail will create a loop through the nearby Shillapoo Wildlife Area and provide connections to Frenchman's Bar Park, Burnt Bridge Creek Greenway Trail and the Salmon Creek Greenway Trail. A second unit of the Shillapoo Wildlife Area abuts the southern shore of Vancouver Lake just south of the Vancouver Lake Regional Park. With 477 acres, this unit holds a wealth of wildlife and sees many visitors from the Vancouver area.
Vancouver Lake is very popular with sailing and rowing clubs. The Vancouver Lake Sailing Club has maintained a facility on the lake since the 1960s. The lake is the site of regular races and regattas for smaller sailing craft. Several rowing crews use the lake for practice. The Vancouver Lake Crew offers services to youth and disabled adults, teaching rowing skills, adaptive techniques and water safety. Their high school-age team is extremely popular and highly competitive.
Canoeing and kayaking are popular pastimes at Vancouver Lake, as the water is usually quite placid along much of the shoreline. Vancouver Lake is generally limited to smaller boats due to shallow spots. A channel was dredged along the east and west shorelines several years ago to improve water flow, and this channel remains the most consistently deep area in the lake. The tailings from the dredging were used to create an island near the north shore. Lake River to the north is a water skiing and windsurfing hotspot. Because nearly the entire shoreline is wooded and left in its natural state, it is easy to believe one is the only paddler on the vast expanse of water most early mornings.
Vancouver Lake holds a number of fish species, although the fishing has never been considered especially good. There are some good-sized largemouth bass in the lake, along with brown bullhead, channel catfish, white crappie, black crappie, bluegill, pumpkinseed, yellow perch, goldfish, common carp, northern pike minnow, American shad, mosquito fish, large-scale sucker, and sculpin. Most of these are small due to the lack of vegetation and protective fish habitat on the lake's shallow bottom. Those that are most numerous are not species prized by anglers. Both carp and bullheads abound in the lake, with the carp actually being commercially fished occasionally to serve ethnic populations on special holidays. Historically, sturgeon have been caught in Vancouver Lake, likely entering through the single outlet to the Colombia River, called Lake River. Washington Dept. of Fish and Wildlife provides a boat dock at their location on the southern shoreline, but the water is ordinarily very shallow, maintaining a depth of about a foot for several hundred feet into the lake. Most boats launch at a private facility at the outlet to Lake River where the water is deeper.
Massive algae blooms were a problem on Vancouver Lake in years past due to the lack of water flow. The main sources of water into the lake were Burnt Bridge Creek and several small inlets along the shore. These water sources did not provide a great deal of water, and the lake level often lowered drastically during dry years, leaving many acres of mudflats. In an effort to improve water quality by increasing flow through Vancouver Lake, a channel controlled by gates was cut from the Columbia River to the lake in 1983. This allows water to flow into the lake from the river and back out to the river again through Lake River, replacing the natural hydrology disrupted by embankments. Called the flushing channel, this canal is maintained and operated by the Port of Vancouver and has helped prevent the algae blooms from recurring. The flushing channel also causes a tidal influence on the lake, with water levels rising with the tide, although only by about a foot. The only outflow, Lake River sometimes become an inflow as high water levels on the Columbia River can cause the flow to reverse bringing water in instead of out.
Various schemes for utilizing the lake have been discussed in the past, including using the lake for the decommissioning of ships from the Port. At other times, the City of Vancouver explored the use of the lake as an overflow pond to mitigate flooding. Luckily for the lovers of Vancouver Lake, none of these plans were considered cost effective and the lake was left undisturbed. This is a real advantage to those home owners lucky enough to own lake view property on the Vancouver side. Many fine homes overlook the lake, although they don't have access to the lakefront directly. Real estate in the area is often available, and highly desirable. There are no rental lodgings available directly along the shoreline, but a number of rental properties can be found near the lake. The cities of Vancouver and Portland both have a wide variety of conventional lodgings available. This makes Vancouver Lake accessible for an afternoon or a day. Besides sailing and rowing, other activities also draw visitors, such as the Vancouver Lake Half-Marathon held here each winter. These scheduled events introduce Vancouver Lake to a new group of prospective lakelubbers each year. Perhaps this year, you will become one of them.
Custom Vancouver Lake house decor
Read our full review of these personalized lake house signs.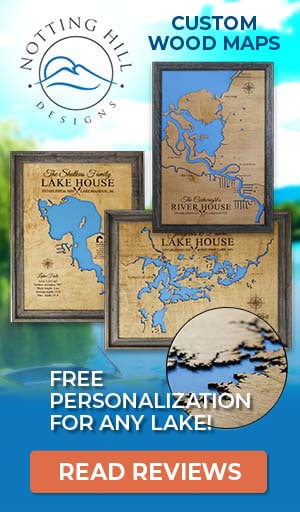 Things to do at Vancouver Lake
Vacation Rentals
Fishing
Boating
Sailing
Swimming
Beach
Canoeing
Kayaking
Water Skiing
Picnicking
Hiking
Wildlife Viewing
Fish species found at Vancouver Lake
Bass
Black Bass
Black Crappie
Bluegill
Brown Bullhead
Carp
Catfish
Channel Catfish
Crappie
Largemouth Bass
Northern Pike
Perch
Pike
Pumpkinseed
Salmon
Sculpin
Shad
Sturgeon
Sucker
Sunfish
White Crappie
Yellow Perch
---
Best hotels and vacation rentals at Vancouver Lake
The Vancouver Lake map shown above is a simple and stress-free way to search for trip accommodations. But if you want to take a deeper dive to find the ideal waterfront home, cabin, condo, hotel or resort, visit our favorite lodging partners by clicking the buttons below.
Note: These are affiliate links so we may earn a small commission if you book through them. While there is no extra cost to you, it helps provide resources to keep our site running (thank you)! You can read our full disclosure policy here.
---
Vancouver Lake photo gallery
New photos coming soon!
Vancouver Lake statistics & helpful links
We strive to keep the information on LakeLubbers as accurate as possible. However, if you've found something in this article that needs updating, we'd certainly love to hear from you! Please fill out our Content Correction form.
Advertise your Vancouver Lake vacation rental
LakeLubbers will soon offer homeowners and property managers the opportunity to to showcase their vacation rentals to the thousands of lake lovers searching our site daily for accommodations. If you'd like additional details, please contact our advertising team here.
Looking for the Vancouver Lake forum?
LakeLubbers previously offered visitors the ability to create accounts and participate in lake forums. When we overhauled the site's content management system in 2021 we had to disable those features. We're evaluating options and welcome your comments and feedback here.
We also encourage you to join our lake-lovin' community on Facebook and Instagram!
Spread the word! Share our Vancouver Lake article with your fellow Lake Lubbers!