Coldwater Lake, Washington, USA
Lake Locations:
USA - West - Washington - Southwest Washington -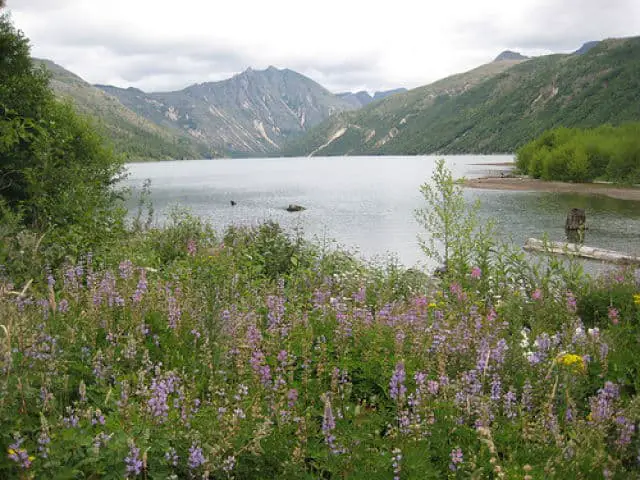 Today Coldwater Lake is a peaceful, scenic 750-acre lake, but the violence of Mount St. Helens created the lake in 1980. On May 18, 1980, a 5.1 magnitude earthquake under Mount St. Helens caused a huge landslide and started an eruption that would forever change the face of the mountain. In 15 minutes a column of ash shot 80,000 feet into the air. It would take four days for all the ash to rain down on the earth covering 11 states. The landslide raced down Mount St. Helens, reaching speeds of 70 to 150 miles an hour. It covered 23 square miles and buried the North Fork Toutle River under tons of ash, mud and debris reaching 600 feet deep in some places. When the dust settled, literally, the peak of Mount St. Helens had dropped about 1,300 feet, and there were two new lakes at its base. Coldwater Lake and its sister, Castle Lake, were created when debris dammed the Coldwater Creek Valley.
Turning lemons into lemonade, two years later Congress established the Mount St. Helens National Volcanic Monument. The monument encompasses 110,000 acres and includes several lakes and recreation areas. The Mount St. Helens Visitor Center at Silver Lake has exhibits to illustrate the volcano's history and a wetland trail explaining the creation of Silver Lake during a previous eruption. Johnston Ridge Observatory is in the heart of the blast zone, and it has an inspiring view of the collapsed crater. Open seasonally, the Coldwater Ridge Visitor Center has a gift shop, restaurant, and exhibits illustrating the forces at work in the area. Mount St. Helens is a popular climbing destination, but it is still an active volcano so extra precaution is necessary before attempting to climb the 8,363-foot peak. Advisories are posted, and a permit is required to climb the volcano.
Coldwater Lake spans parts of Cowlitz and Skamania Counties and is surrounded by the Coldwater Lake Recreation Area which has picnic facilities and a "Birth of the Lake" interpretive trail. A park boat launch provides lake access. Only electric motors are allowed on Coldwater Lake, and there is a creel limit to preserve and strengthen the fishing. After it formed, the lake was stocked with rainbow trout which naturalized and are now reproducing on their own. There are also healthy populations of cutthroat trout. The US Army Corps of Engineers created a bedrock spillway channel to prevent Coldwater Lake from overtopping, but nature has done the rest of the work to heal the lake and its surrounding environment.
The Coldwater Lake Recreation Area is for day use only, but there is camping nearby at Seaquest State Park. The 475-acre park includes a mile of Silver Lake's shoreline. Campers can fish, boat and swim at the campground's beach. There are also trails for hiking and biking. The Mount St. Helens National Volcanic Monument is in the Gifford Pinchot National Forest. Part of the Mt. Rainier Forest Reserve, the 1,312,000-acre forest was created in 1897 and renamed for the conservationist, Gifford Pinchot, in 1949.
Vacation rentals are not available directly on Coldwater Lake. The town of Castle Rock, less than an hour away, provides vacation rentals, boat rentals, restaurants, and other amenities for visitors. Real estate is available for sale for those wishing to make their stay in volcano country more permanent.
History has taught us that nothing is permanent. The earth and water can be reshaped in a matter of hours. But sometimes out of the destruction comes a beautiful, tranquil place like Coldwater Lake.
Things to do at Coldwater Lake WA
Vacation Rentals
Fishing
Boating
Swimming
Beach
Camping
Campground
Picnicking
Hiking
Biking
State Park
National Forest
Fish species found at Coldwater Lake WA
Cutthroat Trout
Rainbow Trout
Trout
---
Coldwater Lake WA Photo Gallery
Coldwater Lake WA Statistics & Helpful Links
Spread the word! Share our Coldwater Lake WA article with your fellow Lake Lubbers!