Fishhawk Lake, Oregon, USA
Lake Locations:
USA - West - Oregon - The Coast -
Also known as:  Fishhawk Lake Estates or Fishhawk Lake Recreation Club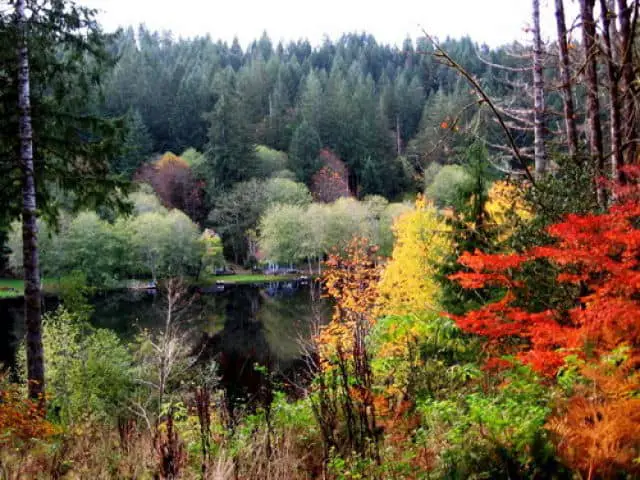 Fishhawk Lake is a rare find in the Oregon Coastal Region. The lake is private, a reservoir developed expressly for pristine lakefront living amid some of Oregon's prettiest scenery. The Fishhawk Reservoir was built in 1967 to serve as the focal point for a residential development near the small towns of Birkenfeld and Mist. When the dam was built across Fishhawk Creek, such developments didn't yet exist in this part of Oregon. In fact, Oregon didn't even have a regulatory structure to accommodate Homeowner Association-type developments. Originally called Fishhawk Lake Estates, the lakefront community became the Fishhawk Lake Recreation Club when it reorganized to meet new state requirements. And living at Fishhawk Lake truly is a recreational dream come true for its approximately 150 households. Fishhawk Lake brings together the best of nature, with myriad walking trails, plentiful wildlife and the lovely small lake providing a fantastic assortment of highly-desirable fish of the kinds fishermen travel many miles to catch.
The small lake, fed by Fishhawk Creek and several springs, is an electric motors only lake. The solitude and unhurried atmosphere is conducive to relaxed lakefront living, canoeing, kayaking, paddle boating, rowboats and small pontoons. Most lakefront residences have their own docks, and many have a family swimming hole. Eagles and fishhawks (ospreys) are regularly sighted, and the shoreline is home to such childhood delights as frogs, turtles, salamanders and minnows. Deer come down to the water's edge to drink, and a variety of waterfowl-some migratory, some residents-can often be seen on the lake's surface. River otter occasionally frolic in the lake, feeding on young cutthroat trout. And, once in awhile, an elk will be sighted near the lake-a rare treat.
It is the fish that engender the most outside interest. The lake holds a few pan fish, mostly introduced, but the real stars are the cutthroat trout, steelhead salmon and coho salmon. The lake is designated 'catch and release' so there are no 'keepers', but the thrill of angling for these wily fish is something many anglers can only dream of. Since there is no public access, and only residents and their guests can launch boats on the lake, the few who find out about the great fishing spend their time trying to wangle an invitation to Fishhawk Lake! Fishhawk Creek is one of the migratory streams for these prized game fish. A 200-foot fish ladder at the dam facilitates their migration inland from the Pacific Ocean to spawn. A spawning program operated by the Oregon Fish and Wildlife Dept. assures a steady supply of coho by restocking the lake every three years with the offspring of its own native fish. Adults preparing to spawn are trapped and transported to the hatchery, where they propagate in captivity, are reared in water from Fishhawk Lake so that they identify it as 'home', then released back into Fishhawk Lake. In this way, they will return to Fishhawk Lake after spending three years in the ocean. During spawning season, these adult fish are so numerous in the local creeks that they form a mass shoulder-to-shoulder, a sight that delights fishermen and naturalists alike.
The creeks may be crowded with migrating salmon, but the lake itself in never crowded. Only 305 lots are plotted on the 300 acres of Fishhawk Lake Recreation Club. Some of those lots belong to the association as a whole, providing access for back lot owners. A clubhouse, playground, picnic area, horseshoe pits, volleyball and tennis courts, swimming beach, two docks and boat launch area are provided for the use of residents. The nearly 3-mile shoreline, although mostly private homes and cottages, is heavily treed, imparting a feeling of natural solitude. Nearby Birkenfeld, although small, provides most groceries and necessities, with an added bonus of live entertainment: a popular cafe/country store offers live music acts regularly that attract an audience from among the college students in Portland.
Besides activities at the lake itself, numerous old logging roads in the area offer great surfaces for hiking and bicycling. One favorite destination for the serious hiker is Lee Wooden Fishhawk Falls Park, 21 miles downstream. Here a couple of picnic tables, a few trails and a lovely waterfall delight the day trekker. The development is bounded on the west by the Clatsop State Forest, with its own hiking and nature trails, camping and recreational activities. Only 17 moles away, the Jewell Meadows Wildlife Area offers an elk reserve, where visitors can join an elk feeding tour in winter to see these magnificent animals up close. Sea fishing is available less than an hour away along the Pacific coast. Portland is an hour to the east, with all of the big-city amenities necessary for a night or weekend on the town.
Fishhawk Lake is so secluded and private that there are few reliable statistics available. No official state lake surveys exist. Surface acreage is alternately shown as 50 acres and 100 acres, with some maps showing 75 acres. Elevation above sea level is also debated as being from 675 feet to 800 feet. Google Earth's GIS mapping however, shows the 'glory hole' spillway at 544 feet, so the lake level cannot rise above that. Equally confusing statements about the depth of the lake exist: some reports list the lake's maximum depth as 20 feet, others 30 feet. Probably the best estimate comes from a local realtor who says the lake depths vary from 4 feet at the Fishhawk Creek inflow to 30 feet at the spillway. The only true official figures for any lake statistics come from a report on the dam and its condition as part of a watershed study performed by Portland State University.
A few private rentals exist on Fishhawk Lake, but there are no organized rental lodgings along the shore. Several hotels, motels, bed-and-breakfasts and inns exist within 10 miles, mostly north toward the Columbia River. Camping facilities can be found in the Clatsop State Forest, and a few commercial RV parks can be found nearby. Real estate exists for sale on Fishhawk Lake, both as existing homes or cabins or as undeveloped property. For those looking to purchase either a home or vacation property, Fishhawk Lake may offer the best setting available for all-around outdoor fun. Certainly there is nothing quite like Fishhawk Lake in this part of Oregon. Take the time to come look it over next time you're in northwest Oregon. You'll fall in love with Fishhawk Lake.
Things to do at Fishhawk Lake
Vacation Rentals
Fishing
Boating
Swimming
Beach
Canoeing
Kayaking
Tennis
Camping
Picnicking
Cabin Rentals
Hiking
Biking
Waterfall
Wildlife Viewing
Birding
State Forest
Playground
Fish species found at Fishhawk Lake
Coho Salmon
Cutthroat Trout
Salmon
Steelhead Trout
Trout
---
Fishhawk Lake Photo Gallery
Fishhawk Lake Statistics & Helpful Links
At LakeLubbers.com, we strive to keep our information as accurate and up-to-date as possible, but if you've found something in this article that needs updating, we'd certainly love to hear from you!
Please let us know about it on our Content Correction form.
Spread the word! Share our Fishhawk Lake article with your fellow Lake Lubbers!