Umbagog Lake, Maine & New Hampshire, USA
Lake Locations:
USA - New England - Maine - Lakes & Mountains - New Hampshire - Great North Woods -
Also known as:  Rangeley Lakes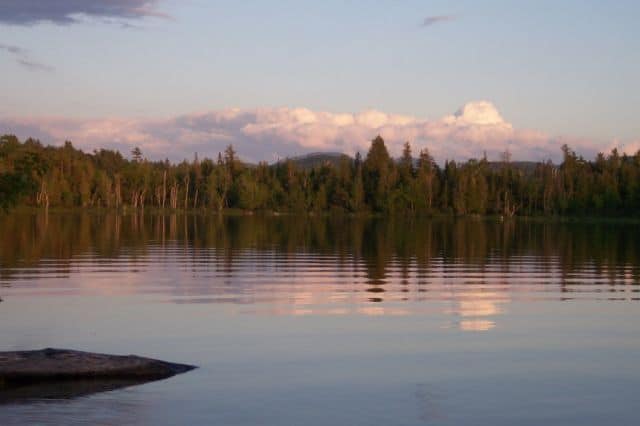 Umbagog Lake straddles about 11 miles of the Maine-New Hampshire border. This 7,850-acre lake lies partly in the Rangeley Lakes region of western Maine and partly in the Great North Woods region of northern New Hampshire.
Umbagog, pronounced um-BAY-gog, is said to derive from the Abenaki (Native American) word for "shallow water." The name is appropriate, as the lake averages a depth of 15 feet, a number significantly deeper than before the construction of a dam at Errol (New Hampshire) in the 1800s. The exception is Deep Hole at the north of the lake, which reaches depths of 75 feet.
On the national register of historic landmarks, the "Floating Islands" region of Umbagog Lake also lies on its northern shores. The spectacular wetlands encompass an area of 260 acres of northern heath bog and are surrounded by swamp forest, peaceful ponds, and winding rivers.
Umbagog Lake is surrounded by rushing rivers and wildlife. Along the Rapid River, loggers once risked their lives to transport their product, and steamboats hauled the logs to the neighboring Androscoggin River for further transport. The Swift Diamond and Dead Diamond Rivers meander along the length of a woodlands area referred to as the "Dartmouth College Grant," forming treacherous paths and rapids at the "Hell's Gate Gorge." Along these waters, a carving of unknown origin, named "The Hand on the Rock," mysteriously presents itself for your meditation and investigation.
The area's rivers offer superb opportunities for rafting, sightseeing, and fishing. Rapid River lures serious anglers to its waters with legends of 10-pound salmon and trout fish. The Androscoggin River offers its waters to bass, salmon and trout pickerel fishermen. And no angler should forget to troll the waters of Umbagog Lake, which celebrity bass fisherman Charlie Moore classifies as "a small-mouth bass factory."
The Umbagog Lake Region also provides wonderful opportunities for boating, canoeing, kayaking and white-water rafting. Choose a guided tour or rent a boat to explore the area. Certain areas allow motor boats and others do not, so plan your boating outings wisely.
The region offers more than just pristine waters to boat and fish; it is truly a four-season area. Over 250 miles of snowmobiling trails have earned it the undisputed title as the Snowmobile Capital of the Northeast United States. Snowshoeing, downhill and cross-country skiing are also exciting winter activities for those looking for an adrenaline rush and spectacular scenic views.
A must-do activity is the Fall Foliage Tour, which awes visitors with its breathtaking vistas of incredible oranges, reds and yellows painting the countryside.
For nature lovers, Umbagog Lake and its surroundings are a veritable paradise. Birdwatchers will delight in observing some of the largest populations of nesting eagles, osprey and loon. During the Autumn months, visitors and residents cannot miss an opportunity to go moose watching in the mornings and evenings. Any trip around the lake will provide you with numerous nature-watching possibilities as you observe the region's animals in their natural habitat.
Things to do at Umbagog Lake
Vacation Rentals
Fishing
Boating
Canoeing
Kayaking
Hiking
Cross-Country Skiing
Snowmobiling
Snowshoeing
Wildlife Viewing
Birding
Fish species found at Umbagog Lake
Bass
Pickerel
Pike
Salmon
Trout
---
Umbagog Lake Photo Gallery
Umbagog Lake Statistics & Helpful Links
Spread the word! Share our Umbagog Lake article with your fellow Lake Lubbers!