Tule Lake, California, USA
Lake Locations:
USA - West - California - Shasta Cascade -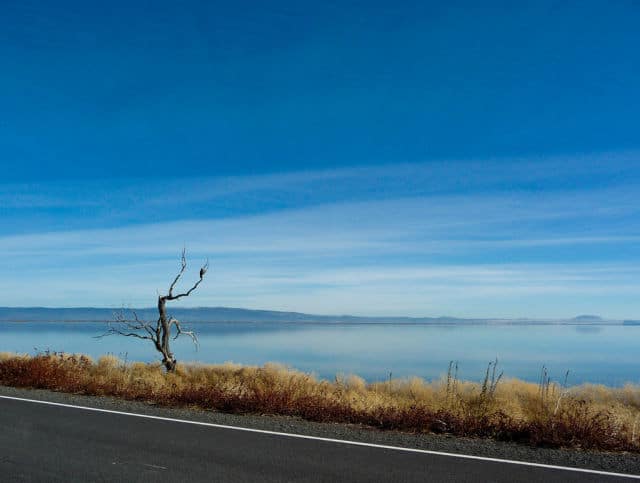 Tule Lake, located near the California/Oregon border, comprises about 13,240 acres of the Tule Lake National Wildlife Refuge. The Tule Lake Basin has a rich but sad history, once home to the Tule Lake War Relocation Center. Today, the Tule Lake area is recognized for its diverse natural beauty, laid back feel, and perfect summer days.
The Tule Lake Basin, part of the larger Klamath Basin, has had human presence for over 12,000 years. Remnants of the last ancient tribe, the Modocs, are still to be found throughout the region. The site of lava flows and desert brush, the Modocs' domed homes painted the countryside as the tribe fished, hunted, and foraged for their living. Today, Tulelake town is populated by quiet Californians who enjoy 290 days of sun each year, panoramic mountain views, and a wide variety of outdoor activities.
Tule Lake has been an oasis for migratory birds since the end of the last ice age, providing critical resting and feeding grounds over 100,000 acres of wetlands. Fluctuating periods of drought and flooding produced nutrient- rich marsh land. Early settlers to the area quickly realized that if water could be diverted away from the wetlands, the rich soil on the lake's bottom could be farmed. In 1902 Congress passed the Reclamation Act with the goal of reclaiming the Basin's wetlands for farming. The Bureau of Reclamation built dams and canals along the Klamath River and Lost River for water storage and flood control. Between 1907 and 1960, 75% of the wetlands in the Klamath Basin had been reclaimed for agriculture. The size of Tule Lake shrank to its current 13,240 acres. Today, the Tule Lake area is cooperatively managed by the Bureau of Reclamation, U.S.Fish and Wildlife Service, and the Tule Lake Irrigation District. The agencies have been working to restore some of Tule Lake's wetlands to improve the habitat for waterfowl and migratory birds.
The Tule Lake National Wildlife Refuge was established in 1928 over concern about the area's wildlife and migratory birds. Covering more than 39,000 acres, including Tule Lake, the refuge is partially leased out to area farmers who grow cereals and alfalfa. These crops provide sustenance to many of the migrating and wintering waterfowl that stop to rest at this important wildlife reserve. The Tule Lake National Wildlife Refuge strives to maintain a protected habitat for endangered, threatened, and sensitive animals. A trip to the refuge should start with a visit to the Visitor Center, which will educate you on the basics of the habitats, animals, and viewing opportunities. Different species are present at different times of year, so the season in which you visit will greatly affect which animals you see. Throughout the year, you can see more than one million waterfowl, including white-faced ibis, American white pelican, black tern, golden eagle, western and eared grebes, tri-colored blackbird, American bald eagle, Canada geese, and many other less populous species. In fact, the Refuge has the highest concentration of wintering bald eagles (500) in the lower 48 states.
Just ten miles from the lake, you'll find the Lava Beds National Monument, run by the U.S. National Park Service. For the last 500,000 years, volcanic eruptions have forced the continued change of this northern California region. Because of this, Tule Lake and its surroundings are sprinkled with caves (the greatest concentration in North America), Native American rock art sites, unique campsites, historic battlefields, stunning views, and desert flora. A visit to the park is filled with cave exploration, challenging hiking trails, once-in-a-lifetime photo ops, walks through history, and so much more.
While you're exploring the area, you owe it to the country's history to visit the Tule Lake War Relocation Center, an internment camp for Japanese Americans during World War II. The center was one of the largest internment camps in the country, and many say it was one of the most controversial, though it did not close until after the war. Japanese Americans who refused to promise their undivided loyalty to the U.S. were sent to this "Segregation Camp". Today, the site serves as a pilgrimage for many, serving primarily as a learning experience to its visitors.
The Tule Lake region is peppered with hiking trails, ideal for those who want to get close to nature and find the perfect perch for a breathtaking view. The Volcanic Legacy All American Road weaves its way from Mt. Lassen to Crater Lake, passing right through Tulelake. The Emigrant Trail Scenic Byway promises amazing vistas as it weaves its way through the California scenery. There are also over 30 miles of manicured hiking trails at the Lava Beds National Monument, and the Klamath Basin Birding Trail begins in the Tule Lake Basin.
Back at Tule Lake, canoes, kayaks, and windsurfing rule the roost, with canoe trails promising hours of excitement or relaxation, whichever is your heart's desire. Pack a picnic and take it with you, because exploring the lake and wetlands is something that will take more than just a few hours.
The Tule Lake Basin is truly an amazing, varied landscape of lava flows, caves, and ancient artifacts colored by blue skies and emerald green mountains. Whether you take a day or a week or a lifetime to explore this gorgeous lake, you will find your days as full as you want them to be.
Things to do at Tule Lake
Vacation Rentals
Fishing
Canoeing
Kayaking
Camping
Picnicking
Hiking
Wildlife Viewing
Birding
National Wildlife Refuge
National Park
Fish species found at Tule Lake
---
Tule Lake Statistics & Helpful Links
At LakeLubbers.com, we strive to keep our information as accurate and up-to-date as possible, but if you've found something in this article that needs updating, we'd certainly love to hear from you!
Please let us know about it on our Content Correction form.
Spread the word! Share our Tule Lake article with your fellow Lake Lubbers!