Twain Harte Lake, California, USA
Welcome to the ultimate guide for history, statistics, local fun facts and the best things to do at Twain Harte Lake.
If you're considering Twain Harte Lake vacation rentals, we've made it super easy to explore accommodations and nearby hotels using the interactive map below. Simply click on a listing to compare similar properties, best rates and availability for your dates. Or keep scrolling to read our Twain Harte Lake guide!
Twain Harte Lake visitor and community guide
Set in historic California Gold Country, Twain Harte Lake sparkles like a small mountain gem. Originally home to a village of Mi-Wuc Native Americans who camped near a geological formation locally called "The Rock", the discovery of gold nearby in the Jamestown-Sonora region soon brought European settlers to the area. Settlers quickly began raising cattle, apples and pear orchards in the foothills of the Sierra Mountains. Lumbering interests soon followed. By 1861, a government road was built from the bottom of the grade over the Sonora Pass. The area remained little more than a watering stop for freight wagons and an orchard center until 1924, when a developer bought 540 acres and named it after his two favorite authors: Mark Twain and Brett Harte. The new Twain Harte Lodge development soon began selling building lots. In 1928, a dam was built across Sullivan Creek near 'The Rock', likely to ensure a steady water level in the small pond. By 1933 the town's trademark, the wooden arch, had been erected and still stands. For many years there were few services in the remote area; State Department of Forestry firefighters camped many summers in the meadow with one fire engine until a fire station was finally built.
Twain Harte Village has grown steadily over the years. Residents were drawn here by the sugar pine scenery against a backdrop of the mountains to the east. Little 7-acre Twain Harte Lake incorporated a 56-acre buffer zone and was fenced to assure limited access. Members of the Twain Harte Lake Association are issued admission tickets for themselves and their guests. Fish are stocked for the children, and only those under age 16 are allowed to fish in the lake. Small boats and inflatable rafts are allowed, but the diminutive size of the lake does not allow anything bigger. A swimming area with lifeguard, sunbathing beach and concession stand provide services to lake members. The lake is often allowed to drain to low levels in the winter months. The lack of a larger lake is hardly noticed by local residents as several large lakes are located within a few miles for anglers and boaters.
The area around Twain Harte Lake has gained a well-deserved reputation as an ideal spot for vacations and relaxation all year long. Located at the edge of the Sierra National Forest, Twain Harte is an ideal base camp for hiking, nature observation and bird watching. The wooded hills around Twin Harte Lake are dotted with cabins, resorts, inns, bed-and-breakfasts, and RV resorts. Vacation rentals are highly sought-after, and reservations are needed to secure the ideal spot. Vacation rentals include private ski lodges and mountain retreats with every possible amenity and breathtaking views of the surrounding foothills. Many of the vacation rentals include admission arrangements to Twain Harte Lake. From Twain Harte Village, it's only a half-hour trip to a casino or a great fishing lake such as Pinecrest Lake, New Melones Lake, Lake Tulloch, and Lake Don Pedro. Skiing, snowboarding, snowmobiling and cross-country skiing are popular in the winter, with a full-fledged ski area just a few miles away. Horseback riding is also available in the immediate area. Yosemite National Park is just 2 hours away with whitewater rafting, rock climbing, and strenuous active sports with gear to rent, guides, and lessons easily available.
Close to Twain Harte Lake, the village is a very walk-able town with plenty of activities provided for the vacationing visitor. Twain Harte village has a public pool, roller skating, ice skating, a miniature golf course, regular 9-hole golf course, and a park which presents free concerts and movies in the summer. The town offers craft galleries and specialty shops to delight the discerning shopper.
The visitor needn't go very far from Twain Harte Lake to enjoy a selection of historic sites: Columbia State Park three miles north of Sonora is an actual town preserved in the era of the Gold Rush. Old-time shops are staffed by proprietors in period clothing who can sell you the goods you need while waiting for your turn to ride the 100-yr-old stagecoach. You can even pan for gold. On the way back to Twain Harte, Sonora's restaurants are an excellent place to eat lunch or perhaps dinner accompanied by a fine locally-produced wine. Only 15 miles west of Twain Harte Lake, the Railtown 1897 Historic Park offers a close-up view of antique trains and a restored roundhouse. The authentic steam trains have provided the background for many a famous film and television series. Just north of Jamestown, the ghost town of Bodie provides an entire 1800s town abandoned around the turn of the last century. The ghost town comes complete with a few ghost stories and is a favorite of photographers.
Just 75 miles east of Stockton and a little over 100 miles from Sacramento, visiting Twain Harte Lake is an easy week-end trip. Spend a strenuous summer visit hiking the foothills or mountain biking the forest paths. Or, plan a romantic snowbound weekend in some of the most beautiful pine-covered hills. Whether you ski, snowmobile or sit in front of a crackling fireplace while watching it snow, you'll quickly decide Twain Harte is the kind of place you want to stay, perhaps forever. You're in luck; real estate is often available in Twain Harte, sometimes with lake views. So come get acquainted with Twain Harte; you'll be glad you did.
Custom Twain Harte Lake house decor
Read our full review of these personalized lake house signs.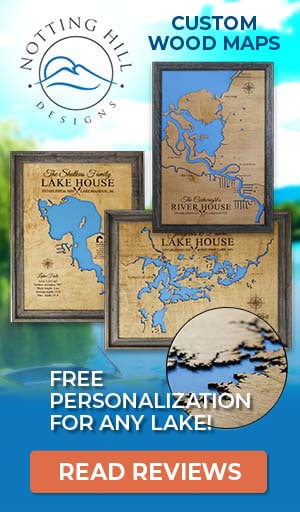 Things to do at Twain Harte Lake
Vacation Rentals
Boating
Swimming
Beach
Whitewater Rafting
Golf
Cabin Rentals
Hiking
Ice Skating
Rock Climbing
Biking
Snowboarding
Cross-Country Skiing
Snowmobiling
Horseback Riding
Birding
State Park
National Park
National Forest
Miniature Golf
Antiquing
Casino Gambling
---
Best hotels and vacation rentals at Twain Harte Lake
The Twain Harte Lake map shown above is a simple and stress-free way to search for trip accommodations. But if you want to take a deeper dive to find the ideal waterfront home, cabin, condo, hotel or resort, visit our favorite lodging partners by clicking the buttons below.
Note: These are affiliate links so we may earn a small commission if you book through them. While there is no extra cost to you, it helps provide resources to keep our site running (thank you)! You can read our full disclosure policy here.
---
Twain Harte Lake photo gallery
New photos coming soon!
Twain Harte Lake statistics & helpful links
We strive to keep the information on LakeLubbers as accurate as possible. However, if you've found something in this article that needs updating, we'd certainly love to hear from you! Please fill out our Content Correction form.
Advertise your Twain Harte Lake vacation rental
LakeLubbers will soon offer homeowners and property managers the opportunity to to showcase their vacation rentals to the thousands of lake lovers searching our site daily for accommodations. If you'd like additional details, please contact our advertising team here.
Looking for the Twain Harte Lake forum?
LakeLubbers previously offered visitors the ability to create accounts and participate in lake forums. When we overhauled the site's content management system in 2021 we had to disable those features. We're evaluating options and welcome your comments and feedback here.
We also encourage you to join our lake-lovin' community on Facebook and Instagram!
Spread the word! Share our Twain Harte Lake article with your fellow Lake Lubbers!