Topaz Lake, California & Nevada, USA
Lake Locations:
USA - West - California - High Sierra - Nevada - Renoe-Tahoe Territory -
Also known as:  Topaz Reservoir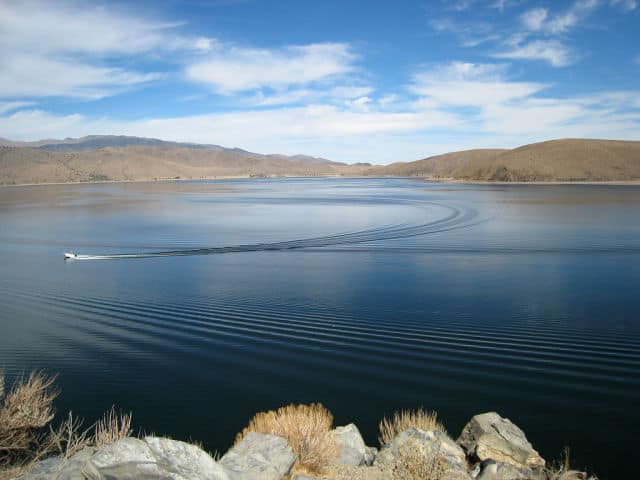 Topaz Lake is a man-made reservoir located on the border of Nevada and California, about 75 miles south of Reno, Nevada. The reservoir was built on the site of a natural lake by diverting water from the West Walker River in 1922. An additional levee built in 1937 increased Topaz Lake to its present size. The reservoir is owned and operated by the Walker River Irrigation District, which supplies water to its members for agricultural irrigation. Because of the lake's turquoise water and its stunning views of the eastern Sierra Mountains, it is also a popular recreation area, offering fishing, boating, camping, and even gambling.
Fishing is available at Topaz Reservoir from January to September. The lake is regularly stocked with trout by both the Nevada Department of Wildlife and the California Department of Fish and Game. Topaz Lake is especially known for its rainbow trout, but brown trout, bowcutt trout, largemouth bass, and bullhead catfish can also be found in the lake. Boat access to the lake is available at the Topaz Lake Marina on the northwest side of the lake, or at Topaz Lake Recreation Area on the northeast side of the lake. Because there are no motor restrictions on the lake, water skiing and jet skiing are popular activities at the lake when the weather is warm.
Camping is available just steps from Topaz Lake. Topaz Lake Recreation Area, operated by Douglas County, Nevada, offers both RV campsites and tent sites, along with showers and restrooms. Topaz Lake RV Park, on the California side of the lake, offers RV hook-ups, along with restrooms, showers, and laundry facilities. In addition, primitive camping is also allowed in undeveloped areas around the lake. However, campers are cautioned that some portions of the lake's shoreline, especially on the west and south sides, are privately owned.
Nature lovers will find plenty to do at Topaz Lake. Birdwatching is a popular pastime, and orioles, swallows, and yellow warblers can be found in the woodlands surrounding the lake. Bald eagles have been known to nest near the lake, and ospreys can often be spotted as well. During periods of migration, birdwatching is particularly good, as many different species travel through the area on their way to breeding grounds or overwintering sites. Because of Topaz Reservoir's location in the Sierra Mountains and its proximity to both the Eldorado National Forest and the Humboldt-Toiyabe National Forest, nature lovers have multiple options for hiking and wildlife observation nearby. Other popular excursions available near the lake include horseback riding in the Sierra Mountains and fly fishing and rafting trips on the West Walker River.
When you are ready for some indoor fun, Topaz Lake has that too. After all, this is Nevada, and Topaz Lake has its own casino right on the lake shore. The casino and attached hotel offer gambling, dining, and accommodations with spectacular views of Lake Topaz and the Sierra Mountains.
No matter what your pleasure, Topaz Lake offers something for everyone. Whether you choose to fish the lake or play the slots, you won't be disappointed. Topaz Lake offers a perfect place for relaxation and recreation.
Things to do at Topaz Lake
Vacation Rentals
Fishing
Boating
Jet Skiing
Water Skiing
Camping
Hiking
Horseback Riding
Wildlife Viewing
Birding
National Forest
Casino Gambling
Fish species found at Topaz Lake
Bass
Black Bass
Brown Trout
Bullhead Catfish
Catfish
Largemouth Bass
Rainbow Trout
Trout
---
Topaz Lake Statistics & Helpful Links
Spread the word! Share our Topaz Lake article with your fellow Lake Lubbers!