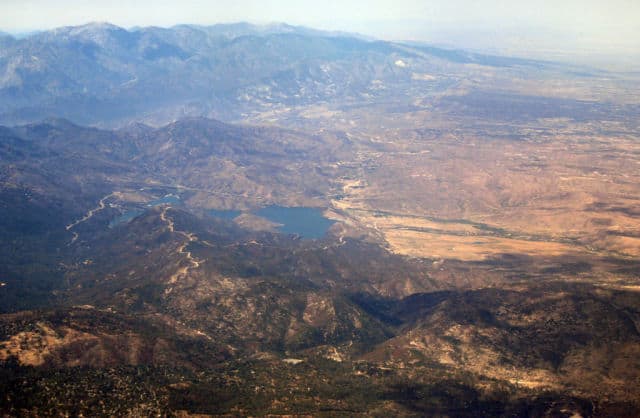 Silverwood Lake, California, USA
Lake Locations:
USA - West - California - Inland Empire -
Also known as:  Lake Silverwood
Rimmed with live oak, manzanita, and mountain mahogany and set against the backdrop of the snow-capped San Bernardino Mountains, Silverwood Lake is an important lake for more than just recreation. The lake is part of the State Water Project that brings much-needed water and power to southern California for agricultural, municipal and industrial needs.
Silverwood Lake was named for W. E. "Ted" Silverwood who was an ardent supporter of the State Water Project and of soil and water conservation in the region. Created by the construction of the Cedar Springs Dam in 1971, the lake is an impoundment of the Mojave River's west fork. The earth dam was built over active faults, and its design had to be modified to accommodate potential earthquakes. It is under the control of the California Department of Water Resources.
Silverwood Lake is the largest reservoir in San Bernardino County and the highest reservoir in the State Water Project. The State Water Project, which also provides flood control, starts when the water enters the Upper Feather River Basin as rain or snowmelt. From there the water collects in Lake Oroville and travels on through rivers, reservoirs, and 444 miles of California Aqueduct. Silverwood Lake is on the east branch of the Aqueduct.
Before construction of dams and reservoirs, the area that is now Silverwood Lake was inhabited by the Serrano Indians. Serrano is Spanish for "mountain people", and the Indians lived primarily uninterrupted until the Spanish missionaries arrived. In 1790 the San Gabriel Mission brought disease and hard labor, which decimated the Serrano. By the 20th century their population had shrunk to just 119 individuals. Today the area that was once their home is part of the Silverwood Lake State Recreation Area, which surrounds Silverwood Lake.
Just a few hours northeast of Los Angeles, the Silverwood Lake State Recreation Area has abundant wildlife including but not limited to California mule deer, gray foxes, coyotes, and a variety of rabbits and squirrels. Lucky visitors might see a ring-tailed cat, mountain lion, black bear, or golden beaver. Bald eagles nest around Lake Silverwood, where there great blue herons, snowy egrets, and loons. There are several campgrounds within the Silverwood Lake Recreation Area, including some with RV sites. Rangers lead nature walks and campfire programs for both adults and Junior Rangers. There are 13 miles of paved trails for hiking and biking, and part of the Pacific Crest Trail runs through the area. The 2,650-mile long trail runs from Mexico to Canada and through five California State Parks. It follows the crest of the nearby San Bernardino Mountains.
The wildfires in October 2003 damaged about a thousand acres of the Silverwood Lake Recreation Area, which is still recovering. Silverwood Lake, however, is in great shape. There is a marina and boat ramps on the southern end of the lake, along with swimming beaches. Waterskiing is permitted on the northern part of the lake. There are boat rentals available, including jet skis, kayaks, and pontoon, fishing, and paddle boats. Canoes and kayaks can put in at quieter Cleghorn, which also has access to the Pacific Crest Hiking Trail. Several picnic areas are boat-in only. From January through March there are barge tours on the lake to see the bald eagles.
February through June are the best months to fish for trout, and it's possible to fish from the shore of Silverwood Lake in the spring. Anglers will find healthy populations of bluegill, crappie, catfish and striped bass to challenge them. The California Department of Fish stocks the lake with rainbow trout. There is a bait and tackle shop and snack bar on site.
Silverwood Lake is next to the San Bernardino National Forest in the high desert. Established in 1907, the forest is 676,666 acres in San Bernardino and Riverside Counties. With hundreds of miles of trails for hiking, biking and horseback riding, including 160 miles of the Pacific Crest Trail, there are plenty of ways to explore the national forest. It is also home to several threatened and endangered species, and there are lots opportunities to see animals year round.
Although Silverwood Lake is surrounded by the State Recreation Area, there is real estate available near by. Several small mountain communities near the lake also have vaction rentals, some with lake views of Lake Gregory or one of the other lakes that dot the San Bernardino Mountains. Hesperia is the nearest city to Silverwood Lake, and it has any amenities a visitor might need.
Silverwood Lake's value extends far beyond flood control and water storage. It is a fantastic recreation destination, and beautiful home for wildlife.
Things to do at Silverwood Lake
Vacation Rentals
Fishing
Boating
Swimming
Beach
Canoeing
Kayaking
Jet Skiing
Water Skiing
Camping
Campground
Picnicking
Hiking
Biking
Horseback Riding
Wildlife Viewing
Birding
State Park
National Forest
Fish species found at Silverwood Lake
Bass
Bluegill
Catfish
Crappie
Rainbow Trout
Striped Bass
Sunfish
Trout
---
Silverwood Lake Photo Gallery
Silverwood Lake Statistics & Helpful Links
Spread the word! Share our Silverwood Lake article with your fellow Lake Lubbers!