Swan Lake, Montana, USA
Lake Locations:
USA - West - Montana - Glacier Country -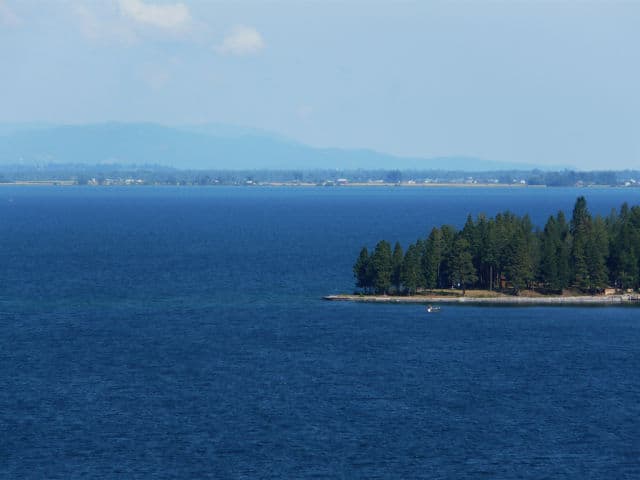 Montana conjures images of snow-capped mountains and clean waters full of fish, and Swan Lake more than lives up to that reputation. Surrounded by the Flathead National Forest in Glacier Country, Swan Lake is popular with boaters while still maintaining its isolated forested character. It is nestled below the Swan Mountain Range to the east of Flathead Lake and is a fantastic northwest Montana destination.
The Swan River flows down from the Swan Mountains and makes up the lake's inflow and outflow. Before it reaches the lake, the river flows through the Swan River National Wildlife Refuge offering boaters a chance to see a variety of waterfowl and wildlife along with the beautiful scenery. Below Swan Lake the river has a mile long section of white water before it enters Flathead Lake, providing opportunities for adventurous paddlers and kayakers.
Swan Lake covers 3,269 acres in Lake County. With a maximum depth of 133 feet and an average depth of 52 feet, it is a deep, clean oligotrophic lake. Stretching ten miles long and slightly over a mile wide, the shoreline is forested making the lake feel like a hidden treasure. The western shore of the lake is completely undeveloped with just a highway following the shore. There is residential development including vacation rentals scattered around the rest of the shore. A lakefront campground also provides accommodations. The Town of Swan Lake has shops, restaurants and any amenities visitors might need.
Several public boat ramps allow access to Swan Lake, and the lake can become busy with recreation boaters on summer weekends. Anglers can expect to find Kokanee salmon, northern pike and whitefish or challenge themselves against the lake's bull trout and lake trout. The water quality in Swan Lake is excellent, and the Swan Lakers, a volunteer organization, work to protect the lake's ecosystem and character.
Swan Lake is in the Flathead National Forest. The 2.3 million acre forest runs along the west side of the Continental Divide and extends from the USA-Canada border to 120 miles south. Its shear size means the recreation opportunities are almost endless including trails for hiking and mountain ranges to climb. The forest shows the evidence of its glacial past. In fact, Glacier National Park is a short drive from Swan Lake. Established in 1910, it was the nation's tenth national park and encompasses jagged mountain peaks and valleys carved by glaciers. It is a spectacular day trip from Swan Lake with breathtaking scenery.
Just a few miles west of Swan Lake and downstream on the Swan River, Flathead Lake has over 120,000 acres of water for boating, fishing and water skiing. There is more than enough water for almost every imaginable water sport and enough room that the lake doesn't become crowded. The area around Flathead Lake is also particularly well known for its golf courses.
Fish-filled water set against the backdrop of snow-capped mountains defines Montana's Glacier Country. It also perfectly describes Swan Lake. With evidence of the region's snow covered past carved across the landscape, Swan Lake and Flathead National Forest offer visitors majestic scenery and larger than life glacier-topped mountains. Swan Lake is an unforgettable northwest Montana destination.
Things to do at Swan Lake MT
Vacation Rentals
Fishing
Boating
Kayaking
Water Skiing
Golf
Camping
Campground
Hiking
Wildlife Viewing
National Wildlife Refuge
National Park
National Forest
Fish species found at Swan Lake MT
Bull Trout
Kokanee Salmon
Lake Trout
Northern Pike
Pike
Salmon
Trout
Whitefish
---
Swan Lake MT Photo Gallery
Swan Lake MT Statistics & Helpful Links
Spread the word! Share our Swan Lake MT article with your fellow Lake Lubbers!