Shasta Lake, California, USA
Lake Locations:
USA - West - California - Shasta Cascade -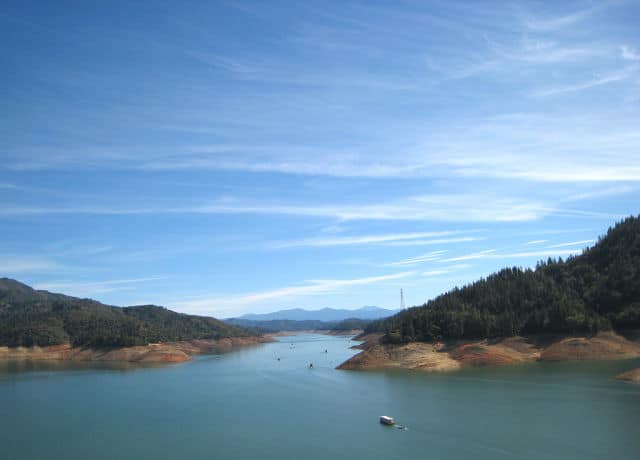 Shasta Lake, one of the largest lakes in California, is an outdoor paradise of fresh blue water, awe-inspiring caverns, investigative trails, first class fishing, and so much more. After 8 years of construction, the Shasta Dam was completed in 1945, creating an incredible 29,500 acre lake with 365 miles of shoreline. As the largest manmade reservoir in the state, Shasta Lake is also home to several waterfalls, including Gulch Falls, Bear Canyon Falls, and Potem Falls.
Built and operated by the U.S. Bureau of Reclamation, Shasta Dam on the Sacramento River is the keystone of the federal Central Valley Project. Shasta Lake, located about 10 miles north of Redding, captures water from the Sacramento, Pit, and McCloud Rivers. The dam serves many purposes, including flood control in the Sacramento and San Joaquin Valleys during the rainy season, hydroelectric power generation, water for municipal, agricultural and industrial use, fish conservation, and maintenance of navigation flows. Water levels are drawn down in the fall to allow winter and spring rains to fill the reservoir instead of flooding the surrounding land. The normal operating level of Shasta Lake is 1067 feet above sea level. Because water levels can be drawn down more than 150 feet, check with the Shasta Lake Visitor Information Center for current lake levels and boat ramp conditions.
Recreational opportunities at the lake seem to have almost no end: you can bike, swim, boat, hike, wakeboard, water ski, camp, hunt, fish, and houseboat, In fact, houseboats are so popular and welcome at the lake that Shasta is now known as the Houseboat Capital of the World. With so many coves and miles of shoreline, the reservoir is ideal for daily wanderings and nighttime anchor drops.
Mother Nature seems to have tested her green thumb at Lake Shasta, painting the scenery with deep emerald evergreens, blue skies, and towering mountains. Summer days are perfected by warm temperatures cooled off by the 77 degree waters, lakeside picnics, and hours of doing whatever strikes your fancy.
Shasta Lake is home to many caverns, and visitors will find themselves fascinated by the rough formations, graceful stalactites, and extensive natural history. Begin your cavern trip with a catamaran ride across the blue Shasta waters and learn about the lake's geography and history. Keep your eyes open for waterfowl and, if you're lucky, you'll catch a glimpse of a Great American Bald Eagle. After the boat ride, you'll hop a bus and keep watch for mountain lions, bald eagles, black-tailed deer, black bears, osprey, and a plethora of other wildlife. Once at the caverns, you'll be guided through eight cavern rooms that will fill you with a sense of awe and wonder. For active travelers, you may want to try your hand at spelunking. Samwell Caves overlook the McCloud Arm of the lake, and with the help of a special visitor permit, you'll be allowed to explore the caves and spelunk to your heart's desire.
If caving isn't your cup of tea, try hiking or mountain biking along Shasta Lake's extensive trail system. Perfect for a lazy walk or heart-pumping run, the shoreline trails range in difficulty from easy to challenging, offering you access to secluded swimming holes, ideal fishing spots, spectacular views, front row tickets to the area's diverse flora and fauna, breathtaking sunrises and sunsets, and much more. Take water and your camera with you because once you're out on the trails, you may not want to head back for quite awhile.
After caving and hiking, try your hand at some Shasta Lake fishing. Widely regarded as one of the best fishing lakes in the state, the reservoir is home to trophy quality bass, catfish, crappie, salmon, sturgeon, and trout. You're most likely to catch a spotted bass on your hook, though smallmouth and largemouth bass are both known to make frequent appearances. Whatever your fancy, you're sure to be proud of your Shasta catch. Just make sure you take your valid California fishing license with you!
On warm days, the lake's refreshing waters will be your siren song, luring you to dangle your toes in, take a swim, or get out onto the lake for some aquatic fun. Take an afternoon float, hop on a tube behind a boat, or don some water skis and show off your skills while you take in the beauty and tranquility around you. Rent a boat or take your own; boat launches are available all around the lake. Open up the throttle on your jet ski or powerboat, or slow it down and enjoy the calm of a canoe or kayak. The choice is yours, so enjoy.
Shasta Lake is located in a region of great history and biodiversity. A trip here will open your eyes to natural sites both old and new, but your visit will never disappoint. Make your reservations and before you know it, you'll be scaling caves, swimming in crystal waters, or simply enjoying a glass of wine as you watch a California sunset.
Things to do at Shasta Lake
Vacation Rentals
Fishing
Boating
Swimming
Canoeing
Kayaking
Jet Skiing
Water Skiing
Wakeboarding
Tubing
Camping
Picnicking
Hiking
Spelunking
Biking
Hunting
Waterfall
Wildlife Viewing
Birding
Fish species found at Shasta Lake
Bass
Black Bass
Catfish
Crappie
Largemouth Bass
Salmon
Smallmouth Bass
Spotted Bass
Sturgeon
Trout
---
Shasta Lake Photo Gallery
Shasta Lake Statistics & Helpful Links
Spread the word! Share our Shasta Lake article with your fellow Lake Lubbers!