Sequoia Lake, California, USA
Lake Locations:
USA - West - California - High Sierra -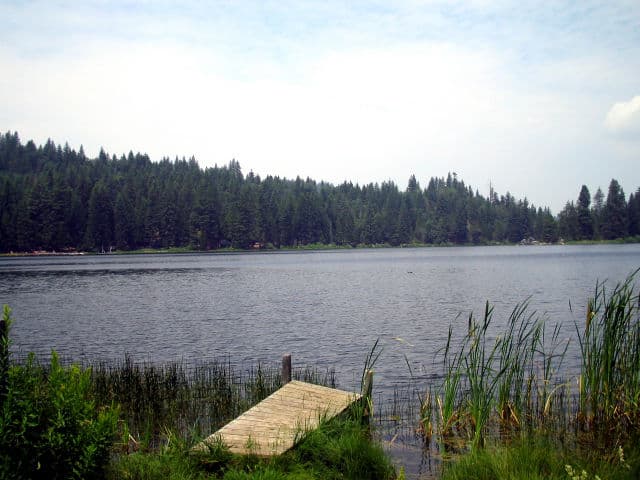 Sequoia Lake is a recreational lake on private land within Kings Canyon National Park in Fresno County, California. Part of the High Sierra Region, Sequoia Lake is a great place for camping, boating, fishing, swimming, and hiking. With its close proximity to Sequoia and Kings Canyon National Parks, visitors of Sequoia Lake will have many outdoor activities to keep them occupied.
Sequoia Lake was created in 1890 by impounding Mill Flat Creek. The purpose of the dam was to create a flume for logging. Although the lake was owned by several logging companies, the Sequoia Lake Conference of the YMCA has operated camps along the shores since 1912. In 1922, the land and lake were sold with a clause stating the property should not be used for any purpose except to carry out the work of the YMCA, or the property would revert to the heirs of the previous owners. There are several camps located on Sequoia Lake that are all run by the YMCA, and can be enjoyed by the general population.
Lake Sequoia is a great place to fish. Anglers can take pleasure in reeling in largemouth bass, smallmouth bass, spotted bass, catfish, and crappie. Fishing enthusiasts can choose to bank fish or bring a boat that they can launch at a boat ramp located on the lake. Nature lovers will find Sequoia Lake the perfect starting point for a vacation to Sequoia and Kings Canyon National Parks. Visitors of Sequoia Lake are permitted to hike from the lake to a trail that leads to the Kings Canyon National Park. There is also the Sequoia Lake Overlook Trail that starts from the General Grant Tree parking area and then meanders through the forest to a picturesque overlook of Sequoia Lake. The trail passes the Dead Giant, a large sequoia tree assumed to have died by human intervention many years ago. There is evidence of axe marks that severed the cambium tree layer, preventing nutrients from moving up the tree.
Visitors of Lake Sequoia will want to visit Grant Grove located in Kings Canyon National Park. Grant Grove is home to the General Grant Tree, named in 1867 after Union Army general Ulysses S. Grant who became the 18th President of the United States in 1869. In 1926 President Calvin Coolidge designated General Grant Tree the "Nation's Christmas Tree," and in 1956 President Dwight D. Eisenhower proclaimed it a "National Shrine" as a living memorial to all men and women of the United States who gave their lives in service to their country. Visitors will also enjoy Giant Forest located in Sequoia National Park. The Giant Forest is one of the largest sequoia groves and home to the General Sherman Tree, which is the largest, single-trunked living tree in the world. The enormous trees will intrigue nature lovers as they stroll through the groves. In the winter months, both national parks become a sports wonderland with plenty of places for cross-country skiing, snowshoeing, snowboarding, ice-skating, and snow tubing.
There are so many options for overnight accommodations around and near Sequoia Lake. Guests can enjoy lakeside campgrounds or cabins and lodges located in Grant Grove Village in Kings Canyon National Park. With the metropolitan city of Fresno also located in close proximity, those who like less rustic accommodations can find vacation rentals, bed and breakfasts, and numerous hotels to meet their needs. While staying overnight in Fresno visitors can take time to sightsee and shop. Some visitors may find Fresno to be an excellent place to call home, and will find abundant real estate awaiting new owners.
Sequoia Lake is a great place to visit for a weekend getaway or even a longer retreat. Because the lake is private, visitors must make reservations through the YMCA Sequoia Lake. Once your family experiences the beauty of the area, you will be eager to return for more.
Things to do at Sequoia Lake
Vacation Rentals
Fishing
Boating
Swimming
Tubing
Camping
Campground
Cabin Rentals
Hiking
Ice Skating
Snowboarding
Cross-Country Skiing
Snowshoeing
National Park
Fish species found at Sequoia Lake
Bass
Black Bass
Catfish
Crappie
Largemouth Bass
Smallmouth Bass
Spotted Bass
---
Sequoia Lake Photo Gallery
Sequoia Lake Statistics & Helpful Links
Spread the word! Share our Sequoia Lake article with your fellow Lake Lubbers!