Santee Lakes, California, USA
Welcome to the ultimate guide for history, statistics, local fun facts and the best things to do at Santee Lakes.
If you're considering Santee Lakes vacation rentals, we've made it super easy to explore accommodations and nearby hotels using the interactive map below. Simply click on a listing to compare similar properties, best rates and availability for your dates. Or keep scrolling to read our Santee Lakes guide!
Santee Lakes visitor and community guide
In arid San Diego County, seven interconnected lakes show just how attractive reclaimed water can be. The 190-acre Santee Lakes Regional Park celebrated its 50th birthday in 2012 and is getting better year after year. The water reclamation project was begun in 1961 to solve a problem. The result provides recreation and lasting value to Santee, a town of 54,000 people about 20 miles from San Diego. Many non-motorized water activities are supported, the fishing is excellent, and the park receives hundreds of thousands of visitors each year. It's hard to imagine that a man-made structure created to recycle water could become a treasured park, but it has been phenomenally successful. In fact, Santee Lakes is a highly-desirable vacation destination in the Southern California area.
Santee Lakes is designed so that either day visitors or long-term campers can get full enjoyment out of the park. The lakes are built in a chain with each lake designated for a different group of activities. Personal boats are not allowed but rowboats, canoes, kayaks, and pedal boats are available for rent. A convenience store, snack bar, recreation center, coin laundry, playground, two swimming pools, Jacuzzi, RV dump station, children's spray-park, and a large number of campsites are available. No sailing, sail boarding, swimming or any water/body contact is allowed. This is not due to the purity of the water as all water here meets all California water cleanliness standards, including accidental ingestion. But Santee Lakes is carefully designed to provide for a variety of activities, and keeping separate swimming pools allows for more fishing, boating and wildlife habitat.
Largemouth bass, catfish, trout, bluegill, and crappie are caught in the lakes, with different lakes specializing in different species. Over 40,000 pounds of trout and catfish are planted each year; the largemouth bass are catch and release. Other fish may be kept, although there are specific restrictions on sizes and varieties. A large number of migratory birds visit the park, and waterfowl of all types live year-round in the wetlands. Walking and jogging trails are laid out around the park with mileage signage. Pet walks are designated and fishing piers provided in some places. Lakes six and seven are off-limits to all but registered campground guests. The carefully designed Santee Lakes Regional Park works very well: many campers remark on how peaceful and quiet their campsite is even with the large numbers of day visitors. Visitors say they quickly forget they're actually in town.
Visitors to Santee Lakes often come for the special activities such as 5K Runs. But, if they want to use Santee Lakes as home base, there are plenty of other activities to enjoy nearby. Less than 30 miles away, San Diego offers a wide variety of entertainment and cultural activities, including Balboa Park, world-famous San Diego Zoo, ocean beaches, golf and amusements.
One of the first successful water reclamation sites in the United States, Santee Lakes began as the solution to a waste water problem: drinking water comes from the Colorado River, and treated sewage was released into a dry creek bed until the growth of Santee and new California waste water regulations created a dilemma. Either Santee would be forced to pipe all sewage to San Diego where treated water would be released into the Pacific – at considerable cost – or they would have to find a better plan. Ray Stoyer, General Manager of the Santee County Water District, convinced a local business to give the town a portion of an empty canyon that had been used for gravel mining. Using the slope of the canyon floor, a new, improved waste water treatment plant was built using improved methods with the treated water routed into a small man-made lake. The lake soon became two lakes, then three. Health Department testing showed within three years, the continually-improving treatment system was releasing water that exceeded all existing legal standards.
Because San Diego County is so dry, lakes are a real rarity. That fact likely helped overcome the public's initial distrust of treated waste water. Soon fish were stocked and fishing and picnics began to be daily activities at the new Santee Lakes. As the town grew, the treatment facilities grew with it, providing more reclaimed water and allowing for more lakes. After the last upgrade to the treatment system, treated water output now reaches two million gallons a day. One million is sold by contract to those using it for garden and lawn irrigation, a golf course and an orchard. The other million gallons go to fill the lakes which lose water to evaporation rapidly in the dry climate. Upgrades and new attractions at the Santee Lakes Regional Park occur regularly, with many more improvements in the planning stages. Fees from the park pay for all park operations; no money is needed from the water and sewer fees town residents pay. Santee residents consider the Santee Lakes project one of the most attractive advantages of living in Santee.
Visitors to Santee Lakes can either come with their own RV or rent one nearby. The Park rents out cabins on the water that sleep six and have every amenity. There are even three floating cabins available so visitors can camp directly on the water. Santee Lakes has spawned other campgrounds in the area, and there are a number of hotels and motels that cater to Santee Lakes visitors. Although there is no private housing directly on the lakes themselves, several private residences and apartments are available for rental on a short-term basis. Some advertise that they have lake views. Real estate can be found for purchase when visitors decide to become permanent residents of the Santee area. All in all, there is something at Santee Lakes for everyone. Once you visit Santee Lakes, you'll be yearning to come back for more. See you next time!
Note: all statistics are estimates as Santee Lakes does not keep this kind of information due to frequent changes in lake configuration.
Custom Santee Lakes house decor
Read our full review of these personalized lake house signs.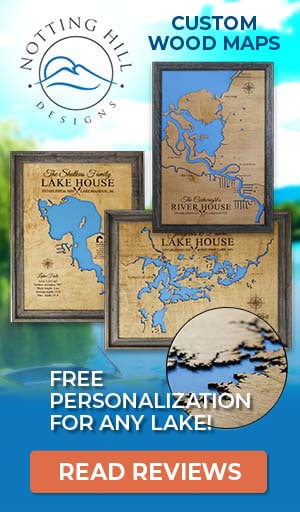 Things to do at Santee Lakes
Vacation Rentals
Fishing
Boating
Sailing
Swimming
Swimming Pool
Beach
Canoeing
Kayaking
Golf
Camping
Campground
Picnicking
Cabin Rentals
Hiking
Wildlife Viewing
Birding
Playground
Fish species found at Santee Lakes
Bass
Black Bass
Bluegill
Catfish
Crappie
Largemouth Bass
Sunfish
Trout
---
Best hotels and vacation rentals at Santee Lakes
The Santee Lakes map shown above is a simple and stress-free way to search for trip accommodations. But if you want to take a deeper dive to find the ideal waterfront home, cabin, condo, hotel or resort, visit our favorite lodging partners by clicking the buttons below.
Note: These are affiliate links so we may earn a small commission if you book through them. While there is no extra cost to you, it helps provide resources to keep our site running (thank you)! You can read our full disclosure policy here.
---
Santee Lakes photo gallery
New photos coming soon!
Santee Lakes statistics & helpful links
We strive to keep the information on LakeLubbers as accurate as possible. However, if you've found something in this article that needs updating, we'd certainly love to hear from you! Please fill out our Content Correction form.
Advertise your Santee Lakes vacation rental
LakeLubbers will soon offer homeowners and property managers the opportunity to to showcase their vacation rentals to the thousands of lake lovers searching our site daily for accommodations. If you'd like additional details, please contact our advertising team here.
Looking for the Santee Lakes forum?
LakeLubbers previously offered visitors the ability to create accounts and participate in lake forums. When we overhauled the site's content management system in 2021 we had to disable those features. We're evaluating options and welcome your comments and feedback here.
We also encourage you to join our lake-lovin' community on Facebook and Instagram!
Spread the word! Share our Santee Lakes article with your fellow Lake Lubbers!