Schoodic Lake, Maine, USA
Welcome to the ultimate guide for history, statistics, local fun facts and the best things to do at Schoodic Lake.
If you're considering Schoodic Lake vacation rentals, we've made it super easy to explore accommodations and nearby hotels using the interactive map below. Simply click on a listing to compare similar properties, best rates and availability for your dates. Or keep scrolling to read our Schoodic Lake guide!
Schoodic Lake visitor and community guide
One of the large lakes in the Maine Highlands region, Schoodic Lake has managed to stay off the recreation radar of many Maine vacationers. Only an hour and a half from Bangor, limited public access appears to be the main reason that the lake receives few visitors. Two boat ramps provide the only means for the public to access the 7,021-acre lake. Most of the 32-mile shoreline is in private hands, with many large tracts offering a wilderness vista. Many private homes and 'camps' are located along the shoreline. The lake is available for all water sports, with water skiing, personal watercraft, and power boats occasionally seen. Pontoons, canoes, rowboats and small fishing craft are the more common mode of accessing the water. The fishing is more than good-it is excellent!
Schoodic Lake is managed primarily as a cold water fishery by the Maine Department of Inland Fisheries and Wildlife (DIFW). Salmon, brook trout, lake trout, smallmouth bass, round whitefish, cusk and white perch are all caught. The lake trout population is so healthy that state hatcheries have for several years collected lake trout eggs for controlled hatching and stocking into other lakes. The two boat ramps, both on the west side of the lake, are operated by DIFW. One near the tiny village of Lake View has little information and is not listed on official boat launch websites. The other, at Knights Point, recently underwent renovations by the state to improve access and parking. Although Schoodic lake is designated a cold-water fishery, the smallmouth bass population is also abundant and provides plenty of sport. Many camp owners enjoy swapping 'fish tales' and hot spot locations among the large coves. Schoodic Lake offers a summer bass fishing derby and an annual February ice fishing derby timed to coincide with the annual free fishing weekend.
Set in a scenic wooded area, excellent views of Mount Katahdin can be seen from the lake. The second and third-growth hardwood forests surrounding Schoodic Lake stretch for miles and are a natural haven for deer, moose, bear and smaller mammals. Most of the surrounding gravel roads in the area are little used and make for excellent walking and bicycling. The roads are locally popular in all seasons; cross-country skiing and snowshoeing are favored winter sports. Those lucky enough to have a camp or home at Schoodic Lake are in an ideal area for accessing some of the best nature observation, hiking and mountain climbing in this part of Maine. A 100-mile wilderness section of the Appalachian Trail crosses within a few miles, while Baxter State Park, Sebois Lake and the Sebois section of public lands are likewise within an hour's drive. The few vacation rentals on the lake are the ideal place to enjoy the water in a rustic and serene setting.
The tiny village of Lake View holds only necessary supplies and services. Other larger towns are located about 20 miles away to the west and south on the main highways. Brownville and Milo can provide nearly every necessity but are not tourist destinations except during the annual festivals. These festivals are often unusual celebrations of ordinary things and events such as the Milo Black Fly Festival during June celebrating the swarming of these pesky northwoods insects (it's an excuse for a celebration and has become quite popular). Local bakers vie for the title of Best Whoopie Pie of the Year at the Maine Whoopie Pie Festival at Dover-Foxcroft. Not far away at Greenville, things are of a more historical nature with the Forest Heritage Days featuring lumberjack contests and a celebration of Maine's logging heritage. All of these festivals offer plenty of regional and carnival foods, games, rides and vendor booths. Many times a 5K or 10K run brings participants from considerable distances to race.
The larger towns provide lodgings in the form of motels, vacation cottages, bed & breakfasts, inns and nearby campgrounds. Brownville Junction is home to Maine's largest music park and outdoor entertainment center. Pine Theater here offers movies. The 16-mile multi-use Lagrange to Medford Trail which passes through Lake View Plantation offers plenty of motorized outdoor fun for snowmobiles and ATVs. During hunting season certain areas are open to licensed hunters. These types of recreational opportunities make Schoodic Lake an attractive place to own a vacation camp or year-round home.
There are two competing theories for the origin of the name Schoodic. One says that the name comes from the Native American word sko-tum, meaning trout. Early maps list the lake as Scootum Lake. More technical explanations say that the name comes from the word schoodic, common to both the Maliseet and Penobscot languages, labeling a geological feature-the ridge of glacially deposited gravel as a small hill. Either or both could be correct. The word has long been in local usage in Maine. Another Schoodic Lake is found in Washington County.
Water in Schoodic Lake is exceedingly clean and clear. Depths reach 188 feet with outflow leaving at the dam on Schoodic Stream, a tributary to Piscataquis River. Surprisingly, there are no major inflowing rivers to contribute to this large volume of water. Instead, the lake is primarily spring-fed, with run-off waters filtered through large wetland areas along the shore. Originally dammed and owned by Bangor Hydro Electric, the lake was used as a water storage basin for hydro electric power generation downstream. This created major water level changes and was not beneficial to the native fish in the lake. In 1985,the Schoodic Lake Association took advantage of the opportunity to own the dam and now controls water levels both to benefit property owners and provide for optimum fish spawning habitat. The Association monitors water quality and fishery health, and educates property owners in best practices in maintaining the lake in excellent condition.
Schoodic Lake is one of the best possible places to enjoy a quiet northwoods vacation. Little is going on here except solitude, neighborly visiting, campfires along the rocky shore, the songs of the birds and cries of loons, swimming in cold and clear waters and, of course, fishing. Come and visit this piece of the Maine Highlands and enjoy nature and water the way they were meant to be. A limited amount of real estate is available for the lucky buyer.
Custom Schoodic Lake house decor
Read our full review of these personalized lake house signs.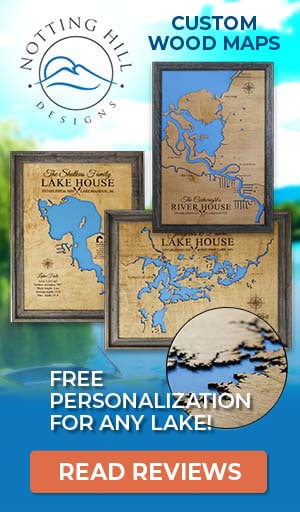 Things to do at Schoodic Lake
Vacation Rentals
Fishing
Ice Fishing
Boating
Swimming
Canoeing
Water Skiing
Camping
Campground
Hiking
Mountain Climbing
Biking
Cross-Country Skiing
Snowmobiling
Snowshoeing
Hunting
Wildlife Viewing
Birding
State Park
Fish species found at Schoodic Lake
Bass
Black Bass
Brook Trout
Cusk
Lake Trout
Perch
Salmon
Smallmouth Bass
Trout
White Perch
Whitefish
---
Best hotels and vacation rentals at Schoodic Lake
The Schoodic Lake map shown above is a simple and stress-free way to search for trip accommodations. But if you want to take a deeper dive to find the ideal waterfront home, cabin, condo, hotel or resort, visit our favorite lodging partners by clicking the buttons below.
Note: These are affiliate links so we may earn a small commission if you book through them. While there is no extra cost to you, it helps provide resources to keep our site running (thank you)! You can read our full disclosure policy here.
---
Schoodic Lake photo gallery
New photos coming soon!
Schoodic Lake statistics & helpful links
We strive to keep the information on LakeLubbers as accurate as possible. However, if you've found something in this article that needs updating, we'd certainly love to hear from you! Please fill out our Content Correction form.
Advertise your Schoodic Lake vacation rental
LakeLubbers will soon offer homeowners and property managers the opportunity to to showcase their vacation rentals to the thousands of lake lovers searching our site daily for accommodations. If you'd like additional details, please contact our advertising team here.
Looking for the Schoodic Lake forum?
LakeLubbers previously offered visitors the ability to create accounts and participate in lake forums. When we overhauled the site's content management system in 2021 we had to disable those features. We're evaluating options and welcome your comments and feedback here.
We also encourage you to join our lake-lovin' community on Facebook and Instagram!
Spread the word! Share our Schoodic Lake article with your fellow Lake Lubbers!