Moosehead Lake, Maine, USA
Lake Locations:
USA - New England - Maine - Maine Highlands -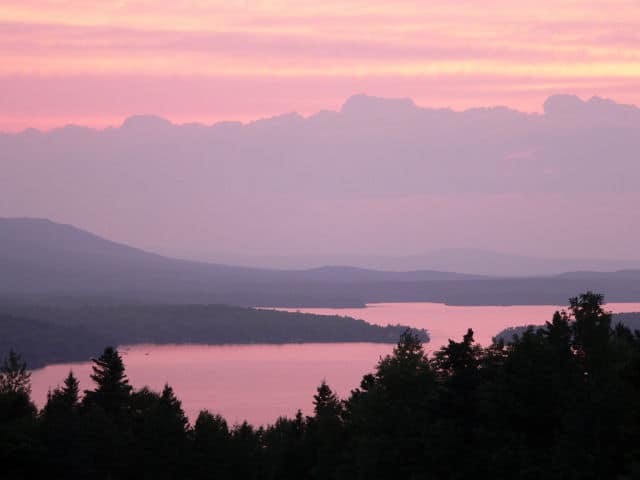 Moosehead Lake, nestled in the Longfellow Mountains in the Maine Highlands Region, is the largest lake in Maine. It has an elevation of 1,023 feet, boasts nearly 300 miles of shoreline, covers an impressive 120 square miles (about 75,000 acres) and stretches 40 miles long by 10 miles wide. Moosehead Lake contains more than 80 islands, the largest of which is Sugar Island.
Moosehead Lake is a natural lake formed more than 12,000 years when glaciers receded from Maine. The 150-mile long Kennebec River originates from Moosehead Lake. The Kennebec Water Power Company, owned by FPL Energy, owns the storage dams at the East and West Outlets of the lake. Moosehead Lake is used for hydroelectric power, flood control, recreation, and drinking water supply. Construction of the West Outlet Dam dates back to the 1830s.
The topography of Moosehead Lake is impressive: Mount Kineo, with rocks and boulders that rise dramatically 800 feet from the lake's eastern shore, has attracted visitors for centuries with its amazing cliffs and scree (broken rock). The mountain is also home to rare animal and plant life. The steamship SS Katahdin provides lake tours from summer through fall, passing directly beneath Mount Kineo, where peregrine falcons are frequently sighted. The mountain views are spectacular on clear days, with visibility all the way to Mount Katahdin, the highest point in Maine at 5,268 feet and the northern terminus of the Appalachian Trail.
As the Moosehead Lake Chamber of Commerce boasts, the region is home to more moose than people. Quiet and beautiful, the lake is situated at the foot of Maine's woods and until recently, was so secluded that it was only frequented by Maine residents. However, the region has gained in popularity and is quickly becoming known as an eco-tourism destination, luring nature lovers and those yearning for the peace and serenity of a secluded wilderness lake. The town of Greenville, at the lake's southern end, provides all amenities including restaurants, shopping, and tours. The village of Rockwood sits on the lake's western shore with spectacular views of Mount Kineo.
Moosehead Lake offers year-round activities for the whole family to enjoy. The long summer days are full of boating, kayaking, canoeing, white water rafting, swimming, bird watching, camping, fishing, golf, hiking, moose watching, and horseback riding. In winter, downhill skiing and glade skiing adventures await at Big Moose Mountain (previously named Big Squaw Mountain) on the lake's western shore. Lily Bay State Park, on the lake's eastern shore, is a four-season park with swimming, boating, camping, hiking and fishing during warm temperatures. Leaf-peeping and wildlife viewing hikes are popular in the fall. And when temperatures dip, the park welcomes hearty visitors for cross-country skiing, snowshoeing, snowmobiling and ice fishing.
Anglers enjoy spin casting and fly fishing. While plenty of fishing destinations are accessible by car, one can also choose to adventure out and hike to one of the lake's more difficult-to-access destinations. Anglers can expect catches of bass, perch, salmon, togue (lake trout), and brookies (brook trout).
Real estate is available around Moose Lake for rent or sale. Rent a lake home, cabin or cottage for a weekend, week, or month to experience the beauty of Moosehead Lake. You may soon be looking into purchasing a lake retreat of your own.
Things to do at Moosehead Lake
Vacation Rentals
Fishing
Ice Fishing
Boating
Swimming
Canoeing
Kayaking
Whitewater Rafting
Golf
Camping
Cabin Rentals
Hiking
Downhill Skiing
Cross-Country Skiing
Snowmobiling
Horseback Riding
Wildlife Viewing
Birding
State Park
Shopping
Fish species found at Moosehead Lake
Bass
Brook Trout
Lake Trout
Perch
Salmon
Trout
---
Moosehead Lake Photo Gallery
Moosehead Lake Statistics & Helpful Links
We strive to keep the information on LakeLubbers as accurate as possible. However, if you've found something in this article that needs updating, we'd certainly love to hear from you! Please fill out our Content Correction form.
Spread the word! Share our Moosehead Lake article with your fellow Lake Lubbers!