Millinocket Lake, Maine, USA
Lake Locations:
USA - New England - Maine - Maine Highlands -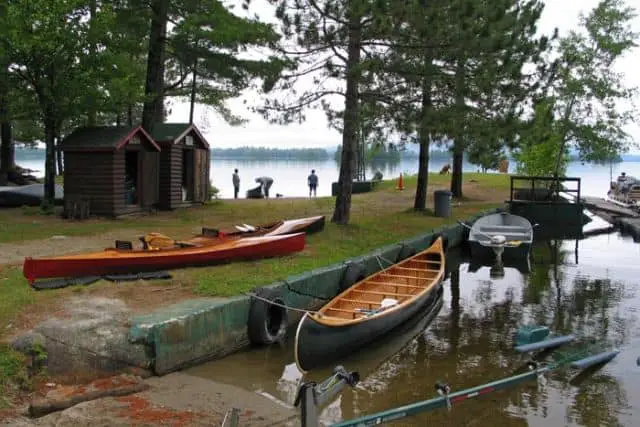 Nestled within the Maine Highlands tourism region, Millinocket Lake is known for its stunning views of Mount Katahdin, the tallest mountain peak in Maine. Millinocket Lake is a freshwater reservoir used for drinking water, flood control, hydroelectric power and recreation. It also provides a natural habitat for various fish and wildlife species. The dam, an impoundment of Millinocket Stream, is located at the southeast corner of the lake.
Boating and fishing are top-notch at Millinocket Lake. Anglers tend to find more success when casting from boat than from shore. Landlocked salmon and lake trout are plentiful, but Millinocket's true claim to fame is the large perch beneath its waters. Brook trout, lake trout, whitefish, pickerel and cusk are also present. July is the best month for swimming and snorkeling on this pristine body of water, when the temperature is at its most pleasant. The 10-mile stretch of river between Millinocket Lake and Shad Pond boasts exhilarating class I and II rapids for whitewater rafting.
Real estate properties and vacation rentals are available on Millinocket Lake. Rentals often include convenient amenities such as Jacuzzis, outdoor grills and full kitchens. In addition, canoe rentals, ping pong tables, basketball courts, and horseshoe pits may be found on site.
To the north of Lake Millinocket is 209,501-acre Baxter State Park. Its 200 miles of hiking trails (including the northern extremity of the Appalachian Trail) lead to stunning mountain peaks and waterfalls. During the winter, many of these paths are converted into cross country skiing treks. Various ponds and lakes provide a slew of water recreation including sailing, canoeing and kayaking. The largest bodies of water here are Grand Lake Matagamon, Nesowadnehunk and Webster Lakes.
Winter sports reign supreme near Lake Millinocket, as evidenced by 350 miles of snowmobile trails in the area. The cross country skiing trails near Lake Millinocket are especially well maintained by the Northern Timber Cruisers Snowmobile and Cross Country Ski Club. Dog sledding is permitted only on the trail at Hidden Springs. Snowshoeing is ideal off of the two Bait Hole Trails, a set of wide double and single tracked ski paths for enthusiasts of all levels.
Southwest of Lake Millinocket you'll find the Pemadumcook Chain of Lakes, made up of five bodies of water: North Twin, Ambajejus, Elbow, Pemadumcook and South Twin Lakes. This area is known for its fall leaves that change dramatically in color, as well as for its phenomenal fishing and water recreation.
The city of Millinocket is located in Penobscot County, just six miles south of Millinocket Lake. The word "Millinocket" means "land of many islands," after the numerous landmasses scattered along the nearby Penobscot River. The town was first settled as farmland in 1829, but did not begin to boom until the arrival of the Bangor and Aroostook Railroad in 1894. A few years later, an engineer named Charles W. Mullen foresaw the potential in harnessing river power for a pulp and paper mill that he was planning. He began construction of the dam, which was completed in 1910.
Today, Millinocket is home to about 5,000 people. Although it has a small-town feel, there is certainly no shortage of things to do here. The snowmobile museum is one of the most impressive of its kind, with incredibly well-preserved examples of functioning snowmobiles from as far back as 1961. Moose watching trips can be arranged, and children will love the town's miniature golf course, bowling alleys and shopping malls.
Whether you come to fish, relax or whitewater raft, you are sure to find many things to love about Lake Millinocket. Picture yourself relaxing by the lake's edge during a summer sunset, or warming your feet next to a toasty fire at a cabin rental during the winter. Visitors to Maine broadly agree that Lake Millinocket is a true riparian gem.
Things to do at Millinocket Lake
Vacation Rentals
Fishing
Boating
Sailing
Swimming
Canoeing
Kayaking
Whitewater Rafting
Snorkeling
Golf
Cabin Rentals
Hiking
Cross-Country Skiing
Snowmobiling
Dog Sledding
Waterfall
Wildlife Viewing
State Park
Museum
Miniature Golf
Shopping
Fish species found at Millinocket Lake
Brook Trout
Cusk
Lake Trout
Perch
Pickerel
Pike
Salmon
Shad
Trout
Whitefish
---
Millinocket Lake Photo Gallery
Millinocket Lake Statistics & Helpful Links
Spread the word! Share our Millinocket Lake article with your fellow Lake Lubbers!