Salamonie Lake, Indiana, USA
Lake Locations:
USA - Midwest - Indiana - East -
Also known as:  Salamonie Reservoir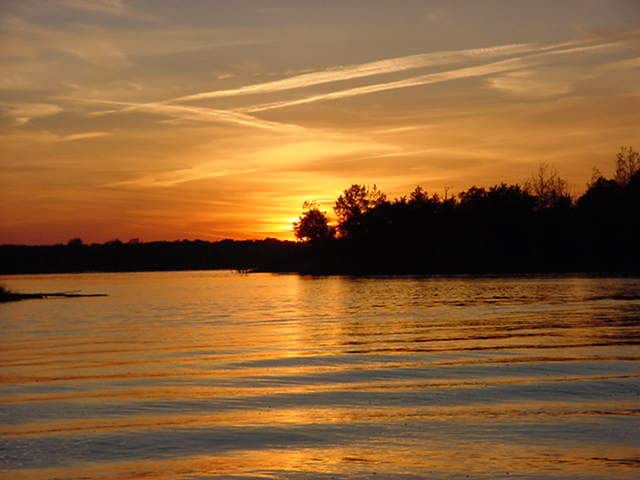 Salamonie Lake is a large, unspoiled reservoir spanning the border of both Huntington and Wabash Counties in north central Indiana. The lake is part of a Department of Natural Resources (DNR) site which is also comprised of several state recreation areas (SRA), covering over 13,000 acres. Surrounded by rich countryside, the vast property is full of ponds, marshes, and wetlands teeming with wildlife. Salamonie Lake is an impoundment of the lower portion of the Salamonie River and provides flood control downstream. Also known as Salamonie Reservoir, the lake and surrounding parks offer endless recreational opportunities year round. In the summer, visitors can enjoy boating, fishing, water sports, canoeing, hiking, camping, hunting, and wildlife viewing. Winter months provide all kinds of winter sport options including ice fishing, snowmobiling, and cross country skiing.
Once home to both Miami and Osage Indians, the area has a rich Native American and early pioneer history. The name Salamonie comes from an Indian word, "o-sah-no-mee" which means "yellow paint." The Native Americans made yellow dye and paint from the bloodroot that grew wild on the shores of the lake and river. The area first saw white settlers in the early 1800's, and by 1835 both Huntington and Wabash Counties had been officially organized. Through the years, the land around Salamonie Lake has remained largely undeveloped, other than a few small towns. Monument City was a small town nearby which was flooded for the construction of the Salamonie Dam in 1965. Thousands of acres of protected property surround Salamonie Lake today, providing recreation for residents and visitors and habitats for wildlife and plant life.
With excellent fishing opportunities at Salamonie Lake, anglers certainly appreciate the conservation efforts of the DNR. Fishing is very popular, with fishing available along the river below the dam as well as in the lake itself. The lake is well known for its abundant crappie, but other species include bluegill, catfish, largemouth bass, smallmouth bass, white bass, redear, and walleye. While the tailwater area is fished year round, the spring months of March and April are excellent due to a walleye spawning run. Ice fishing for crappie is also good in the winter, but should be pursued with extreme caution due to water fluctuations making ice conditions very dangerous at times, especially around the edges. Year-round access to the lake is available via the concrete boat ramps and gravel single lane ramps located around the lake. There is also a marina on the southern shores of the lake providing boat rentals, fuel, and overnight or seasonal mooring.
Many miles of shoreline provide a myriad of activities at the various parks and recreation areas around Salamonie Lake. Visitors will find bike trails, beaches, playgrounds, basketball and volleyball courts, as well as horseback riding, cross-country skiing, snowmobile and hiking trails, camping areas, and boat launches for speed boats, personal watercraft, canoes and kayaks. The Lost Bridge Recreation Area is one of the larger parks around the lake and provides areas for camping, swimming, trail hiking and picnicking. One of the park's main attractions is the IDNR Interpretive Center. This state-of-the-art facility features dioramas and interactive displays on lake operations, area wildlife and history for nature lovers and history buffs alike. Extensive nature interpretive programming is offered year round at the center as well as kid's displays and activities. Bird watching is huge around Salamonie Lake where visitors can see an amazing number of species at any given time. Dramatic waterfowl migrations, eagles, and hawks are commonplace at this avian paradise. An extensive list of bird species found around Salamonie Lake can be found in the internet resources below.
Salamonie Lake is a recreation paradise with activities for the entire family. Accommodations, including hotels and vacation rentals, can be found around the small towns of Wabash and Huntington Counties. Fort Wayne, 30 miles to the northeast, is the largest city in the vicinity and provides airport services. For people looking to relocate to the area, plenty of land is available outside the DNR site around Salamonie Lake. With so much to do and see, a visit to Salamonie Lake is a convenient trip for visitors in the Northern Tourism Region in the beautiful state of Indiana.
Things to do at Salamonie Lake
Vacation Rentals
Fishing
Ice Fishing
Boating
Swimming
Beach
Canoeing
Kayaking
Camping
Picnicking
Hiking
Cross-Country Skiing
Snowmobiling
Horseback Riding
Hunting
Wildlife Viewing
Birding
Playground
Fish species found at Salamonie Lake
Bass
Black Bass
Bluegill
Catfish
Crappie
Largemouth Bass
Perch
Redear Sunfish (Shellcracker)
Smallmouth Bass
Sunfish
Walleye
White Bass
---
Salamonie Lake Photo Gallery
Salamonie Lake Statistics & Helpful Links
Spread the word! Share our Salamonie Lake article with your fellow Lake Lubbers!