Mississinewa Lake, Indiana, USA
Lake Locations:
USA - Midwest - Indiana - East -
Also known as:  Mississinewa Reservoir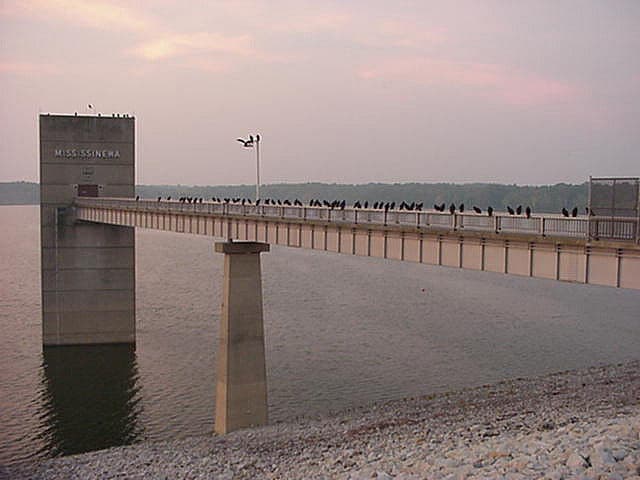 Visitors to north central Indiana will find myriad recreational activities, surrounded by unspoiled, scenic beauty at Mississinewa Lake. This 3,180-acre lake is a well-known destination for fishermen and hikers alike. Located along the Mississinewa River, this reservoir provides flood control in conjunction with J. Edward Roush Lake and Salamonie Lake in the Upper Wabash region. Also known as Mississinewa Reservoir, the lake's 59-mile shoreline is surrounded by several state recreation areas (SRAs). In addition to fishing and hiking, visitors enjoy camping at hundreds of campsites in the area, along with swimming, sunbathing on the beach, hunting and trapping, canoeing, water skiing and picnicking.
The name Mississinewa, pronounced "Miss-SIN-uh-wah", is a Miami Indian word, or "Mis-chis-in-wah," meaning "water on a slope". Native American folklore and history run deep in this region. Visitors quickly note that the name Frances Slocum is everywhere. As the story goes, Frances was a young Quaker child when she was abducted by the Delaware Indians. She grew up with the tribe and took the name "Maconaquah", meaning "Young Bear". She later married a chief and was fully integrated into the culture, language and ways of her new Native American life. She was found nearly 60 years later by her brothers, but chose to stay with her Native American family, including her four children, until her death at age 74.
The Frances Slocum State Recreation Area lies on the northwestern edge of the lake and provides interpretive trails along with boat ramps, a picnic area, and 9,000 acres of wilderness. Other state recreation areas surround Mississinewa Lake. Red Bridge SRA has picnic facilities, boat ramp and marina. Miami SRA includes shelters, picnic tables, hiking trails, beach, campground, boat ramp, fishing pond, volleyball and basketball courts, horseshoes and an 18-hole disc golf course. Pearson Mill SRA provides boat ramps and a picnic area. Wildlife viewing and bird watching are very popular around Lake Mississinewa and are not threatened by commercial or residential development as the lake lies completely within a 15,000-acre Indiana Department of Natural Resources (DNR) site.
Anglers enjoy excellent fishing around Mississinewa Lake at various locations including the Outlet and Peoria fishing sites in the reservoir's tail waters. Species include walleye, white crappie and black crappie, channel catfish, flathead catfish, white bass, bluegill, largemouth bass, and smallmouth bass. Fishing piers and boat ramps are located around the lake. A marina and fish cleaning station provide anglers with everything needed for a great day of fishing. Boats are not regulated; size, speed, and horsepower are unlimited.
A trip to Mississinewa Lake isn't complete without checking out a unique natural wonder along the banks of the Mississinewa River: Cliffs of the Seven Pillars. Located off the Frances Slocum Trail, pillars were formed over centuries as sandstone walls were eroded by flooding waters and wind to create the cliffs and inner chambers. The chambers were used by the Miami Indians for council meetings, social events, and as a trading post.
Because Mississinewa Lake is located inside an Indiana DNR site, there are no vacation properties, resorts or real estate available along the shores. But for those interested in vacation accommodations, or relocating to the area, the city of Peru, Indiana is located seven miles northwest of the lake. Peru bills itself as the circus capital of the world. Its huge annual parade and festival celebrate the city's circus heritage.
Located 85 miles from Indianapolis, Mississinewa Lake is an easy and worthwhile drive. Together with its beauty and rich history, it is a treasured natural resource for visitors, nearby residents and retirees.
Things to do at Mississinewa Lake
Fishing
Boating
Swimming
Beach
Canoeing
Water Skiing
Golf
Camping
Campground
Picnicking
Hiking
Hunting
Wildlife Viewing
Birding
Fish species found at Mississinewa Lake
Bass
Black Bass
Black Crappie
Bluegill
Catfish
Channel Catfish
Crappie
Flathead Catfish
Largemouth Bass
Perch
Smallmouth Bass
Sunfish
Walleye
White Bass
White Crappie
---
Mississinewa Lake Photo Gallery
Mississinewa Lake Statistics & Helpful Links
Spread the word! Share our Mississinewa Lake article with your fellow Lake Lubbers!