Round Lake, Ontario, Canada
Lake Locations: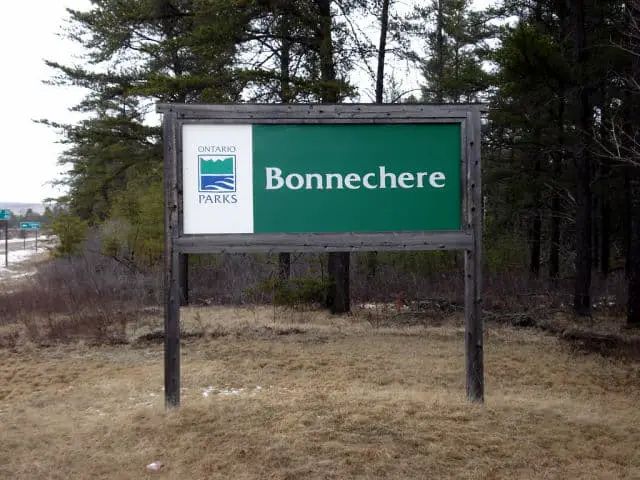 Round Lake is a spectacular 7,596-acre lake located in Renfrew County, Ontario, Canada. Renfrew County is part of the Ottawa Valley which was carved by glaciers some 600 million years ago. Today, Renfrew County sits in the midst of stunning wilderness and gorgeous landscapes. Two provincial parks on Round Lake plus mile after mile of natural splendor make this rural lake a great place to get away from it all.
Round Lake is the first major lake in the journey of the scenic Bonnechere River which begins at Basin Lake in Algonquin Park. In the mid 1920s, a hydroelectric dam was constructed on the outlet of Round Lake which resulted in raising the water level of the lake. From the outlet of Round Lake, the Bonnechere River passes through Golden Lake, Eganville, Douglas and Renfrew before spilling in to the Ottawa River near Castleford. The river drops 735 feet in its course, creating many white water rapids and rafting opportunities.
Due to its size, Round Lake is a popular four season recreational lake. Bonnechere Provincial Park on the western shore and Foy Provincial Park on the northern shore give visitors easy access to the crystal clear water. Both parks offer hiking trails, picnic areas, and public boat launches and beaches. Foy Park is located in one of the least developed sections of the lake. Camping facilities, boat rentals, and playgrounds can be found at Bonnechere Provincial Park. Fishing in Round Lake is excellent. Pike, walleye, smallmouth bass, largemouth bass, and lake trout all make their home in the deep, blue water. Bonnechere River Provincial Park, a nearly 3,000-acre waterway includes the shorelines of the Little Bonnechere River in the Algonquin Provincial Park to the entry of Round Lake. The waterway links a number of natural areas which create a wonderful area to explore by foot, car or boat. The Bonnechere River offers great flat water and white water paddling. For the advanced rafter, the Ottawa River offers much more powerful white water. Many rafting companies run exciting trips down both rivers.
Accommodations on Round Lake and in the Ottawa Valley are plentiful. Resorts, rustic cabins, cozy cottages, and luxurious lakefront homes are available for rent. Real estate for purchase around the lake and in the surrounding small towns is a great way to own a piece of the beautiful country. Recreation in the Ottawa Valley includes paddling, cycling, hiking, white water rafting and more. When the snow falls, cross country skiing, snowshoeing, ice fishing and snowmobiling become the popular pastimes.
Towns surrounding Round Lake are home to many shops and art galleries featuring souvenirs and hand made crafts designed by local artisans. Killaloe, Round Lake Center, Pembroke and Wilno are all within a short drive of the lake. South of Round Lake, the town of Quadeville is a great place to hunt for gem stones and is the former home of Al Capone. On the way to Quadeville, the town of Foymount is Ontario's highest populated point at 1,640 ft above sea level. The Foymount area is a popular destination for backpackers and hikers. An abandoned Royal Canadian Air Force radar base can be found at the top of the hill and is a popular destination for ghost town enthusiasts.
For additional outdoor adventure, the Algonquin Provincial Park is just north of Round Lake and covers approximately 2,950 square miles. Over 2,400 lakes and 750 miles of streams and rivers are located within the park. Hikers have a good chance of seeing a moose in the dense woods, and there are also a small number of wolves, lynx and bears in the park. Biking trails, campgrounds, lakes, rivers and streams all make for an excellent day or weekend of fun. A visitor center and logging museum showcase the logging history of the region.
With 900 pristine lakes and four major river systems, Round Lake and the Ottawa Valley region are a fantastic retreat for the outdoor enthusiast. Anglers can cast in their line, while whitewater enthusiasts enjoy roaring rivers. The immense size of Round Lake alone is enough to encourage visitors to explore the area and find the perfect spot to unwind.
Things to do at Round Lake ON
Vacation Rentals
Fishing
Ice Fishing
Boating
Swimming
Beach
Canoeing
Kayaking
Whitewater Rafting
Camping
Campground
Picnicking
Cabin Rentals
Hiking
Biking
Cross-Country Skiing
Snowmobiling
Hunting
Wildlife Viewing
Provincial Park
Museum
Playground
Fish species found at Round Lake ON
Bass
Black Bass
Lake Trout
Largemouth Bass
Perch
Pike
Smallmouth Bass
Trout
Walleye
---
Round Lake ON Photo Gallery
Round Lake ON Statistics & Helpful Links
Spread the word! Share our Round Lake ON article with your fellow Lake Lubbers!