Lake Nipissing, Ontario, Canada
Lake Locations: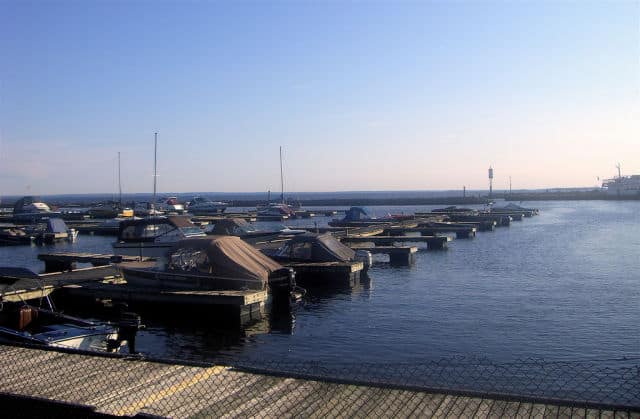 Located in the Near North region of Ontario, Lake Nipissing is the fifth largest lake in Ontario excluding the Great Lakes. This relatively shallow 211,200-acre lake is situated between the Ottawa River and Georgian Bay. It drains into Georgian Bay via the French River and with an average depth of only 14.8 feet, it is known for its ideal fishing and boating. Lake Nipissing has three dams owned and operated by the Goverment of Canada at the headwaters of the French River. The Big Chaudiere Dam, Little Chaudiere Dam, and Portage Dam all play roles in the management of water in the area. The largest town on its shores is North Bay along the northeastern shoreline with Callander, Sturgeon Falls, Garden Village, Cache Bay, and Lavigne being the other notable towns on the lake.
First discovered in 1610 by Etienne Brule, the lake is a remnant of glacial Lake Algonquin. Named after the Algonquin word for "big water", Lake Nipissing was originally used by fur traders to canoe from township to township with the first European settlement dating from around 1874 on the southeast corner of the lake. When the fur trade started to dwindle, logging took over as the major industry in the area until after World War I when tourism became the primary economic activity.
Popular activities on the lake include boating, windsurfing, water skiing, sailing, fishing, ice fishing, sunbathing, swimming, kayaking, canoeing, snowmobiling, and cross country skiing. With over 40 species of fish, Lake Nipissing is a very popular fishing hole in Ontario. There are many sport fishing lodges along the shoreline where anglers come to catch walleye, smallmouth bass, muskie, and northern pike. Other species in the lake include pickerel, largemouth bass, yellow perch, muskellunge, whitefish, and cisco. Considered the ice fishing capital of the north, Lake Nipissing has over 2,000 huts on the lake during the frozen winter months.
For some off-the-lake recreation, head to North Bay on the northeastern shoreline of Lake Nipissing. Just four hours from Toronto, North Bay is an outdoor enthusiast's dream with walking, running, biking, and rollerblading on the Kate Pace Way along Lake Nipissing's waterfront. There are hundreds of miles of multi-use trails, cross country ski trails, and snowshoe trails in the area, as well as ice skating rinks and snowboard hills.
Other sites near Lake Nipissing include the Wasi Falls located at the mouth of the Wasi River, which flows into Lake Nipissing and a scenic overlook just before reaching Callander. The overlook offers incredible views of Lake Nipissing as well as a plaque explaining the history of the Nipissing Basin during the glacial retreat. Callander, located south of North Bay on Highway 11, has marinas, boat launches, boat rentals, Centennial Beach Park, and a large artist colony offering pottery, paintings, and dough art. Algonquin Provincial Park, located southeast of Lake Nipissing offers camping, canoeing, hiking, biking, and two museums. Established in 1893, the park has been established as Canada's most important park for biological and environmental research.
With the beautiful winter snows and clear blue skies on summer days, Lake Nipissing is an ideal place to spend a vacation. Real estate is available along the shores of Lake Nipissing with vacation rentals available in some of the towns that rim the coastline. Try your hand at ice fishing or have a snow ball fight in the winter and windsurf and sail in the summer. Either way, it is an outdoor paradise.
Things to do at Lake Nipissing
Vacation Rentals
Fishing
Ice Fishing
Boating
Sailing
Swimming
Beach
Canoeing
Kayaking
Water Skiing
Camping
Hiking
Ice Skating
Biking
Cross-Country Skiing
Snowmobiling
Snowshoeing
Provincial Park
Museum
Fish species found at Lake Nipissing
Bass
Black Bass
Cisco
Largemouth Bass
Muskellunge
Northern Pike
Perch
Pickerel
Pike
Smallmouth Bass
Sturgeon
Walleye
Whitefish
Yellow Perch
---
Lake Nipissing Photo Gallery
Lake Nipissing Statistics & Helpful Links
Spread the word! Share our Lake Nipissing article with your fellow Lake Lubbers!