Riffe Lake, Washington, USA
Lake Locations:
USA - West - Washington - Seattle & Puget Sound -
Also known as:  Riffe Reservoir, Mossyrock Lake, Davisson Lake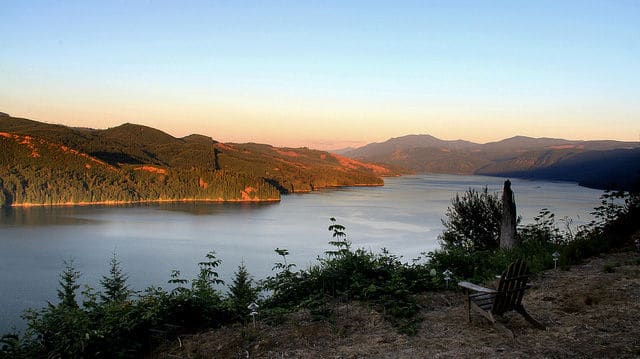 Riffe Lake by any other name would still be a fantastic recreational spot. The name confusion for this man-made reservoir in the Seattle and Puget Sound region is because since opening in 1968, it has had two name changes. Originally named Mossyrock Lake because it formed behind Mossyrock Dam, the name was changed at one point to Davisson Lake. In 1976, the lake's name was changed to Riffe Lake in honor of a small pioneer village that now lies beneath the lake's waters. Some will likely call it Mossyrock Lake forever.
Riffe Lake had its beginnings when Mossyrock Dam was built across the Cowlitz River for hydroelectric power production. Part of the Cowlitz River Project, the dam is owned by Tacoma Power Company, and the project includes nearby Mayfield Lake downstream. In keeping with industry best practices, recreation, flood control and wildlife habitat are built into the design and operating plans. Water releases are timed to keep the river depths optimal for fish. The reservoir is open for camping and fishing year-round, with two utility-operated parks offering a large number of well-appointed campsites, swim areas, playground, picnic areas and boat ramps. Although there are no private homes directly on the shoreline, several are located nearby in the hills with great views of the lake. The lakeshore is heavily wooded and imparts a wilderness feeling once out of sight of the boat ramps.
The two main campgrounds are located at Mossyrock Park at the west end south of the dam and at Taidnapam Park on the east end near the Cowlitz inlet. Mossyrock has 152 campsites, 76 of them with electric and water hook-ups, a separate group camping area, and an area dedicated to walk-in primitive group tent camping. The camping areas are spread out under the trees, and all have fire rings and picnic tables. Coin-operated showers and laundry facilities are on-site, and a store/concession stand sells snacks and supplies seasonally. Taidnapam Park has 139 campsites, all with electric and water hook-ups. Ninety-six sites also have sewer connections for RVs. Another 24 walk-in sites serve those with a desire for solitude. The small swim areas are open when water levels permit, and a very popular 'fishing bridge' is wheelchair-accessible. Both parks have day-use areas also. An interpretive exhibit near the entrance to Taidnapam Park relays the history of the area's Native American residents more than 4,600 years ago. Other commercial campgrounds are located nearby. A few free campsites are located near the dam on a first-come basis.
Fishing is always a big attraction at Riffe Lake. The lake holds coho salmon, coastal cutthroat trout, chinook salmon, brown trout, crappie, smallmouth bass and bluegill. Because the dams interrupted natural salmon migration on the river, salmon are raised at the Cowlitz Salmon Hatchery downstream and, together with migrating salmon netted below the dams, trucked upstream to be stocked in the river above Riffe Lake. The altered life cycles of these artificially-transported salmon are the focus of several on-going studies aimed toward improving the fishery.
At least five boat ramps are located on Riffe Lake, mostly in or near the two parks. Most have floating docks to accommodate varying water levels. There appear to be no restrictions on motor size, but special fishing regulations may be in place. A Washington fishing license is required. Nearby, small Swofford Pond also offers fishing, but no motors are allowed on this lake. Swofford Pond holds largemouth bass, smallmouth bass, rainbow trout, brown trout, channel catfish, crappie and yellow perch.
Those looking for hiking opportunities and wildlife viewing are in for a treat. The Cowlitz Wildlife Area's Peterman Ridge Unit sprawls along the northern shore of Riffe Lake. Over 10 miles of multi-use trails cross the area, mostly on single-track forest roads. The 6,855-acre unit Wildlife Area also offers trout fishing in streams and big game hunting in season including bear, deer and elk. The wildlife area includes much of the Riffe Lake shoreline and serves to protect such birds of prey as bald eagles and osprey, shorebirds, waterfowl, songbirds and wading birds. Small mammals thrive in the near-shore undergrowth. Other wildlife protection areas surround nearby Mayfield Lake. No campfires are allowed in the wildlife area.
Although there are no towns on Riffe Lake, several small communities nearby offer supplies, fast food and some types of lodgings. The town of Mossyrock down river has grocery stores, general services, gas stations and the like. Nearby, the small City of Morton provides an unusual collection of arts-related shops and theater productions. From its old logging history comes tales of unique characters and historic buildings. Traveling along US 12, the White Pass Scenic Byway, one can see Mount St. Helens to the south and Mount Rainier to the north. The best way to get to Riffe Lake is to take US 12 east off I-5 south of Chehalis-a distance of about 60 miles.
Because this is scenic vacation area, a number of lodgings can be found nearby. Several small resorts, guest cabins and bed & breakfasts can be located near US 12, with small motels found near the towns and major intersections. Following US 12 east past Riffe Lake leads travelers into Mount Rainier National Park. Not all access routes into the national park are open in winter, and drivers through this scenic area should plan for winter mountain driving and heed all warning signs. Many roads are closed from November to May. Riffe Lake makes for the ideal home base for sightseeing this scenic area.
Things to do at Riffe Lake
Vacation Rentals
Fishing
Boating
Swimming
Camping
Campground
Picnicking
Cabin Rentals
Hiking
Hunting
Wildlife Viewing
Birding
National Park
Playground
Fish species found at Riffe Lake
Bass
Black Bass
Bluegill
Brown Trout
Catfish
Channel Catfish
Chinook Salmon
Coho Salmon
Crappie
Cutthroat Trout
Largemouth Bass
Perch
Rainbow Trout
Salmon
Smallmouth Bass
Sunfish
Trout
Yellow Perch
---
Riffe Lake Statistics & Helpful Links
Spread the word! Share our Riffe Lake article with your fellow Lake Lubbers!