Lake Quinault, Washington, USA
Lake Locations:
USA - West - Washington - Olympic Peninsula & Pacific Coast -
Also known as:  Quinault Lake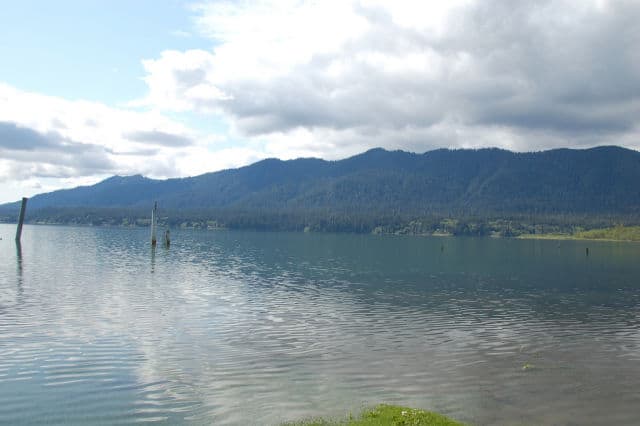 Located in northwest Washington's Olympic Peninsula tourism region, Lake Quinault is a clear, deep lake lying just west of the Olympic Mountains. Twelve miles of shoreline enclose this majestic 3,700-acre lake, and the surrounding area is bursting with fascinating things to see and do.
For nature lovers, miles of trails with interpretive signs take visitors past cascading waterfalls, trees of record-breaking height, rain forest vegetation, and trees standing on their roots. With so much incredible scenery, it might be easy to forget the excellent fishing, boating, canoeing, kayaking, swimming, golfing, and picnicking opportunities that abound at Lake Quinault. Visitors can even take a leisurely drive or bike ride, with a 30-plus mile loop encircling the lake.
Lake Quinault is surrounded by Olympic National Park, Olympic National Forest, Quinault Rain Forest and the Quinalt Indian Nation. Each of these provides numerous additional activities for visitors to the lake, including camping, bird watching, picnicking, river rafting, kayaking, and scenic drives.
Anglers will enjoy fishing on Quinault Lake's pristine waters. Before heading out for an afternoon of exceptional fishing, fishermen should purchase a permit, available at local stores. Fishing is regulated by the Quinault Indian Nation, whose regulations can be found online. The waters are accessible from the many campsites and resorts around the lake. Several species of salmon and trout are found in the waters of Lake Quinault. Sockeye salmon and kokanee salmon are prevalent as are bull trout, cutthroat trout, and Dolly Varden trout. The fish hatchery located on the western end of Lake Quinault rears four species of fish: coho salmon, fall chinook salmon, chum salmon, and winter-run steelhead.
Visitors should keep their binoculars handy to catch a glimpse of the roaming wildlife. Elk herds and black-tailed deer, along with an occasional bear, can be seen roaming the valley and hills, while bald eagles soar overhead. Loons, trumpeter swans, vireos, warblers, ospreys, and chestnut-backed chickadees are just a few of the bird species that can be enjoyed year-round at Lake Quinault. And don't be alarmed by the bright yellow or greenish slime in the forest; it's probably just a six-inch banana slug, prevalent around the rainforest.
Lake Quinault's geologic history is similar to that of many lakes in this glacially-carved region. The lake was formed by a glacier and is glacier fed. It lies on the Quinault River and is a natural unregulated reservoir. The upper Quinault River flows from the Olympic Mountains into Lake Quinault while the lower Quinault River flows out of the west end of the lake through the Quinault Indian Reservation and down to the Pacific Ocean. The area averages 12 feet or more of rain per year, and the well-watered trees grow to enormous heights in this climate, making one feel as if they had stepped into a storybook. Visitors will find the world's largest sitka spruce and largest western red cedar tree, along with towering hemlock and douglas fir. The Quinault Rain Forest is one of only three temperate coniferous rain forests in the Western Hemisphere.
The region's incredible natural resources made the Lake Quinault area and the upper Quinault Valley an important settlement for Native Americans. The many trees and abundant wildlife provided materials and food such as berries, fish and meat and the Quinault River was the main transportation route into the valley.
Today, the area remains relatively untouched. With the national park, forest and Native American reservation all bordering the lake, available real estate on the shores of Lake Quinault is not as common as that of other lakes in Washington. The nearby towns of Quinault and Amanda Park should be included in any search for properties around the lake. Vacationers will have no problem finding a place to stay at the various lakefront vacation rentals, cabins, and getaway cottages built for two located around the lake.
This tucked-away corner of Washington was one of the last places in the continental United States to be settled and that is apparent when visiting Lake Quinault. Seattle is three hours away and is the closest airport. You won't have to drive three hours for fine dining, however. The lake's resorts pride themselves in offering a meal fit for a king. But for a change of scenery from the remote wilderness of the area, the Pacific Ocean beckons less than half an hour away. Without a doubt, though, the serene setting and astounding beauty of the lake will bring you back before the day's end.
Things to do at Lake Quinault
Vacation Rentals
Fishing
Boating
Swimming
Canoeing
Kayaking
Golf
Camping
Picnicking
Cabin Rentals
Hiking
Waterfall
Wildlife Viewing
Birding
National Park
National Forest
Fish species found at Lake Quinault
Bull Trout
Chinook Salmon
Coho Salmon
Cutthroat Trout
Dolly Varden Trout
Kokanee Salmon
Salmon
Sockeye Salmon
Steelhead Trout
Trout
---
Lake Quinault Photo Gallery
Lake Quinault Statistics & Helpful Links
Spread the word! Share our Lake Quinault article with your fellow Lake Lubbers!