Rainy Lake, Minnesota USA & Canada
Lake Locations:
Canada - Ontario - USA - Midwest - Minnesota - Northeast -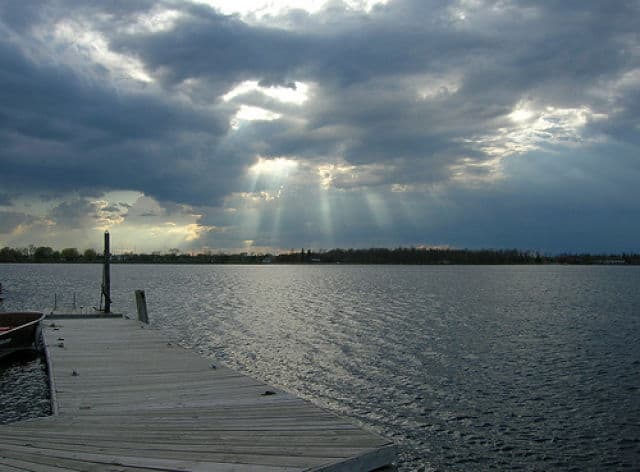 Rainy Lake's sprawling 221,000 acres straddle the border of the United States and Canada. Known as a water sports lover's paradise, Rainy Lake is located in the Northeastern Region of Minnesota near International Falls and Ranier. Canada's portion of Rainy Lake consists of 75% of this massive body of water, while the United States is home to the remaining 25%. With so much water it is no wonder sports enthusiasts are drawn to this recreational wonderland. Activities on and around the lake include boating, canoeing, kayaking, camping, swimming, hiking, and fishing.
Rainy Lake is a glacier-formed natural lake that was dammed in both the USA and Canada. Fort Frances-International Falls Dam was built in 1909, while the Kettle Falls Dam was built in 1914. Each dam is controlled by Boise Cascade Corporation in the United States and Abitibi Consolidated Inc. in Canada.
Not only does Rainy Lake boast of having 929 miles of exterior shoreline, its water also laps against 635 miles of shoreline around 1,600 islands. With so much lakefront property, real estate and vacation rentals are plentiful to suit everyone's taste, including homes, cabins, cottages, and houseboats. Home owners or guests can soothe away their cares as they enjoy the sun setting over Rainy Lake from their lakeview deck. Two other lakes – Kabetogama and Namakan – adjoin Rainy Lake, while the 80-mile-long Rainy River provides a connection to Lake of the Woods.
Rainy Lake offers access to Voyageurs National Park, Minnesota's only national park. Start your adventure at the Rainy Lake Visitor Center east of International Falls. The Center offers a free boat ramp for visitors who want to launch their own boat, canoe or kayak. The Center also offers guided boat tours during the summer, searching for wildlife and stopping at Little American Island to explore the 1890's Rainy Lake gold rush. When the waters of Rainy Lake freeze, visitors can reach Voyageurs National Park by driving across plowed roads on the lake, or they can travel by snowmobiles, cross-country skis, or snowshoes. Once in Voyageurs National Park, nature lovers can pitch their tents on designated park islands. While camping, observant watchers may spot loons, eagles, otters, deer, black bear, or moose.
Sandpoint Island Provincial Park is on the Canadian side of the lake. Accessible only by boat, the Park offers beach swimming, hiking, and wildlife viewing, but has no visitor facilities.
Regarded as an angler's paradise and one of the most scenic fishing destinations in the United States, Rainy Lake is known to be one of the world's top multi-species fisheries. Rainy Lake boasts large populations of northern pike, black crappie, walleye, sauger, and smallmouth bass. In 2006 Rainy Lake was, for the third time, selected as the site of the prestigious Governor's Fishing Opener, attracting large numbers of pro and amateur anglers. Anglers also enjoy fishing from nearby Rainy River which is another world-class fishery. The 80-mile long river offers the largest spring walleye spawning run in the world. There are public boat accesses to both Rainy Lake and Rainy River, and they are open to boats, canoes, and kayaks.
Sightseers may want to plan a trip to nearby International Falls and the little resort village of Ranier in their Rainy Lake travel plans. The towns offer restaurants, antique shops, and golf with beautiful views of the Rainy River. For those who take pleasure in observing nature while bicycling will find the Rainy Lake Bike Trail a satisfying diversion. The trail begins in International Falls and ends near the entrance to Voyageurs National Park. For additional activities that may be happening in the area, visitors should take a stop at the International Falls Visitor's Bureau.
Since Rainy Lake is located on an international border, many visitors enjoy crossing into Canada or the United States via the International Bridge. When traveling from the United States, tourists must check in with Canadian Customs.
Vacation rentals and sales are available on Rainy Lake, so visitors can unwind in a lakefront home, rustic cabin, or just enjoy being close to nature at a lakeside campsite. Whether you choose to call Rainy Lake home, or you take delight in vacationing on this scenic lake, you are sure to find the natural beauty of Rainy Lake to be mesmerizing.
Things to do at Rainy Lake
Vacation Rentals
Fishing
Boating
Swimming
Beach
Canoeing
Kayaking
Golf
Camping
Cabin Rentals
Hiking
Biking
Snowmobiling
Snowshoeing
Wildlife Viewing
Birding
Provincial Park
National Park
Antiquing
Fish species found at Rainy Lake
Bass
Black Bass
Black Crappie
Crappie
Northern Pike
Perch
Pike
Sauger
Smallmouth Bass
Walleye
---
Rainy Lake Statistics & Helpful Links
Spread the word! Share our Rainy Lake article with your fellow Lake Lubbers!