Pokegama Lake, Minnesota, USA
Also known as:  Lake Pokegama
Welcome to the ultimate guide for history, statistics, local fun facts and the best things to do at Pokegama Lake.
If you're considering Pokegama Lake vacation rentals, we've made it super easy to explore accommodations and nearby hotels using the interactive map below. Simply click on a listing to compare similar properties, best rates and availability for your dates. Or keep scrolling to read our Pokegama Lake guide!
Pokegama Lake visitor and community guide
Pokegama Lake has been a premier vacation destination for over 100 years. Located on the southwestern side of Grand Rapids, Minnesota in Itasca County, the lake offers over 6,600 acres of water and 55 miles of shoreline for year round adventure.
Prior to 1858, the lands above Pokegama Lake were considered an unexplored wilderness except by fur traders and missionaries. However, Minnesota was in the middle of a booming lumber business in the mid-1800's; as the logs gave out in the southern part of the state, lumbermen began moving up the Mississippi River cutting pines as they went. It is estimated that the first timber cruisers began exploring the great wooded area of Pokegama Lake and northward during the early 1860's, mapping the area and marking huge stands of pine trees for the approaching lumbermen to cut. The first logs from Pokegama Lake floated down the Mississippi in 1868.
Food, clothing, tools and other supplies had to be brought in to the lumberjacks, because there were no settlements in the area to supply these necessities. Steamships cruised up the Mississippi loaded with supplies that were unloaded at stopping points along the river and then loaded into wagons pulled by oxen or canoes to cross lakes to reach the lumber camps. Eventually, progressive thinking business owners brought steamboats to operate on the lakes that could haul more freight to the camps and settlements that had begun to spring up in the region; the Comet was the first boat to carry supplies on Pokegama Lake in the early 1880's. Grand Rapids was one of these settlements and was considered a thriving pioneer village in 1881. On November 8, 1892 voters in Itasca County voted to have Grand Rapids become the permanent county seat, and after that the area grew by large numbers to become the progressive community that we know today.
The original Pokegama Dam was built in 1882 at the headwaters of the Mississippi River to aid in downstream navigation. Prior to the dam, Pokegama Lake was mostly a swampy bog that grew a large region of wild rice. The Army Corps of Engineers reconstructed the dam in 1904 with concrete and maintains control of the structure. Today this reservoir is primarily used for flood control to protect the city of Aitkin, Minnesota, but outdoor enthusiasts know that Pokegama Lake is used extensively for recreation purposes.
Pokegama Lake residents and visitors enjoy swimming at the lake's beaches, boating, canoeing, kayaking, jet skiing, waterskiing, and water tubing. Fishing for walleye, northern pike, rock bass, crappie, bluegill, largemouth bass, smallmouth bass and an occasional lake trout keep anglers challenged all four seasons whether they choose to be on the water, along the shoreline, on one of the fishing piers located around the lake, or in an ice shanty on top of the frozen lake. Lakefront real estate provides residents their own private entrance to all the pleasures of the lake. The Pokegama Recreation Area operated by the Army Corps of Engineers offers a boat launch, picnic facilities, playground area, and camping facilities for overnight stays in this beautiful location.
A short drive from Pokegama Lake will find you in the Chippewa National Forest amid towering white pines, more than 720 lakes, 920 miles of streams, and 150,000 acres of wetlands. Named after the original inhabitants of the forest, the Chippewa Indians, the lushness of the forest may make you feel as though you have stepped back in time to the days before the first English settlers came to the area. Home to the largest breeding population of bald eagles in the lower United States, birders will be awed as the majestic birds soar above the trees. With many trails through the forests, visitors can hike, bike, or Nordic ski through the rolling hills, lakes, and streams. Campsites throughout the forest allow you to stay for extended periods of time to absorb all of the beauty.
Pokegama Lake, Grand Rapids, and Itasca County are prime outdoor adventure areas. Nearby Scenic State Park and Schoolcraft State Park both offer secluded virgin pines in quiet untouched wilderness-like settings along with camp sites, picnic areas, hiking trails, and access to acres of wildlife and bird watching opportunities. With thousands of acres of well-managed public lands, hunters have long known the high-quality habitats of the area provide great and bountiful hunting. As soon as the snow covers the ground, snowmobile clubs begin grooming over 900 miles of premier snowmobile trails that wind through pristine forests and over more than 1000 area lakes. With a variety of terrain for beginner, intermediate, and expert, Nordic skiing trails for both classic and free style techniques beckon those who wish a quieter exploration of the snow covered pines. Some of these same trails are used for dog sledding where private kennels offer visitors a chance to mush their very own team of dogs for an exhilarating ride of a lifetime.
Grand Rapids offers more exciting activities and attractions besides the fun of Lake Pokegama. Theatres and performing arts centers present quality productions. Take a ride on the Mississippi River on a refurbished paddlewheel showboat. Multiple casinos in the region offer gaming fun. Well-maintained golf courses provide championship play for golfers of all levels. Vacation rentals are as varied as the entertainment with options for lush resorts, intimate bed and breakfasts, motels and hotels to fit all budgets, and a wide range of campgrounds.
Known as one of the "100 Best Small Towns in America," Grand Rapids has become a recreational haven for boating, fishing, and other great outdoor adventures. Pokegama Lake is a wonderful vacation choice; with all the extras of the Grand Rapids region, your trip will create memories that will last you a lifetime.
Custom Pokegama Lake house decor
Read our full review of these personalized lake house signs.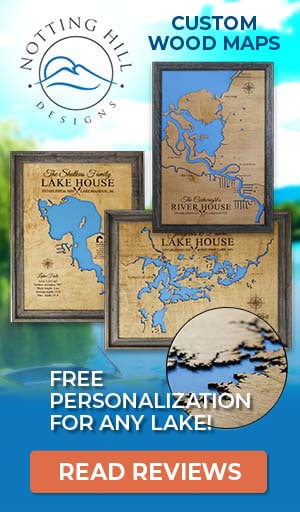 Things to do at Pokegama Lake
Vacation Rentals
Fishing
Boating
Swimming
Beach
Canoeing
Kayaking
Jet Skiing
Water Skiing
Tubing
Golf
Camping
Campground
Picnicking
Hiking
Snowmobiling
Dog Sledding
Hunting
Wildlife Viewing
Birding
State Park
National Forest
Playground
Casino Gambling
Fish species found at Pokegama Lake
Bass
Black Bass
Bluegill
Crappie
Lake Trout
Largemouth Bass
Northern Pike
Perch
Pike
Smallmouth Bass
Sunfish
Trout
Walleye
---
Best hotels and vacation rentals at Pokegama Lake
The Pokegama Lake map shown above is a simple and stress-free way to search for trip accommodations. But if you want to take a deeper dive to find the ideal waterfront home, cabin, condo, hotel or resort, visit our favorite lodging partners by clicking the buttons below.
Note: These are affiliate links so we may earn a small commission if you book through them. While there is no extra cost to you, it helps provide resources to keep our site running (thank you)! You can read our full disclosure policy here.
---
Pokegama Lake photo gallery
New photos coming soon!
Pokegama Lake statistics & helpful links
We strive to keep the information on LakeLubbers as accurate as possible. However, if you've found something in this article that needs updating, we'd certainly love to hear from you! Please fill out our Content Correction form.
Advertise your Pokegama Lake vacation rental
LakeLubbers will soon offer homeowners and property managers the opportunity to to showcase their vacation rentals to the thousands of lake lovers searching our site daily for accommodations. If you'd like additional details, please contact our advertising team here.
Looking for the Pokegama Lake forum?
LakeLubbers previously offered visitors the ability to create accounts and participate in lake forums. When we overhauled the site's content management system in 2021 we had to disable those features. We're evaluating options and welcome your comments and feedback here.
We also encourage you to join our lake-lovin' community on Facebook and Instagram!
Spread the word! Share our Pokegama Lake article with your fellow Lake Lubbers!