Priest Lake, Idaho, USA
Lake Locations:
USA - West - Idaho - Northern -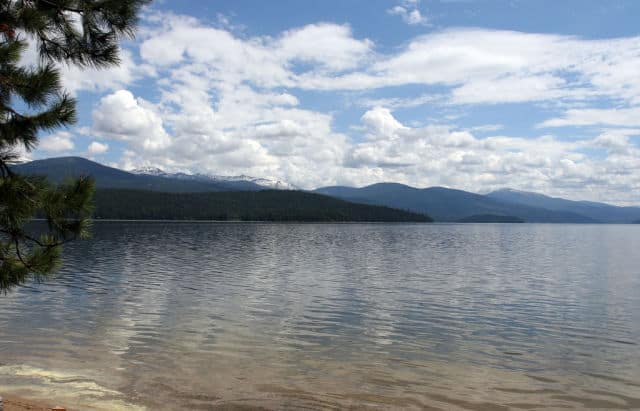 Located in the most northern portion of Idaho's Panhandle, Priest Lake is within 30 miles of the Canadian Border. Priest Lake was naturally created at the end of the last ice age, some 10,000 years ago. Priest Lake environs were used by the Kalispel and Kootenai Indian tribes as one of their food gathering areas with fish, game and plant life plentiful early in its history. The name of the lake evolved from 'Kaniiksu', believed to mean Black Robe, a reference to Jesuit priests who established camp in the mid-1800s at Kalispell Bay. It was heavily used for transporting lumber in the late 1800s with many small flumes and splash dams built. The Gold Rush brought miners and families to the area and a Hollywood movie production facility was begun by Nell Shipman on Mosquito Bay, lasting only a short time due to the tough winters. While lumber production is still an industry today, Priest Lake is primarily used for vacation homes and recreational tourism. It is sometimes called "Idaho's Crown Jewel" because of its very diverse outdoor recreational offerings for both summer and winter including water sports, hiking, biking, snowmobiling, fishing, wildlife viewing, swimming, cross country skiing and game hunting. Coolin is the largest town, located at the southern end of Priest Lake.
In 1950, the first Priest Lake Outlet Dam was built. Later it was replaced by a concrete gravity dam with construction completed in 1978. The dam is used for hydroelectric power generation and recreation control of Priest Lake. Priest Lake Dam is owned and operated by the Idaho Department of Water Resources. Priest Lake is fed by the Priest River, through a smaller Upper Priest Lake. Its outlet joins the Pend Oreille River, the path for logging transportation and mill locations.
Priest Lake provides a wealth of wonderful outdoor recreation opportunities. A proliferation of camp grounds and resorts surround the lake including Priest Lake State Park. Over 400 developed sites are located on the lake, over 60 of which are on islands providing gorgeous locations for the boater/camper. Most of the sites are managed by the State Park or the USFS Priest Lake Ranger District which also manages numerous less developed dispersed campsites to the west and north of Priest Lake. Large private resorts on the lake include Blue Diamond Marina, Elkins Resort and Priest Lake Marina. Some have boat-launching ramps and provide fuel, food and supplies.
The major sport fishing in Priest Lake is Mackinaw (lake trout) with trophy size fish catches not uncommon. Winter ice fishing is a favorite pastime, when some of the trophy fish rise closer to the surface. Water sports abound with wakeboarding, water skiing, sailing, power boating, and kayaking heading the list. Marina waits are short and Priest Lake's size makes for very pleasant, unencumbered activity.
Wildlife viewing is enhanced by the significant variety of bird and other animal species. These include black and grizzly bear, caribou, raccoon, bobcat, mountain lion, and many smaller 'critters'. Some bird species to watch for include Bald Eagles, osprey, herons, and the many hummingbirds making the area their summer home. There are no poisonous snakes in the Priest Lake area. For the geocachers among us, there are many caches located in the area – some are on islands and there is even one underwater. Haul out that GPS receiver!
Priest Lake is truly an outdoor enthusiasts Eden, in a beautiful scenic setting. If you are in the Idaho Panhandle, you must try some of its offerings.
Things to do at Priest Lake
Vacation Rentals
Fishing
Ice Fishing
Boating
Sailing
Swimming
Kayaking
Water Skiing
Wakeboarding
Camping
Hiking
Biking
Cross-Country Skiing
Snowmobiling
Hunting
Wildlife Viewing
Birding
State Park
Fish species found at Priest Lake
---
Priest Lake Photo Gallery
Priest Lake Statistics & Helpful Links
Spread the word! Share our Priest Lake article with your fellow Lake Lubbers!