Lake Pend Oreille, Idaho, USA
Lake Locations:
USA - West - Idaho - Northern -
Also known as:  Albeni Falls Dam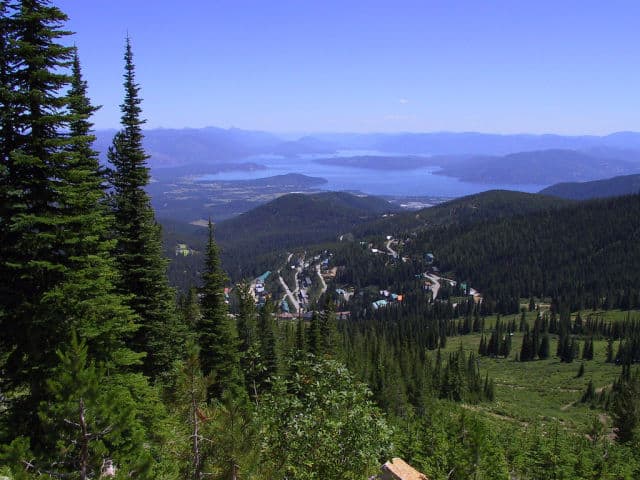 Set in a valley carved by glaciers from Canada, Lake Pend Oreille (pond-a-RAY) is surrounded by mountains with altitudes exceeding 6,000 feet. Its 85,960 surface acres – 148 square miles – plunge to depths reaching 1,152 feet, making it one of the largest and deepest natural lakes in the western United States. Lake Pend Oreille is at the center of the Northern Idaho region characterized by open and expansive scenery.
Idaho's largest lake and its mountainous environment provide a mix of adventures and sublime experiences in the wild. The wide, rolling lands of two national forests nestle at the borders of the lake. The Kaniksu and Couer d'Alene National Forests attract thousands of visitors who come to play in nature's lap. Lake lovers revel also in hunting, hiking, mountain biking, horseriding, snowmobiling, fishing and much more among the pine, fir and birch woods, winding rivers, large lakes and steep mountain slopes. Coyotes, bobcats, whitetail deer, black bears, grizzly bears, bald eagles, osprey, owls, wolves, and moose inhabit the diverse surroundings of Lake Pend Oreille.
The Kallispel Native Americans (aka the Pend d'Oreilles) inhabited the region long before whites settled there in the 1800s. The present name of the lake was given by a French fur trader. "Pend Oreille" is French for ear hanging or pendant, and the lake is shaped like a human ear.
Lake Pend Oreille was significant to the navy during the World War II era; the south end of Lake Pend Oreille was once the second largest naval training station in the United States. The Farragut Naval Training Station is now the 4,000-acre Farragut State Park. The Navy's Acoustic Research Detachment still utilizes the lake's great depths to test large-scale submarines.
After the war, in 1955, the US Army Corps of Engineers dammed the lake at a natural falls site, Albeni Falls, on the Pend Oreille River. The lake was enlarged as a result, and the dam helped maintain water levels, much to relief of lake-surrounding residents. The project helps to control flooding, and to generate hydroelectric power. The 111 miles of mountainous shoreline are dotted by residential communities that draw vacationers and retirees looking for vacation rentals or real estate.
Lake Pend Oreille's native fish are pygmy whitefish, mountain whitefish, cutthroat trout, and bull trout. Non-native species abound: Kokanee salmon, brook trout, rainbow trout, lake trout, catfish, muskie, pike, perch, crappie, largemouth bass, smallmouth bass, bluegill, pumpkinseed and more. Canadian Gerrard Rainbow Trout were imported
in 1941 and in 1947; a 37-pounder caught there once held the world record.
Idaho's Northern region has much to offer. Visit the underground Crystal Gold Mine in Kellogg, or the Wallace District Mining Museum, for a taste of the gold rush past. Bike down the Hiawatha Trail, 15 miles of railroad track converted to walking and biking paths, through truly stunning scenery. Acquire a Priest Lake Ranger District map and go berry picking in the forests, or drive the entire 33-mile length of the Pend Oreille Scenic Byway.
Lake Pend Oreille is a sprawling beauty. Fishing, swimming, kayaking, power boating, scuba diving and sailing are some of the activities visitors and residents enjoy there. Four recreation sites on the Pend Oreille River offer sandy beaches and camping. You can charter a fishing guide or enjoy scenic lake cruise. And despite the powerful winds that can sometimes make the water choppy and excite sailors, there are numerous coves where the water is calmer. Relax on your sailboat, and take in the breathtaking scenery and the miles of water lying wide and open before you like an ocean.
Things to do at Lake Pend Oreille
Vacation Rentals
Fishing
Boating
Sailing
Swimming
Beach
Kayaking
Scuba Diving
Camping
Hiking
Biking
Snowmobiling
Hunting
Wildlife Viewing
Birding
State Park
National Forest
Museum
Fish species found at Lake Pend Oreille
Bass
Black Bass
Bluegill
Brook Trout
Bull Trout
Catfish
Crappie
Cutthroat Trout
Kokanee Salmon
Lake Trout
Largemouth Bass
Muskellunge
Perch
Pike
Pumpkinseed
Rainbow Trout
Salmon
Smallmouth Bass
Sunfish
Trout
Whitefish
---
Lake Pend Oreille Photo Gallery
Lake Pend Oreille Statistics & Helpful Links
Spread the word! Share our Lake Pend Oreille article with your fellow Lake Lubbers!