Pomme de Terre Lake, Missouri, USA
Lake Locations:
USA - Midwest - Missouri - Central -
Also known as:  Pomme De Terre Reservoir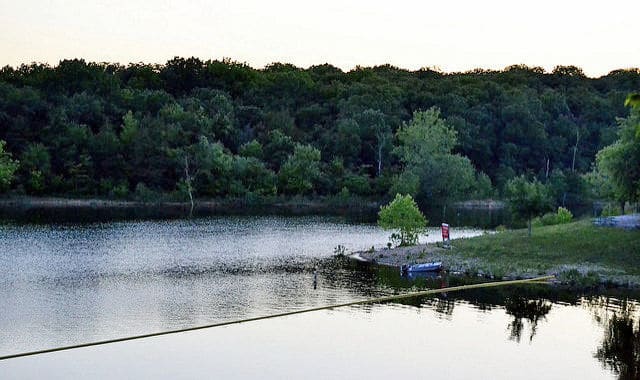 One of Missouri's lesser-known recreational destinations is Pomme De Terre Lake. Construction of this reservoir was completed in 1961, although it had been in the planning stages since 1947. The new reservoir serves a critical purpose: to control periodic flooding downstream, which it does very well. It has now gained a second important purpose-that of providing recreational resources in western Central Missouri. Pomme De Terre Dam was built across the place where Lindley Creek and the Pomme de Terre River joined. The resulting reservoir stretched back along the two originating watercourses, forming an irregular and ragged 'Y'-shaped lake. With well over 100 miles of shoreline, multiple parks and access spots assure plenty of recreational access for everyone.
One of the chief attractions of Pomme De Terre Lake is camping. At least nine different camping areas are distributed along the shore, with two of the largest situated within the two units of the Pomme De Terre State Park. Called Pittsburg Sate Park and Hermitage State Park, the two units allow for locations on both sides of the 7,800-acre reservoir. The two function separately but share general US Army Corps of Engineers oversight and a reservation system. Due to their popularity, reservations are encouraged on hot summer weekends. Both offer swimming beaches, playgrounds, boat ramps, showers, picnic tables and hiking trails. In addition to a boat ramp, Pittsburg Park holds a marina. Although Hermitage State Park closes during the winter season, Pittsburg Park stays open for camping with limited amenities during the coldest months.
Boating and fishing are big attractions at Pomme De Terre Lake. The marina at Pittsburg Park allows fishing from the fishing dock for a nominal daily fee. In addition to a snack shop and camping/boating supply store, the marina rents boats and bicycles, allowing visitors to travel light yet enjoy a full range of activities. Three other public marinas offer boat gas, snacks or meals, and a variety of services and rentals. Two also manage campgrounds, while one offers cottage lodgings on a nightly or weekly basis. Overnight slips with water and electricity hook-ups can be found, as well as seasonal in-water slips and winter storage. Watercraft rented run the gamut from ski-boats, fishing boats, pontoon rafts, canoes, two-person kayaks, pedal boats, stand-up paddleboards, jet skis and all of the recreational equipment to fully enjoy them, such as water skis, tubes, wakeboards and life vests.
Damsite Park near the dam is also very popular, providing camping, picnic pavilions, tennis courts, baseball and softball fields, playground, and hiking trails. Several other locations along both branches of the reservoir offer camping, boat ramps and a variety of concession-operated services. Other forms of lodgings can be found at the few privately-operated resorts at the lake. These long-operating resorts offer cabin rentals, motel rooms, restaurants and connections to fishing guides. Adjacent to the lake, the Pomme de Terre State Wildlife Management Area provides a wildlife refuge to the many forms of bird and animal life in the area.
One of Pomme De Terre Lake's claims to some bit of fame is its reputation as a muskie fishing lake. The reservoir holds a wide variety of other species as well. The muskie don't naturally reproduce in the lake, but the Missouri Department of Conservation has stocked them regularly since 1966. Along with the muskie, anglers catch largemouth bass, crappie, catfish, bluegill and walleye. Brush pile fish attractors have been strategically placed in the lake to attract target species. The irregular shoreline and multiple small coves and inlets offer excellent fishing from nearly any watercraft, including pedal boat or canoe. Several fishing piers and bank fishing locations are available for those who wish to fish from shore. Two sets of fishing docks are maintained in addition to a spot on the east side of the dam . All are accessible to those with limited mobility. State fishing licenses are required, and all regulations are enforced by the Missouri Department of Conservation.
Pomme De Terre Lake is located about 30 minutes north of Bolivar and an hour north of Springfield. Much of the shoreline remains undeveloped and heavily wooded. Some areas have housing developments that skirt the edges of the required high-water setback as required by the Army Corps of Engineers and often have private docks to tie up their boats. A few property owners rent their homes on a seasonal or weekly basis, and there is often real estate for sale in the area. Even on the busiest summer weekends, lodgings are likely available at one of the many small lodges or inns in the area surrounding Pomme De Terre Lake. Branson is only two hours away, and the Speedway in nearby Wheaton is the site of regular dirt-track racing events as well as boat drag racing on a constructed water course. Pomme De Terre Lake is the ideal spot to serve as home base for a mid-Missouri vacation.
The name Pomme De Terre is the French term for 'Earth Apple', a reference to the 'potato bean' or 'Indian potato' which grows widely in the area along creeks and wet areas. Neither a potato nor a bean, the fleshy rhizomes of the apios americana are sometimes called groundnuts, but that is a misnomer; it is a root, not a nut. The root was widely harvested and eaten by Native American tribes indigenous to the area. The name was assigned by early French traders and explorers and stuck, becoming the name of the river.
You're in for a treat at Pomme De Terre Lake. The reservoir is less commercial and more conducive to a quiet evening sitting under the stars around a campfire. That is, if the sound of those 40-inch muskies calling don't keep you awake at night. Bring the fishing tackle!
Things to do at Pomme de Terre Lake
Vacation Rentals
Fishing
Boating
Swimming
Beach
Canoeing
Kayaking
Jet Skiing
Water Skiing
Tubing
Tennis
Camping
Campground
Picnicking
Cabin Rentals
Hiking
Biking
Wildlife Viewing
State Park
Playground
Fish species found at Pomme de Terre Lake
Bass
Black Bass
Bluegill
Catfish
Crappie
Largemouth Bass
Muskellunge
Perch
Pike
Sunfish
Walleye
---
Pomme de Terre Lake Photo Gallery
Pomme de Terre Lake Statistics & Helpful Links
At LakeLubbers.com, we strive to keep our information as accurate and up-to-date as possible, but if you've found something in this article that needs updating, we'd certainly love to hear from you!
Please let us know about it on our Content Correction form.
Spread the word! Share our Pomme de Terre Lake article with your fellow Lake Lubbers!