Lake of the Ozarks, Missouri, USA
Lake Locations:
USA - Midwest - Missouri - Central -
Also known as:  Lake Ozark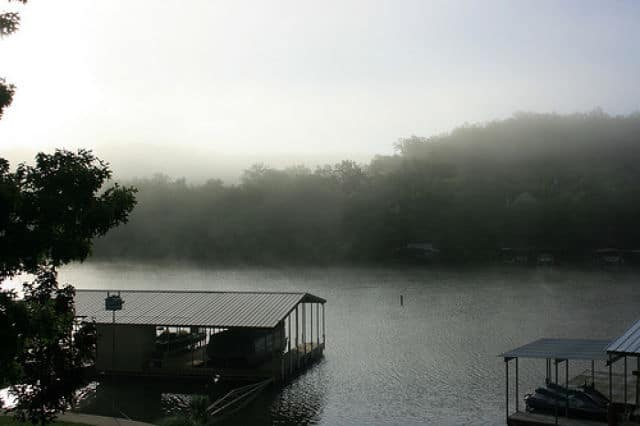 Painting plains of central Missouri a liquid blue, Lake of the Ozarks snakes its way through the landscape. Just 180 miles from St. Louis and 170 miles from Kansas City, the lake provides visitors and area residents with a 55,000-acre aquatic playground suited to any taste and preference.
Lake of the Ozarks winds its way for 92 miles and boasts more than 1,150 miles of shoreline – longer than the entire California coastline! As large as the lake is, it's sometimes difficult to believe that it hasn't been around forever. However, the lake's origins began in 1929, when the Union Electric Company began construction of the Bagnell Dam on the Osage River. The dam was built during the Great Depression, with 4,600 workers sweating to build what was once the largest man-made lake in the world. The lake was opened to the public in 1931, and has since served as a prime vacation destination. Today, AmerenUE, successor to Union Electric, operates the dam and power plant.
Sometimes called the "Midwest Coast," the Lake of the Ozarks is somewhat unique in that most of its shoreline is privately owned. However, 17,600 acres were set aside for a national park in the 1920's. After state acquisition in 1946, the reserved acres are today home to the Lake of the Ozarks State Park, the largest state park in Missouri.
As a lake recreation hotspot, it makes sense to begin your visit at the state park, a stretch of emerald forest and quiet lake coves. As a haven for outdoor enthusiasts, Lake of the Ozarks State Park offers hiking and biking trails along its 80 miles of lake shoreline. Meander through rocky hilltops, glimpse distant, picturesque bluffs, cool off in babbling brooks, wander by natural caves, and watch as Missouri flora and fauna fill the path with sights both new and old.
Camping at the state park is a perennial favorite, and there are both primitive and electric campsites offered, including four organized group camps. For many nature lovers, spending at least one night under the starry Missouri sky is an experience not soon forgotten. When you wake up to songbirds instead of an alarm, you may soon decide that camping lakeside is the biggest luxury there is.
When you're ready to head out onto the lake, consider spending at least part of your day fishing. Known as one of Missouri's premier fishing destinations, Lake of the Ozarks hides beneath its waters teeming populations of black bass, bluegill, catfish, crappie, largemouth bass, paddlefish, smallmouth bass, spotted bass, and walleye. The lake is particularly strong in bass fishing. Tournaments are held each year, with winners often catching personal and state records.
Of course, a sunny summer weekend at Lake of the Ozarks is incomplete without a refreshing dip in the lake's clean waters. Swimming is allowed anywhere in the lake, though visitors often gather at the reservoir's two public sandy beaches in Lake Ozark State Park. Another favorite option is taking time to stop, drop anchor, and jump off your rental boat, taking pleasure in deep waters and relative solitude.
Anderson Hollow Cove within the state park is known as Party Cove, one of the most popular boating gathering places in the USA. Thousands of boats tie up on busy summer weekends, so extra precaution should be taken while navigating in and around this party atmosphere.
For watersport lovers, Lake of the Ozarks offers myriad options, including fast-paced speedboat rentals, waterskiing, tubing, kneeboarding, parasailing, wakeboarding, scuba diving, and even excursion cruises. Whether you're seeking to get your adrenaline flowing, or are just looking to explore the peaceful, sloping shoreline of this beautiful water paradise, the lake's options are sure to satisfy your desires.
Lake of the Ozarks enjoys an incredible location set into the hills of the Ozarks and accented by celestial blue waters. Offering many amenities, like five star restaurants and beautiful hotels, the lake also invites visitors to enjoy the quiet beauty of their surroundings. After just a few moments here, the lake's diversity and gentle attitude will soon win you over.
Things to do at Lake of the Ozarks
Vacation Rentals
Fishing
Boating
Swimming
Beach
Water Skiing
Wakeboarding
Parasailing
Tubing
Scuba Diving
Camping
Hiking
Biking
State Park
National Park
Playground
Fish species found at Lake of the Ozarks
Bass
Black Bass
Bluegill
Catfish
Crappie
Largemouth Bass
Paddlefish
Perch
Smallmouth Bass
Spotted Bass
Sunfish
Walleye
---
Lake of the Ozarks Photo Gallery
Lake of the Ozarks Statistics & Helpful Links
At LakeLubbers.com, we strive to keep our information as accurate and up-to-date as possible, but if you've found something in this article that needs updating, we'd certainly love to hear from you!
Please let us know about it on our Content Correction form.
Spread the word! Share our Lake of the Ozarks article with your fellow Lake Lubbers!