Harry S. Truman Lake, Missouri, USA
Lake Locations:
USA - Midwest - Missouri - Central -
Also known as:  Harry S. Truman Reservoir, Truman Lake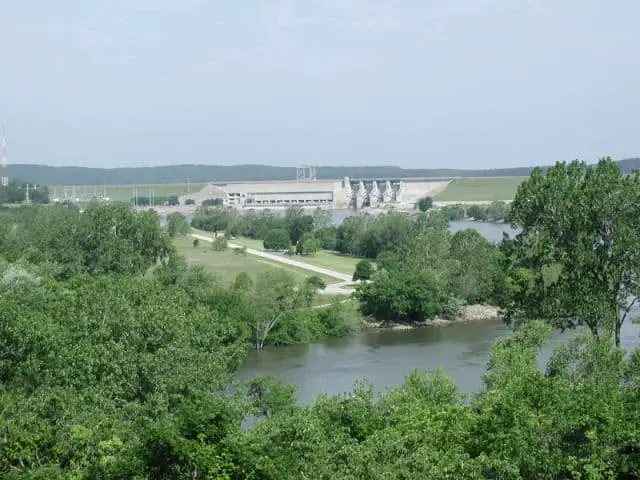 It looks a like a reel of film perched on a bluff; it is the visitor center overlooking Truman Lake. The round wall of windows offers a panoramic view of the beautiful central Missouri lake below. There are also displays chronicling the history of the area, information on the lake's power plant and reconstructions of historic buildings. The visitor center on top of Kaysinger Bluff at the east end of the dam, however, reveals just a small taste of what the 55,406 acre Harry S. Truman Reservoir has to offer.
In 1954 Congress authorized the Kaysinger Bluff Dam and Reservoir. Construction on the dam on the Osage River started in 1964. The dam and resulting reservoir were renamed the Harry S. Truman Reservoir and Dam in honor of the former president from Missouri. Completed in 1977, the reservoir was created for hydroelectric power, flood control, wildlife habitat and recreation. It is under the control of the US Army Corps of Engineers and is the largest flood control reservoir in the state of Missouri. The dam is a mile and a half north of Warsaw and generates power for the Southwestern Power Administration. The Osage River, named for the Osage Indians, is Truman Lake's outlet and flows almost immediately into the Lake of the Ozarks.
Truman Reservoir includes 958 miles of shoreline; its depth averages 40 feet. It sprawls across four counties, covering sections of Henry, St. Clair, Benton and Hickory Counties. It encompasses several tributaries and is ringed with fingery coves – perfect for exploring by canoe or kayak. With almost 60,000 acres of water, there is plenty of room for boating and water skiing although boaters are urged to watch for submerged logs and debris. When the lake was impounded, over 8,000 acres of timber was left standing, creating excellent habitat for Truman Lake's abundant fish populations. The lake is full of crappie and largemouth bass, and there are plenty of blue catfish and flathead catfish to challenge anglers. The Missouri Department of Conservation stocks the lake and manages the fishery. Access to Truman Lake is from any of the many US Army Corps of Engineers boat ramps or from one of the privately run marinas around the lake.
The US Army Corps of Engineers manages over 100,000 acres of land around Truman Lake. The Kansas City District of the Corps maintains several campgrounds, including an equestrian park with campsites and trails for horseback riders and lake front campgrounds with sand beaches for swimming. There are also 400 acres of land set aside for ATV use. Near the visitor center, the Corps has reconstructed several historic buildings that are open for visitors to tour. The Hooper House was built in 1903 by John Hooper for his wife Molly and their nine children. It was reconstructed in 1984 and is open for self-guided tours. The Osage Valley Heritage Association moved the Concord Schoolhouse from the Town of Quincy to the visitor center. It is typical of Missouri schoolhouses in the 1800's. The Elmore Log Cabin is a replica of a cabin typical of the 1840's or 50's. Both are available for tours and educational programs. The US Army Corps of Engineers also hosts Heritage Days celebrating life a hundred years ago. There are potters, spinners, musicians and civil war re-enactors to delight vacationing families and history enthusiasts.
The Harry S. Truman State Park is surrounded by Truman Lake on three sides. The 1,440 acre park is on a peninsula – almost an island – in the lake with a campground and swimming beach. The lake covers the Prairie-Ozark border and is surrounded by both forests and grasslands. White tailed deer, turkey, squirrels, rabbits, quail and waterfowl all make their home at Truman Reservoir and can be hunted in season. Historically, bald eagles have wintered in Missouri, and today they winter at the lake. There are also several breeding pairs that successfully rear chicks every summer.
Because Truman Lake is so large, it is close to several towns, including Warsaw, Fairfield and Clinton. Visitors can browse through the antique shops and lunch at one of many restaurants. There is real estate available for sale in any of the towns around the lake and vacation rentals with views of the lake. Further down the Osage River, the Lake of the Ozarks has many waterfront vacation rentals. The Old Swing Bridge is also about a mile downstream from Truman Dam. Built in 1904, the cable suspension bridge was destroyed in 1924 by a tornado. It was rebuilt in 1928 and spans the Osage River. It is one of twelve of its kind in the state of Missouri.
The Lost Valley Fish Hatchery is a great day trip from Truman Lake. With 78 rearing ponds and almost a thousand acres of land and water, it is the largest state owned warm water hatchery in Missouri. Construction on the hatchery started in 1997 and was funded by the Sport Fish Restoration Act. The Missouri Department of Conservation raises walleye, muskie, channel catfish, largemouth bass, striped bass, hybrid bass and bluegill to stock in the state's lakes. The hatchery includes a visitor center with a 12,700 gallon aquarium and a kids' fishing pond. On the land around the hatchery there are wildflowers, birds and wildlife. Hunting is allowed in season.
With recreation opportunities as large as its size, Truman Lake is a fantastic central Missouri destination. A rich history combined with ample water for fishing and boating make it an ideal getaway for families and outdoor enthusiasts.
Things to do at Harry S. Truman Lake
Vacation Rentals
Fishing
Boating
Swimming
Beach
Canoeing
Kayaking
Water Skiing
Camping
Campground
Cabin Rentals
Hiking
Horseback Riding
Hunting
Wildlife Viewing
Birding
State Park
Antiquing
Fish species found at Harry S. Truman Lake
Bass
Black Bass
Blue Catfish
Bluegill
Catfish
Channel Catfish
Crappie
Flathead Catfish
Largemouth Bass
Muskellunge
Perch
Pike
Striped Bass
Sunfish
Walleye
---
Harry S. Truman Lake Photo Gallery
Harry S. Truman Lake Statistics & Helpful Links
Spread the word! Share our Harry S. Truman Lake article with your fellow Lake Lubbers!