Mark Twain Lake, Missouri, USA
Lake Locations:
USA - Midwest - Missouri - Northeast -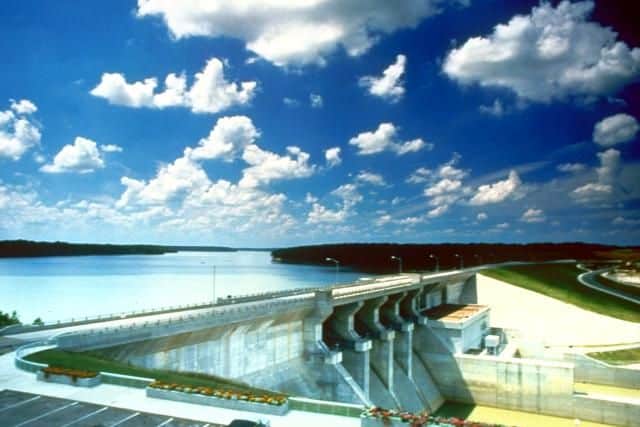 Mark Twain Lake spreads out over 18,600 acres in Ralls and Monroe Counties of northeastern Missouri. The lake and the 2,775-acre Mark Twain State Park are named after America's most famous humor novelist. The nearby village of Florida, Missouri is home to the Mark Twain Birthplace State Historical Site. A visit to the lake, park, and birthplace will conjure up images reminiscent of the adventures of Huckleberry Finn and Tom Sawyer on the nearby Mississippi River.
The U.S. Army Corps of Engineers created Mark Twain Lake by impounding the Salt River about 63 miles upstream from its confluence with the Mississippi River. Prone to periodic devastating floods, the multi-purpose Salt River project was authorized by Congress with the Flood Control Act of 1962. Construction of Mark Twain Lake and Clarence Cannon Dam took 14 years to complete with the lake opening to the public in July of 1984. The dam is named after the U.S. Congressman who crusaded for the project. Mark Twain Lake provides flood control, hydropower, water supply, and fish and wildlife conservation to northeast Missouri. Today, the lake provides recreational enjoyment to over two million visitors a year. In July 2008, it reached a record high flood stage of 640 feet above sea level.
Mark Twain Lake's expansive acreage and 285 miles of shoreline offer endless opportunities for on-water and off-water activities. About 20 boat launch ramps provide access to all parts of the lake. Many of the boat ramps are found in Mark Twain State Park and the Corps of Engineers' recreation areas. Bring your own boat, or rent a pontoon boat, jon boat, ski boat, or jet ski from one of the lake's two marinas. Get your adrenaline pumping by riding the waves on water skis, wakeboards, or tubes. Or, if you prefer a slower pace, drink in the lake's dramatic scenery dominated by limestone bluffs. Save time to soak up some sun on one of the lake's three swimming beaches.
Mark Twain Lake is an angler's delight. The lake's "Big 3" are crappie, largemouth bass, and catfish. Although less prevalent, the lake also offers up catches of white bass, walleye, and bluegill. Bait shops around the lake display photos of catfish prizes weighing in at over 50 pounds. Crappie fishing is especially good in the spring when water levels are high and the fish are feasting on young shad. Heavy spring rains wash sediment into the lake, prompting locals to refer to the lake's color as "Yoo-hoo" after the chocolate drink.
The pristine shoreline of Mark Twain Lake has no residential or commercial development and no private docks. More than 36,000 acres of public land surround the lake, providing ample opportunity for camping, hiking, biking, horseback riding, wildlife viewing, and hunting. Mark Twain State Park provides boat ramps, picnic areas, and six miles of hiking trails with scenic views of the lake. The four park trails vary in length from an easy 1/2 mile hike to a moderately difficult 2-1/2 mile trek. Two of the Corps' recreation areas offer equestrian trails. Although private resorts are scattered around Mark Twain Lake, camping in the State Park or at one of the Corps-maintained campgrounds is the preferred way to enjoy an overnight stay. Accommodations include primitive campsites, sites with electric, water and sewer hook-ups, RV sites, and camper cabins with modern conveniences.
No visit to the lake would be complete without a short jaunt to the Mark Twain Birthplace State Historical Site. The museum includes the two-room cabin in which Samuel Langhorne Clemens was born in 1835, first editions of the author's works, a handwritten manuscript of "The Adventures of Tom Sawyer," and furnishings from his home in Hartford, Connecticut. A red granite monument marks the original location of the Clemens' cabin in the village of Florida. Another off-water adventure is the Army Corps of Engineers' self-guided tour of the Clarence Cannon Dam and powerhouse, which provides a history of the lake and dam project and the basics of how moving water produces electricity. The best place to start your tour is at the Boudreaux Memorial Visitor Center, offering panoramic views of the lake and dam.
Mark Twain Lake offers fun for the entire family. So, pack your bags and plan to spend some quality time with Mother Nature, creating your own Huckleberry Finn-like adventures.
Things to do at Mark Twain Lake
Vacation Rentals
Fishing
Boating
Swimming
Beach
Jet Skiing
Water Skiing
Tubing
Camping
Campground
Picnicking
Cabin Rentals
Hiking
Biking
Horseback Riding
Hunting
Wildlife Viewing
State Park
Museum
Fish species found at Mark Twain Lake
Bass
Black Bass
Bluegill
Catfish
Crappie
Largemouth Bass
Perch
Shad
Sunfish
Walleye
White Bass
---
Mark Twain Lake Photo Gallery
Mark Twain Lake Statistics & Helpful Links
Spread the word! Share our Mark Twain Lake article with your fellow Lake Lubbers!