Philpott Lake, Virginia, USA
Lake Locations:
USA - South - Virginia - Blue Ridge Highlands - Southern Virginia -
Also known as:  Philpott Reservoir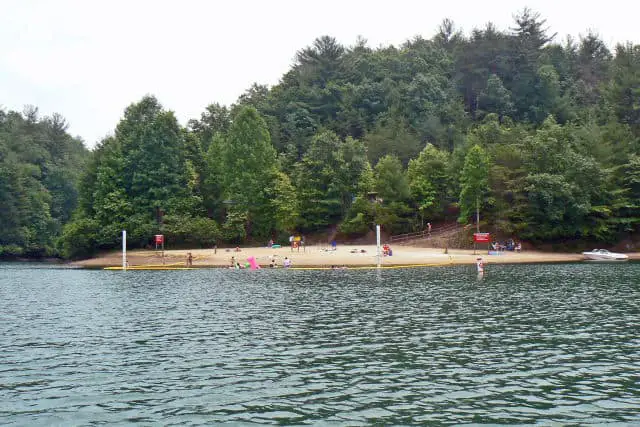 Snuggled into the Blue Ridge Mountains, the 2,880-acre Philpott Lake resides in southwestern Virginia's Franklin, Henry, and Patrick Counties. The irregular-shaped reservoir stretches along the border of Virginia's Blue Ridge Highlands and Southern tourism regions. The Army Corps of Engineers created the lake in 1952 by damming the Smith River. Philpott Lake provides flood control, generates hydroelectric power, and offers outdoor recreation for thousands of yearly visitors. The reservoir is publicly owned, so there is no residential development along its shoreline. Communing with nature converts first-time visitors to repeat vacationers.
Philpott Lake offers multiple campgrounds, boat launches, and beach areas. The focus here is on drinking in the scenery, enjoying the refreshing water, and truly getting away from it all for a relaxing few days in the Virginia sun. Camping facilities at Philpott range from primitive to deluxe, some with nearby hot water showers, water hookups, and electric. Depending on your needs, you can camp at Beech Point, Bowens Creek, Deer Island, Goose Point, Horseshoe Point, Jamison Mill, Mines Branch, Mize Point, Philpott Park, Runnett Bag, Ryans Branch, Salthouse Branch, Spring Cove, or Turkey Island.
These well-equipped camping facilities not only provide a place to lay down your head, but also serve as the beginning point to your vacation. Hiking trails weave through the campgrounds, offering you an entrance point to the great Virginia hardwood forests. F.U.N. at Philpott, short for Families Understanding Nature, has wonderful programs to help little and big family members understand everything around them.
Walking through forests of American Beech, American Hornbeam, Black Locust, Cocumbertree, Flowering Dogwood, and Oak, you'll learn about Philpott's black bears, which can weigh up to 600 pounds, its beavers, also known as nature's engineers, area coyotes, a newcomer to Philpott's forests, the black vultures and turkey vultures that act as natural sanitation devices, and the whitetail deer that make their home among the trees. Nature lovers of all ages will feel privileged to catch glimpses of these creatures, living in woods that seem untouched by humans.
When you're ready to get out on the water, you'll find that clear, cool waters await you. Hop in your speed boat, jet-ski, kayak, canoe, or pontoon boat and head out to discover the near-3000 acres that await you. Slip on your water skis or drop anchor in the location of your choice, dive into the waters, and when you've worked up an appetite, pull out the picnic you've packed for the day. With the big blue sky above and the intense green forest all around, the day is yours to do as you please.
Philpott Lake is popular with anglers looking to catch largemouth and smallmouth bass. Largemouth bass outnumber smallmouth bass by a factor of five to one. The reservoir also has one of the better walleye populations in Virginia. The Virginia Department of Game and Inland Fisheries stocks the reservoir with approimately 144,000 fingerling walleye every year.
Adjacent to Philpott Lake is the 4,537-acre Fairy Stone State Park, which is home to the mysterious "fairy stones". These cross-shaped stones are the mineral staurolite, formed under heat and pressure during the rise of the Appalachian Mountains. The park offers nine miles of hiking trails, swimming, boating, fishing, camping, plus cabin and lodge accommodations.
Philpott Lake's ideal location and unique building rules make it a true escape to nature. Come prepared to get to know Virginia's forest, wildlife, and natural history as you relax and enjoy your peaceful vacation.
Things to do at Philpott Lake
Vacation Rentals
Fishing
Boating
Swimming
Beach
Canoeing
Kayaking
Jet Skiing
Water Skiing
Camping
Campground
Picnicking
Cabin Rentals
Hiking
Wildlife Viewing
Birding
State Park
Fish species found at Philpott Lake
Bass
Black Bass
Largemouth Bass
Perch
Smallmouth Bass
Walleye
---
Philpott Lake Photo Gallery
Philpott Lake Statistics & Helpful Links
Spread the word! Share our Philpott Lake article with your fellow Lake Lubbers!