Smith Mountain Lake, Virginia, USA
Lake Locations:
USA - South - Virginia - Blue Ridge Highlands - Central Virginia - Southern Virginia -
Also known as:  Jewel of the Blue Ridge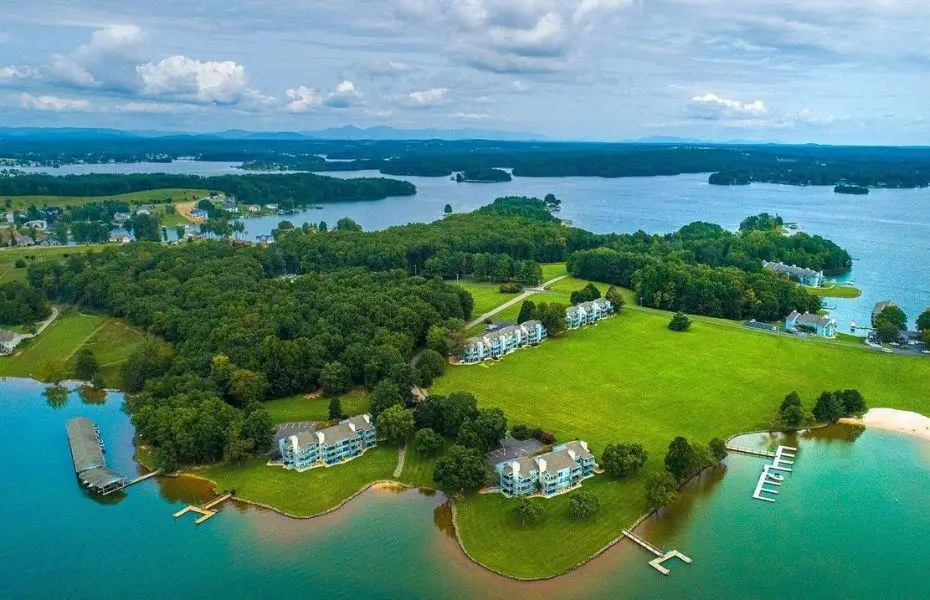 With emerald green shores, sapphire blue skies, topaz blue waters, and soaring surrounding mountains, it's clear why Smith Mountain Lake is nicknamed "Jewel of the Blue Ridge."
Nestled in Virginia's Blue Ridge Mountains, Virginia's most popular recreational lake offers 580 miles of coved shoreline and 20,800 acres of beautiful lake to explore. The Appalachian Power Company created Smith Mountain Lake by damming the Roanoke and Blackwater Rivers. The 40-mile-long lake first reached its "full pond" level of 795 feet above sea level in 1966.
Although built for flood control and hydroelectric power generation using an unusual pumpback system from the adjacent Leesville Reservoir, "SML" is best-known for its exceptional recreational opportunities. From spring through autumn, you'll find the lake dotted with boaters, anglers, jet skiers, water skiers, wake boarders, tubers, canoeists, and kayakers. Smith Mountain Lake stretches across three rural southwestern VA counties (Bedford, Franklin, and Pittsylvania).
Smith Mountain Lake enjoys a beautiful location in rural southwestern Virginia, complemented by convenient city-like amenities. Because of its natural beauty, well-developed tourism, and temperate four-season climate, the reservoir welcomes many visitors to its shores every year. In addition to vacationers, Smith Mountain Lake also is home to 18,000 permanent residents, including many retirees who have relocated from northern states. Five golf courses, some lakeside, attract both residents and visitors.
Smith Mountain Lake is among the USA's top fishing destinations – a Bassmaster/ESPN fishing tournament host. Largemouth and striped bass are among anglers' most-favored catches.
On a hot Virginia summer day, nothing beats diving into SML's cool waters. You can do that from your dock or your boat, but many choose to absorb the sun and bathe in the lake from the well-equipped Smith Mountain Lake State Park. Boasting a large 500-foot long sandy beach, the park is a favorite among residents and visitors, offering a designated swimming area, dive platform, and concession stand. And though the beach is a park favorite, Smith Mountain Lake State Park also offers an informative visitors' center, picnic areas, well-equipped cabins, primitive campsites, and miles of hiking trails.
Inquisitive minds will enjoy a trip to the Smith Mountain Dam Visitors' Center; more than one million visitors have trekked through since the center's 1967 opening. Check out the audio-visual presentation showing how the dam was built. Take a peek at a wall mural detailing Smith Mountain Gap before the area was flooded. Learn how the Smith Mountain Lake-Leesville Lake symbiosis creates electricity, and view photos and descriptions of local wildlife. The Visitors' Center at the dam is free to enter; take an hour or two to get to know the inner workings of the reservoir.
Smith Mountain Lake is deepest at the dam, about 250 feet, with an average depth of about 55 feet. SML is the USA's first major pumped-storage electric generation facility. Because of its unusual pump-back system, its water level varies by just two feet year-round, except during times of drought and flood.
SML is an angler's paradise. Bassmaster ranks it among the USA's 25 best bass fishing lakes. The lake has hosted several national professional fishing tournaments featured on ESPN, including the Bassmaster Elite Series Tournament. Anglers prize largemouth bass, striped bass, smallmouth bass, spotted bass, white perch, crappie, yellow perch, and catfish. The Virginia Department of Game and Inland Fisheries has stocked the lake annually with striped bass since its impoundment in 1963.
Nature lovers can't get enough of Smith Mountain Lake, with its graceful blue herons, beautiful mountain views, and surrounding green forest. Booker T. Washington National Monument is minutes away. The lake is about 25 miles from "America's Favorite Drive," the Blue Ridge Parkway, a U.S. National Park System "unit" that hosts seventeen million visitors a year. Take your camera along for the ride, as unparalleled views unfold before you. Rolling valleys, mountain peaks, and soaring birds will swoop below you at every parkway lookout point, so come prepared to "ooh and ahh" at every vista.
Reasonable real estate prices and low property taxes attract retirees. Lakefront vacation home rentals in Bedford County – and condo rentals in Franklin County – attract vacationing families and couples seeking affordable romantic getaways.
Smith Mountain Lake's exceptional offerings make it a perfect vacation destination, permanent residence, or anything in between. Whatever your pleasure – lakefront dining, fireside reading, or a glass of wine accompanied by a stunning sunset – Virginia's most popular lake will far exceed your expectations.
NOTE: Smith Mountain Lake is the headquarters of Lakelubbers.
Find Smith Mountain Lake vacation lodging
Things to do at Smith Mountain Lake
Vacation Rentals
Fishing
Fishing Tournaments
Boating
Swimming
Beach
Canoeing
Kayaking
Jet Skiing
Water Skiing
Wakeboarding
Golf
Camping
Picnicking
Cabin Rentals
Hiking
Wildlife Viewing
Birding
State Park
National Park
Fish species found at Smith Mountain Lake
Bass
Black Bass
Catfish
Crappie
Largemouth Bass
Perch
Smallmouth Bass
Spotted Bass
Striped Bass
White Perch
Yellow Perch
---
Smith Mountain Lake Photo Gallery
Smith Mountain Lake Statistics & Helpful Links
Spread the word! Share our Smith Mountain Lake article with your fellow Lake Lubbers!