Hungry Mother Lake, Virginia, USA
Lake Locations:
USA - South - Virginia - Blue Ridge Highlands -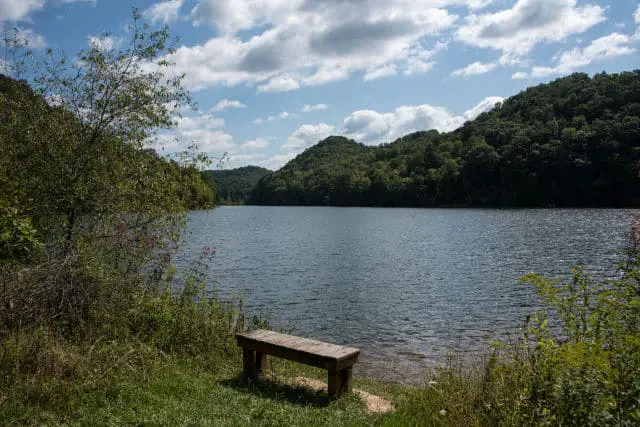 Surrounded by mountain vistas, the 108-acre Hungry Mother Lake is the recreational centerpiece of southwestern Virginia's 2,180-acre Hungry Mother State Park, in Smyth County near Marion. Its beach attracts swimmers, sunbathers, picnickers, and volleyball players. Its waters attract anglers, kayakers, and others with human- and electric-powered watercraft. Boats can be rented inside the park, or privately launched from a ramp.
Nearly 20 miles of multi-use hiking, walking, and biking trails surround the lake; several trails offer birds-eye lake overlooks. Most trails are identified by the park system as moderate or difficult. Hungry Mother's flora and fauna are similar to the nearby Appalachian Trail, but Hungry Mother's trails are wider, smoother, and more uniform.
"Hungry Mother" gets it name from a legend of survival following the Native American destruction of several pioneer settlements on the New River. Molly Marley and her child were taken alive, but later escaped, living on berries until Molly finally collapsed. Her child wandered and found help, but the only words she could say were "hungry mother." Searchers eventually found Molly dead, at the base of the area's tallest mountain. That mountain is now Molly's Knob, and the lake's name memorializes her.
Hungry Mother Lake was constructed by the Civilian Conservation Corps (CCC), from 1933 to 1935. It was built atop the much smaller Lake Forest, a locally-owned social gathering place. Its dam is 600 feet long, 44 feet high, and 250 feet thick at its base. It is managed by Virginia's Department of Conservation and Recreation.
Fishing is very popular at Hungry Mother Lake. Anglers fish from boats, from the shoreline, or from a universally accessible fishing pier. They stalk trophy muskies, largemouth bass, spotted bass, smallmouth bass, walleyes (best in April, May and June at night), channel catfish, crappies, and sunfish. The channel cats, walleyes, and muskies are stocked.
Wildlife around the lake is typical for rural Virginia, including a few bear and the occasional bald eagle. Open hunting is permitted in season, for deer, bear, turkey, and small game.
Lodging in the park includes well-equipped cabins, yurts, and a "family lodge." Two campgrounds welcome tents and RVs, with full RV hookups, showers, internet access, and other amenities.
Hungry Mother State Park was one of the six original state parks in Virginia. All six were dedicated on the same day in 1937, and Hungry Mother was chosen as the main site for the statewide Dedication Day celebration. 5,000 attended.
Hungry Mother Lake is easily accessed, just a few miles off I-81. Groceries, camping supplies, restaurants, and other conveniences are just minutes away in Marion. The lake and surrounding park offer a quiet, friendly, mountain vacation spot to enjoy for a weekend or a week. Activities abound for singles, couples, or the entire family.
Things to do at Hungry Mother Lake
Vacation Rentals
Fishing
Boating
Swimming
Beach
Kayaking
Camping
Campground
Cabin Rentals
Hiking
Biking
Hunting
Wildlife Viewing
Birding
State Park
Fish species found at Hungry Mother Lake
Bass
Black Bass
Catfish
Channel Catfish
Crappie
Largemouth Bass
Smallmouth Bass
Spotted Bass
Sunfish
Walleye
---
Hungry Mother Lake Photo Gallery
Hungry Mother Lake Statistics & Helpful Links
Spread the word! Share our Hungry Mother Lake article with your fellow Lake Lubbers!