Palisades Reservoir, Idaho & Wyoming, USA
Lake Locations:
USA - West - Idaho - Eastern - Wyoming - Southwest -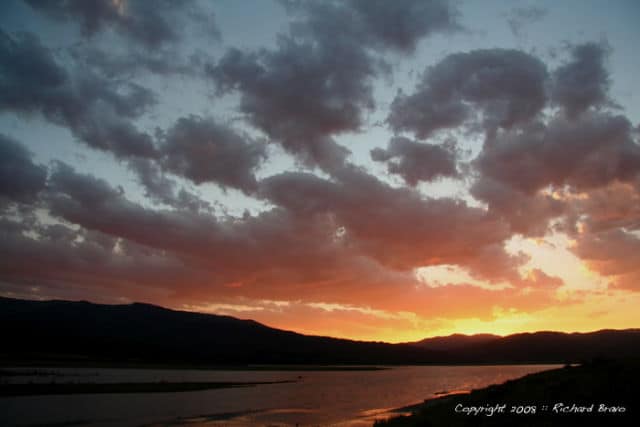 Palisades Reservoir is set in southeast Idaho, east of Idaho Falls in a beautiful river valley. The southern end of the reservoir extends into Wyoming, south of Yellowstone National Park. Hillsides covered with forests and topped with majestic mountains, provide gorgeous scenic vistas surrounding the reservoir. Palisades Reservoir's 70 miles of shoreline, followed by U.S. Highway 26, shows the excellent access for tourist's recreational use. Its wealth of outdoor recreational offerings for both summer and winter include water sports, camping, fishing, wildlife viewing and game hunting. Palisades Reservoir's relative close proximity to Wyoming's Yellowstone National Park environs make it an uncluttered ideal location to depart for a day's sightseeing and play.
Palisades Dam impounds the south fork of the Snake River to form the over 16,000 surface acres of Palisades Reservoir. The earth filled dam is owned and operated by the U.S. Bureau of Reclamation and was built for irrigation, hydroelectric power, flood control and recreation. Construction started in 1951 and was completed in 1957, with generating units online in 1958. Originally producing 176,600 kilowatts, power generation was upgraded in 1995 to produce a whopping 168 megawatts. Palisades Reservoir water is used for supplemental irrigation of 670,000 acres of Idaho farmland.
Palisades Reservoir provides a very diverse combination of outdoor recreation possibilities. A proliferation of campgrounds surround the reservoir including the Bureau of Reclamation's day use and campground below the dam, providing boat launching and fishing on the Snake River outlet. Attesting to the fine boating, there are two private boat clubs on the reservoir. Also, under lease from the Forest Service, a number of private cabins have been built. The Targhee National Forest Service administers recreational use of Palisades Reservoir.
The most significant sport fishing species in Palisades Reservoir are the kokonee salmon, mackinaw, cutthroat and brown trout with a year-round season. Most productive seasons are, spring, fall and winter ice fishing. Numerous boat-launching ramps provide anglers excellent access to the reservoir's fishing sites. For the geocachers among us, there are over 8 caches located in the area, all are very easy to find. Take that GPS receiver with you on your hikes, it certainly will add to your enjoyment!
All in all, Palisades Reservoir is truly a spectacular outdoor enthusiasts location, in a gorgeous scenic setting. A trip to Palisades Reservoir will add pages of treasured memories to your album.
Things to do at Palisades Reservoir
Vacation Rentals
Fishing
Ice Fishing
Boating
Camping
Campground
Cabin Rentals
Hiking
Hunting
Wildlife Viewing
National Park
National Forest
Fish species found at Palisades Reservoir
---
Palisades Reservoir Photo Gallery
Palisades Reservoir Statistics & Helpful Links
At LakeLubbers.com, we strive to keep our information as accurate and up-to-date as possible, but if you've found something in this article that needs updating, we'd certainly love to hear from you!
Please let us know about it on our Content Correction form.
Spread the word! Share our Palisades Reservoir article with your fellow Lake Lubbers!