Island Park Reservoir, Idaho, USA
Lake Locations:
USA - West - Idaho - Eastern -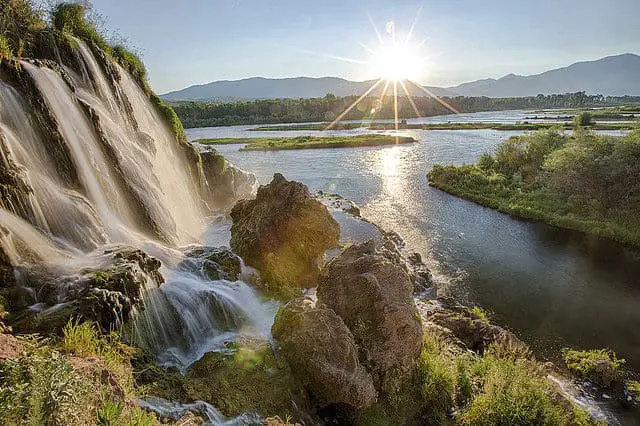 Just half an hour southwest of west Yellowstone, MT, Island Park Reservoir hosts a recreational paradise all its own. The roughly 7000-ace reservoir is formed by the dam built across Henry's Fork, a Snake River tributary. The dam, completed in 1939, allows for water storage to provide irrigation waters to the thirsty Snake River Plain.
As part of the massive Minidoka Project which includes the Minidoka Dam and power plant, Lake Wolcott, Jackson Lake Dam, American Falls Dam and Reservoir, Grassy Lake Dam, diversion dams, canals and nearly 200 water supply wells, Island Park Reservoir provides primarily water storage and recreation. Originally, a small hydropower plant provided electricity to workers building the dam and later to nearby resort properties. Although there has been some discussion of retrofitting the dam for power production, it isn't clear that this has yet been accomplished. The United States Bureau of Reclamation owns the dams and has overall control of the project. Island Park Reservoir lies within the Caribou-Targhee National Forest. The US Forest Service operates several campgrounds and boat ramps along the 64-mile shoreline.
After 75 years of existence, Island Park Reservoir has developed some fine recreational opportunities. Four major boat ramps provide boat access for water skiing, pleasure boating, tubing, sailing, windsurfing, jet skiing, kayaking, pontooning, canoeing and fishing. Although water levels fluctuate, one or two ramps are passable even during periods of low water. The community of Island Park has developed along the shore of the large island near the east end of the reservoir and along Henry's Fork, where many residents enjoy vacation homes and year-round living. Many of the upscale homes are available as short-term rentals. A few resort facilities are located near Island Park with cabins and lodge rooms. Some of these resort facilities also rent boats, pontoons and paddle craft. Most needed supplies can be purchased in Island Park.
Fishing is a big draw to Island Park Reservoir. The waters hold kokanee, whitefish, cutthroat trout, rainbow trout, coho salmon, bluegill and yellow perch. Although the best fishing is usually by boat, some limited shore fishing is available near the boat ramps. The creeks flowing into the reservoir are highly-productive trout streams. Ice fishing takes over in winter. Indeed, winter sports in the area are nearly as popular as summer activities, with the area holding nearly 500 miles of trails for snowmobiles and cross-country skiing. The area abuts other state and federal lands, and a wealth of trail systems allows for mountain biking, hiking and nature study.
Lands south of the reservoir are primarily located within the national forest, while those north of the reservoir are remote and sparsely populated. National forest campgrounds are spread along the southern shoreline, while a few year-round camping cabins are remotely located. In winter, these cabins can only be reached by snowmobile. The campgrounds usually have a small swimming area, and most are adjacent to boat ramps so campers can easily bring their boat with them. Dispersed primitive camping is permitted in some areas. Motels in the village of Island Park usually stay open most of the year to provide lodgings to winter sports enthusiasts.
Just a short distance downstream along Henry's Fork, Harriman State Park provides for camping and river fishing. There is a wealth of nature to observe within the 18,000-acre wildlife refuge designated here within the Greater Yellowstone Ecosystem. Both black bears and grizzly bears can be found in the area, along with elk, moose, sandhill cranes and trumpeter swans. The entire area surrounding Island Park Reservoir is a popular spot for outdoor recreation; guest ranches, rental cottage communities and small bed & breakfasts offer such amenities as horseback riding, guided fishing and whitewater rafting and back-country camping.
Island Park Reservoir occupies part of the world's largest collapsed volcanic caldera: 23 miles across, the ancient caldera is part of the same geophysical system that created nearby Yellowstone National Park a few miles to the east. The topography is similar, heavily forested with lodgepole pines and overlooked by several scenic peaks. Island Park Reservoir with its many campgrounds and lakeside lodging opportunities makes the ideal place to spend a family vacation that includes visiting Yellowstone on a day trip. National efforts to assign National Monument status to the reservoir and its surroundings have been met locally with strong resistance. Property owners and businesses fear interference in the form of additional restrictions on their use and enjoyment of their properties, with corresponding difficulties in conducting business as has been historically done here. It remains to be seen how the situation will be resolved.
National Forest Ranger Stations, including the one in Island Park near the dam, contain detailed maps of the many trails, campgrounds and other recreational venues in the area. A small fee is charged for some activities and for camping. All Idaho fishing regulations are in force as well as the occasional, special regulation for certain species to protect spawning fish. Because of the wild nature of the back country area, all campers are encouraged to secure all food supplies in bear-proof containers. Campfire regulations vary according to location and weather conditions. Not all campsites have electricity or potable water available, so it is best to consult National Forest Service maps and publications before planning your trip.
If Yellowstone National Park has been on your vacation radar but you dread the crowds and tight schedules, then Island Park Reservoir and its wide range of lodgings is for you. Whether you pack the tent, pull an RV, or opt for a full-service resort or vacation rental home, there are lodgings here for you.
* The only depth listed for Island Park Reservoir is the depth at the dam. We have used that as the maximum depth. Elevation may also change depending on water levels.
Things to do at Island Park Reservoir
Vacation Rentals
Fishing
Ice Fishing
Boating
Sailing
Swimming
Canoeing
Kayaking
Whitewater Rafting
Jet Skiing
Water Skiing
Tubing
Camping
Campground
Cabin Rentals
Hiking
Biking
Cross-Country Skiing
Snowmobiling
Horseback Riding
Wildlife Viewing
State Park
National Park
National Forest
Fish species found at Island Park Reservoir
Bluegill
Coho Salmon
Cutthroat Trout
Kokanee Salmon
Perch
Rainbow Trout
Salmon
Sunfish
Trout
Whitefish
Yellow Perch
---
Island Park Reservoir Photo Gallery
Island Park Reservoir Statistics & Helpful Links
At LakeLubbers.com, we strive to keep our information as accurate and up-to-date as possible, but if you've found something in this article that needs updating, we'd certainly love to hear from you!
Please let us know about it on our Content Correction form.
Spread the word! Share our Island Park Reservoir article with your fellow Lake Lubbers!