Lake Muskoka, Ontario, Canada
Lake Locations:
Also known as:  Muskoka Lake, Muskoka Lakes Region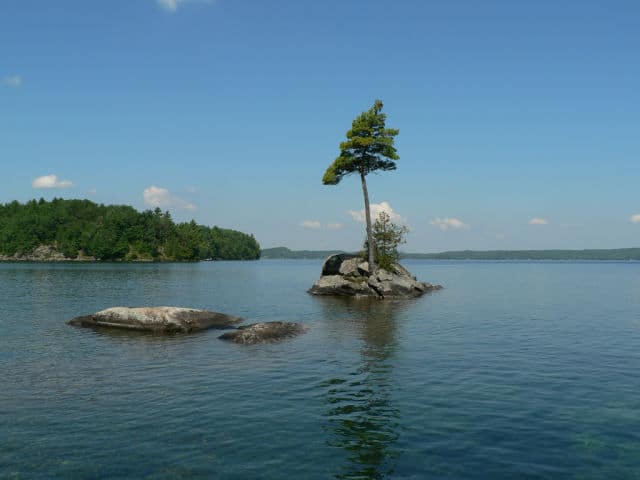 Lake Muskoka, located in Ontario's Muskoka Lakes Region, is one of Canada's most famous lakes. Actually a chain of lakes, Muskoka joins Lake Joseph and Lake Rosseau, along with several smaller lakes, to make up what Canada calls "Cottage Country." The chain of rocky-shored lakes contains many islands, bays, inlets and coves teeming with some of Canada's best fishing. Just two hours north of Toronto, Lake Muskoka is where many dream of spending their vacation, their summer or their retirement. Hollywood has made note of Lake Muskoka — some of the rich and famous who have had summer homes there are Eddie and Alex Van Halen, Goldie Hawn, Kurt Russell, Martin Short, Steven Spielberg and Tom Hanks. That doesn't mean that the shores of Lake Muskoka are off limits for others; for many years, the middle class has maintained summer homes on this scenic series of lakes.
The name Muskoka is thought to derive from the name of a Chippewa chief, Mesqua Ukee. Certainly the Lake Muskoka area was a favored fishing and hunting ground at the time of the first European explorations. Trappers visited the area sporadically from the 1700s. In 1868, the passage of the Free Grants and Homestead Act brought some settlement to Muskoka. Settlers could receive free land if they agreed to clear the land, have at least 15 acres under cultivation, and build a 16 by 20-foot house. It was soon found that the heavy clay soil didn't lend itself to farming, but logging activities discovered the region very quickly. Lack of reliable water transportation prevented full utilization of the forest logging reserves until the Ontario government opened the entire Muskoka lake system to navigation by installing locks in Port Carling and opened a cut between Lake Rosseau and Lake Joseph at Port Sanfield. By 1871, steamers had full access to the entire lakes region.
Logging quickly brought adventurous souls to Lake Muskoka who quickly capitalized on the demand for summer resorts. The first lake resort was opened in 1870 at the head of Lake Rosseau. When the railroad reached Gravenhurst in 1875, the area grew rapidly. By the turn of the century, resort visitors came to spend the entire summer along the rocky shores, including the wealthy Americans who inhabited Millionaires Row. As visitors began to build their own cottages, and with the advent of automobile transportation to the area, the large resort hotels gave way to cottages large and small. Still today, the area has far more residents in summer than in winter.
Fishing has always been a popular pastime at Lake Muskoka. Lake trout, rock bass, smallmouth bass, walleye, pickerel, northern pike, muskellunge and pan fish ( black crappie, pumpkinseed, bluegill and rock bass) mean there is a game fish to suit every angler's tackle and tastes. Guides are available in the area to help the new visiting fisherman identify the best spots for his favored prey. Tournament fishing events occur with regularity and ice fishing takes center stage in winter.
All types of water sports are enjoyed at Lake Muskoka. Canoes and kayaks glide across bays and hug the shoreline for fantastic bird and wildlife watching. Power boating, water skiing, jet-skiing, tubing, sailing, windsurfing, pontooning and peddle-boating allow every visitor to enjoy the lake at just the right speed. A self-operated lock at Port Carling allows access from the Indian River to Lake Joseph and Lake Rosseau. There are sandy bays and sheltered swimming areas to enjoy and hidden picnic spots in abundance in isolated spots along the shore. Sailing clubs on the three largest lakes offer sailing lessons for children and adults and hold races and regattas throughout the summer. And, for those who wish to cruise the lakes under professional captains, 19th century cruise ships provide boat tours much like resorters enjoyed a century ago.
Although Lake Muskoka visitors years ago often had to arrive by canoe and go for groceries by rowboat, roads have been built to access nearly all areas of settled shoreline. However, those residing on the main islands — Acton, Bala Park, Browning, Eilean Gowan and Tonderson — still reach the main shore by boat. These roads and the lanes leading off them provide excellent spaces for hiking, cross-country skiing, snowshoeing and mountain biking. An extensive series of trails has been developed by the Province of Ontario for these same uses in a natural setting where nature lovers can view deer, squirrel, rabbits and the occasional moose or black bear. The longest multi-use trail system in the world, the Trans-Canada Trail, passes right through the heart of Muskoka with sections in Gravenhurst and Bracebridge. The entire Muskoka area contains over 40 trail systems with 1600 lakes stretching from the Georgian Bay on Lake Huron to Algonquin Provincial Park.
Several towns border Lake Muskoka and its adjoining lakes. Both Gravenhurst and Bracebridge make excellent home base locations for south Lake Muskoka, while Port Carling embraces the lock area and acts as gateway to Lake Joseph and Lake Rosseau. Bala commands the western Bala Bay of Lake Muskoka near the outlet of Moon River, where two city-owned dams control lake levels. These dams formerly generate hydro power, though all are eager to accommodate visitors and have museums and local attractions to acquaint the tourist with area history and local lore.
Come to "Cottage Country," one of the most beautiful lake environments on the North American continent. All types of vacation rentals are available, from fishing resorts to bed-and-breakfast establishments, private cottages and luxurious lakeshore homes. The towns along the lake offer motels, condos and other lodgings. Real estate is available in this pristine wilderness setting, where moose come to the shore to drink and loons break the stillness of dusk. One visit is all it will take to convince you that Lake Muskoka is where you belong.
Things to do at Lake Muskoka
Vacation Rentals
Fishing
Ice Fishing
Boating
Sailing
Swimming
Canoeing
Kayaking
Jet Skiing
Water Skiing
Tubing
Picnicking
Hiking
Biking
Cross-Country Skiing
Snowshoeing
Hunting
Wildlife Viewing
Provincial Park
Museum
Fish species found at Lake Muskoka
Bass
Black Bass
Black Crappie
Bluegill
Crappie
Lake Trout
Muskellunge
Northern Pike
Perch
Pickerel
Pike
Pumpkinseed
Smallmouth Bass
Sunfish
Trout
Walleye
---
Lake Muskoka Photo Gallery
Lake Muskoka Statistics & Helpful Links
Spread the word! Share our Lake Muskoka article with your fellow Lake Lubbers!