Lake Simcoe, Ontario, Canada
Welcome to the ultimate guide for history, statistics, local fun facts and the best things to do at Lake Simcoe.
If you're considering Lake Simcoe vacation rentals, we've made it super easy to explore accommodations and nearby hotels using the interactive map below. Simply click on a listing to compare similar properties, best rates and availability for your dates. Or keep scrolling to read our Lake Simcoe guide!
Lake Simcoe visitor and community guide
Spectacular Lake Simcoe is one of the most visited vacation spots in Ontario's south-central region. Just over an hour north of Toronto, Lake Simcoe provides 287 square miles of water surface and 118 miles of shoreline, guaranteeing plenty of space for every type of water-based amusement visitors could want. The foundation of Canada's original 'cottage country,' Lake Simcoe has been drawing visitors since before European settlement.
The 183,800-acre lake was called Ouentironk ("Beautiful Water") by the Huron natives and was also referred to as Lake Toronto, an Iroquois word meaning gateway or pass. The lake was a major feature on an important portage running between Lake Ontario and Georgian Bay. The Toronto Carrying-Place Trail, and thus the lake, lent its name both to the eventual French fort on Lake Ontario and the future city of Toronto. Later, French traders referred to it as Lac aux Claies, meaning "Lake of Grids (or Trellises)" in reference to the Huron fishing weirs in the lake. John Graves Simcoe, the Lieutenant-Governor of Upper Canada in the late 18th century, renamed the lake in honor of his father. It's been Lake Simcoe ever since. The lake was once part of a much bigger lake basin known as Lake Algonquin that included all of Lake Huron, Lake Michigan, Lake Superior, Lake Nipigon, and Lake Nipissing. When ice dams melted at the close of the last glacial period, the lakes took their final separate forms. The lake has five main rivers, sixteen small creeks flowing into Lake Simcoe, and only one outlet: the Atherley Narrows to Lake Couchiching.
Lake Simcoe contains several islands, the largest of which is Georgiana, home to a First Nations Reserve. Smaller islands include Thorah (a cottage destination), Strawberry (a Basilican retreat), Snake, and Fox Islands. The area between the island of Georgiana and the main shore was at one time shallow enough to walk or drive wagons across. The construction of dams and locks while building the canal system raised the water level by several feet. Over 14,000 cottages dot the shoreline of Lake Simcoe. In summer, thousands of pleasure boats of all types ply its waters. Many will have sailed the Trent-Severn Waterway, a navigable system of lakes, rivers, canals and locks, to arrive here.
The Trent-Severn Waterway was begun in 1833 to facilitate transportation from Lake Ontario to Georgian Bay. The 240-mile waterway took 87 years to complete due to government inaction and delays. Two temporary railroad links were built to traverse incomplete sections. By the time the first boat could actually travel the full length of the waterway in 1920, the canal was built too small for modern barges and the railroads had replaced water travel in most areas. The completed Trent-Severn Waterway includes 44 locks, including 36 conventional locks, two sets of flight locks, hydraulic lift locks at Peterborough and Kirkfield, and a marine railway at Big Chute which transports boats between the upper and lower sections of the Severn River. The system also includes 39 swing bridges and 160 dams and control structures that manage the water levels for flood control and navigation on lakes and rivers. The canal system is maintained and operated by Parks Canada as a tourism feature catering exclusively to recreational boaters.
Ontario's fourth-largest water body, Lake Simcoe's popularity as a tourism destination is assured by three Provincial Parks and several smaller municipal parks along the shoreline. Sibbald Point, McRae Point and Mara Provincial Parks offer camping, swimming, fishing, boat launch, showers, biking and sandy beaches. Some also provide a park store and rental cabins. The larger parks are supplied with nature trails and hiking opportunities. Some areas are open for hunting in season. The lake is home to nearly 30 marinas; boats of all sizes are welcome. Visitors can engage in pontooning, paddle boating, water skiing, tubing, sail boarding and power boating. Sailing is a favorite on the large lake, and at least one yacht club calls Lake Simcoe home. Paddle fans especially enjoy canoeing and kayaking in the many coves and bays or around the islands. In winter, a form of snowboarding combined with windsurfing called 'snowfer' has become popular on Lake Simcoe. Some snowfer dealers provide free snowfering lessons. Considered something of an 'extreme sport', snowfering is exhilarating to participate in and exciting to watch.
Larger cities such as Barrie on the west bay and Orillia on the north at the mouth of the Atherley Narrows leading into Lake Couchiching have public dock facilities and plentiful attractions to please visitors. A casino operated by the First Nation Chippewa is located along the eastern shore. The smaller towns of Keswick and Innisfil on Cook's Bay are well-supplied with vacation rentals and amenities geared to vacationing tourists. In fact, all of the smaller villages around Lake Simcoe are prepared to cater to the most common type of lake visitor – the fisherman.
Lake Simcoe's fame as a fishing destination brings thousands of anglers every year. A great many arrive from the United States, usually in winter. Lake Simcoe is known as the "Ice Fishing Capital of North America" and for good reason: every winter sees thousands of ice fishing houses dotting the lake and many a fishing resort feeding a hearty breakfast to long-john-clad outdoorsmen before they head into the cold for a day of their favorite sport. Multiple ice fishing tournaments are held on the lake annually. Lake Simcoe is the largest Ontario lake to freeze completely over, making it a natural draw to fishermen seeking 'hard water'. Two to four thousand ice houses make up the Lake Simcoe ice village each year while fishermen vie for trophy yellow perch, lake trout, whitefish, pike and walleye. Many 'ice hut' operators rent their huts, rigs and amenities to visiting ice fishermen each year.
Lake Simcoe's fisheries provide four full seasons of sport fishing. Besides the species usually sought through the ice, black crappie, brown bullhead, burbot, bowfin, carp, pumpkinseed and bluegill sunfish, rock bass, white suckers and even rainbow smelt are willing to take the bait the rest of the year. Lake trout and whitefish have become rarer in most cold water fisheries in recent years, partly due to the growth of invasive species of fish and partly because of changes in water quality. Lake Simcoe is regularly stocked with lake trout in hopes that the natural fishery will eventually recover. Several groups have enlisted the assistance of the Canadian government in solving water quality problems and appear to be making much progress in eradicating pollution sources and invasive plant species. It is expected that Lake Simcoe will eventually be returned to full health at some future time.
Only 60 miles north of Toronto, Lake Simcoe is an easy trek for a weekend getaway. Vacation rentals are plentiful in the area, many with lake frontage or lake views. All types of vacation lodgings are available, from private cottages to resorts to bed-and-breakfasts to hotel suites, condos and townhouses. Real estate is available in the area both immediately on the lake and within close proximity. Since Lake Simcoe provides four seasons of fun, there is never a bad time to visit the huge lake. And, if you're a pleasure boater, a trip through the Trent–Severn Waterway will make for a memorable summer vacation. So, follow the ancient Toronto Carrying-Place Trail to Lake Simcoe. You may discover your own 'cottage-country' place to call your own.
Custom Lake Simcoe house decor
Read our full review of these personalized lake house signs.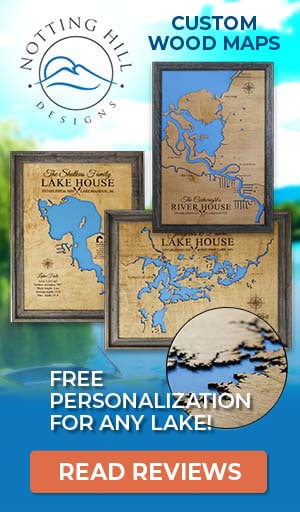 Things to do at Lake Simcoe
Vacation Rentals
Fishing
Fishing Tournaments
Ice Fishing
Boating
Sailing
Swimming
Beach
Canoeing
Kayaking
Water Skiing
Tubing
Camping
Cabin Rentals
Hiking
Biking
Snowboarding
Hunting
Provincial Park
Casino Gambling
Fish species found at Lake Simcoe
Bass
Black Crappie
Bluegill
Bowfin
Brown Bullhead
Burbot
Carp
Crappie
Lake Trout
Perch
Pike
Pumpkinseed
Smelt
Sucker
Sunfish
Trout
Walleye
Whitefish
Yellow Perch
---
Best hotels and vacation rentals at Lake Simcoe
The Lake Simcoe map shown above is a simple and stress-free way to search for trip accommodations. But if you want to take a deeper dive to find the ideal waterfront home, cabin, condo, hotel or resort, visit our favorite lodging partners by clicking the buttons below.
Note: These are affiliate links so we may earn a small commission if you book through them. While there is no extra cost to you, it helps provide resources to keep our site running (thank you)! You can read our full disclosure policy here.
---
Lake Simcoe photo gallery
New photos coming soon!
Lake Simcoe statistics & helpful links
We strive to keep the information on LakeLubbers as accurate as possible. However, if you've found something in this article that needs updating, we'd certainly love to hear from you! Please fill out our Content Correction form.
Advertise your Lake Simcoe vacation rental
LakeLubbers will soon offer homeowners and property managers the opportunity to to showcase their vacation rentals to the thousands of lake lovers searching our site daily for accommodations. If you'd like additional details, please contact our advertising team here.
Looking for the Lake Simcoe forum?
LakeLubbers previously offered visitors the ability to create accounts and participate in lake forums. When we overhauled the site's content management system in 2021 we had to disable those features. We're evaluating options and welcome your comments and feedback here.
We also encourage you to join our lake-lovin' community on Facebook and Instagram!
Spread the word! Share our Lake Simcoe article with your fellow Lake Lubbers!