Lucky Peak Lake, Idaho, USA
Lake Locations:
USA - West - Idaho - Southwestern -
Also known as:  Lucky Peak Reservoir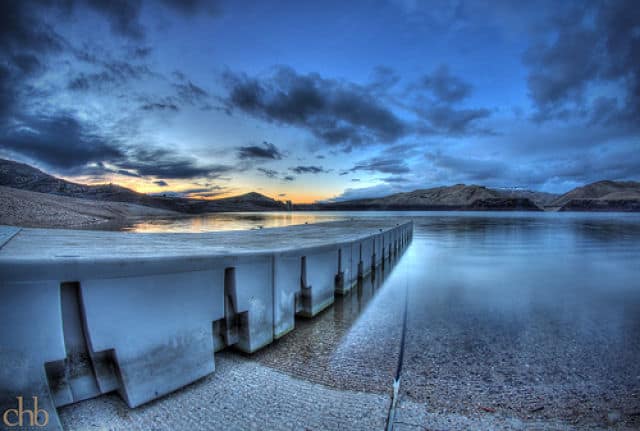 Home of Idaho's most visited state park, Lucky Peak Lake (sometimes called Lucky Peak Reservoir) covers over 3,000 acres just outside of the capital city of Boise in southwestern Idaho. The last reservoir built in a series of three reservoirs along the Boise River, Lucky Peak Lake provides flood control and irrigation for area residents. Hydroelectric power generation is a recent addition to this mufti-functional man-made lake, with most of the power generated being provided to the utility company that serves Seattle, WA. Close enough to the city of Boise for the local Greenway to reach the dam, Lucky Peak Lake offers all types of recreational activities. Whether it be swimming, boating, fishing, hiking or camping, room for these activities is found on the 4,288 acres of public land circling the shore of the reservoir.
Located immediately downstream from Arrowrock Dam, Lucky Peak Lake stretches 12 miles along the canyon to the dam. Responsibility for the public recreation areas is shared between the State of Idaho and the Army Corps of Engineers. Both have separate areas with separate roles to play in hosting over a million visitors a year. The Lucky Peak State Park provides three separate day-use areas serving the desires of diverse groups of visitors: Sandy Point, at the base of Lucky Peak Dam is most popular with swimmers. Here, sandy beaches offer excellent swimming and beach volleyball areas along with picnic areas with grills and a nearby snack stand. Farther down the river, Discovery Park is a popular roadside park for picnics, with walking trails, picnic shelters and riverbank fishing. Most popular among boaters is the unit called Spring Shores. Occupying a spot halfway down the lakeshore on the north side, Spring Shores offers boat launch ramps, a full marina and seasonal boat slips along with a convenience store. The state-owned marina is the main destination of water sports fans who come to water ski, windsurf, engage in tubing, canoeing, kayaking and jet skiing. The marina rents boats and jet skis. Sailing fans also use Lucky Peak Lake for their regular sailing get-togethers.
Fishing is a favorite at Lucky Peak Lake: kokanee, rainbow trout and cutthroat trout are all caught, along with other species. Bull trout are also present but are protected and must be immediately returned to the water if caught. All boats must have proper registration including the Idaho Invasive Species sticker. Some ice fishing occurs along the shallower shoreline and inflowing creeks in winter, but the moving river underneath doesn't allow a full safe ice cover to form. Although the state park is day-use only, primitive camping is permitted in the Army Corps of Engineers-controlled Lucky Peak Recreation Area spanning nearly the entire shoreline. A total of 20 access areas, some with campsites and boat ramps are maintained by the Corps. Some of these camping areas are best accessed by boat and are popular for kayak and canoe camping.
Miles of trails cross the entire area, providing access to hikers in the non-motorized sections and off-road vehicles on specified trails. The trails are also heavily used in winter for cross-country skiing and snowmobiling. Some areas are available for hunting in season as a variety of large game animals inhabit the area. Both mule deer and elk cross the reservoir area during their yearly migration, making Lucky Peak Lake a common site for game research. The lake lies within the Idaho Department of Fish and Game's Boise River Wildlife Management Area, the major game range in the state. The State of Idaho has developed wildlife habitat especially for mule deer on Lucky Peak lands. Immediately upstream, Arrowrock Reservoir is also surrounded by a huge amount of public land, so the entire area becomes an ideal spot for birding, wildlife watching and nature photography.
Only ten miles from downtown Boise, Lucky Peak Lake is one of city residents' favorite destinations. Although there is no private property along the lakeshore, a number of commercial lodgings hold prominent spots near the main road between city and reservoir. One of Boise's most famous active sports events, the Ironman 70.3 Boise Triathlon, incorporates a swim in chilly Lucky Peak Reservoir as part of the annual race. The surrounding mountains of the Boise National Forest attract hikers and wilderness lovers year-round. There is downhill skiing, snowboarding and sledding nearby, making a wide variety of sports available to both residents and visitors. The area is a favored place for isolated mountain cabins and rustic lodges; usually one can be found to provide lodgings for a weekend or a week. Boise itself offers a number of cultural venues to make sure visitors are never bored. Arts museums, historical sites and modern shopping and nightlife assure very member of the family will find something to their liking. The 'Treasure Valley' has a rich history of mining which can be explored via both mine tours and a vintage steam train. Thoroughly-modern Boise bridges the past and the future, with vast irrigated fields abutting both the mountain foothills and the edges of the city itself.
Lucky Peak Lake is well-known locally, less so outside of Idaho. This majestic destination shouldn't remain a local secret. Come in the spring to view the amazing 'rooster tail' plume of water emitted from the reservoir when the gates are opened in the spring. Stay to admire the wildflowers, nesting birds and foraging wildlife. Fish, hunt, camp and sail. Lucky Peak Lake has it all – in every season. Hope you can visit soon!
Things to do at Lucky Peak Lake
Vacation Rentals
Fishing
Ice Fishing
Boating
Sailing
Swimming
Beach
Canoeing
Kayaking
Jet Skiing
Water Skiing
Tubing
Camping
Picnicking
Cabin Rentals
Hiking
Downhill Skiing
Snowboarding
Cross-Country Skiing
Snowmobiling
Hunting
Wildlife Viewing
Birding
State Park
National Forest
Museum
Shopping
Fish species found at Lucky Peak Lake
Bull Trout
Cutthroat Trout
Kokanee Salmon
Rainbow Trout
Trout
---
Lucky Peak Lake Photo Gallery
Lucky Peak Lake Statistics & Helpful Links
Spread the word! Share our Lucky Peak Lake article with your fellow Lake Lubbers!