Hells Canyon Reservoirs, Idaho & Oregon, USA
Also known as:  Brownlee Reservoir, Oxbow Reservoir, Hells Canyon Reservoir
Welcome to the ultimate guide for history, statistics, local fun facts and the best things to do at Hells Canyon Reservoirs.
If you're considering Hells Canyon Reservoirs vacation rentals, we've made it super easy to explore accommodations and nearby hotels using the interactive map below. Simply click on a listing to compare similar properties, best rates and availability for your dates. Or keep scrolling to read our Hells Canyon Reservoirs guide!
Hells Canyon Reservoirs visitor and community guide
The three Hells Canyon Reservoirs are one of southwest Idaho's most scenic locations. Idaho can't claim this national treasure alone, however as it shares this Snake River canyon with eastern Oregon; in fact, it marks the border between the two states. There is plenty of recreation to go around, however. Hells Canyon itself is the deepest gorge in North America – a full mile and a half below the surrounding mountains. Idaho Power Company has constructed three reservoirs along the Snake River in this area to provide hydroelectric power, irrigation and water supply to a wide range of customers. Increasingly, water levels are managed for optimal fish and wildlife habitat. The reservoirs aren't built within the depths of the gorge, however. They capture the mighty Snake River just before it reaches its most majestic masterpiece – Hells Canyon Gorge.
Brownlee Reservoir, built in 1959, was the first and the largest of these reservoirs. With 15,00 acres and reaching nearly 300 feet in depth, Brownlee is the most popular fishing hole in the state. Native and stocked fish include rainbow trout, perch, crappie, catfish, sturgeon, pumpkinseed, bullhead and sunfish. Fishermen here are overjoyed to catch the occasional prehistoric-looking sturgeon, which can reach several feet in length. Brownlee Reservoir is known for having the best smallmouth fishing of the three. Crappie are abundant, and there is no creel limit.
Because Brownlee Reservoir's flow controls water levels at both Oxbow Reservoir and Hells Canyon Reservoir, it is considered the main reservoir in the system. Water levels vary considerably depending on season and water needs. Brownlee covers 58 miles of river and has a shoreline of 193 miles – long, narrow and massive. Oregon's Farewell Bend State Park takes advantage of a bend in the reservoir to provide camping, boat docks and nature trails. Because the surrounding mountains leave little flat land along the shoreline, most fishing is done from boats. Other boat ramps and camping areas exist along the Oregon side, such as a camping area and launch along the Powder River Arm of the reservoir near Richland. On the Idaho side, visitors can access the reservoir at Steck Park where the Bureau of Land Management runs a campground and boat launch.
Oxbow Reservoir lies downstream to the north. Here 1,150 acres of water cover 12 miles of the Snake River. Water conditions at Oxbow rely heavily on what is happening at the Brownlee Reservoir. Visitors enjoy excellent fishing much of the year at Oxbow Reservoir. Here the reservoir is narrow, and fishing is the favored activity. Several campgrounds and boat launch sites are provided: McCormick Park campground and boat launch is located below Brownlee Dam on the Idaho side, with more camping and more boat ramps located at Copperfield Park, just below the Oxbow Dam. More access points are found on the Oregon side of the reservoir. Again, the steep-sided reservoir has little level shoreline, so most fishing occurs from boats. Idaho Power maintains a fish hatchery here to provide fish for stocking all three reservoirs.
Hells Canyon Reservoir is the last, and farthest north, of the three Hells Canyon reservoirs. With 2,412 acres of water stretched along 25 miles of the Snake River, Hells Canyon Reservoir is more narrow and shallower than the other two: here the water only reaches a depth of 81 feet at full pool. The Oregon side of the reservoir is a part of the Hells Canyon Wilderness where no motorized vehicles are allowed. RV campsites are provided on the Idaho side at Hells Canyon Park, where boat launch facilities, an RV dump and picnic areas are provided. A full 50 miles of hiking trails can be accessed from Hells Canyon Reservoir – a good introduction to the rest of the Hells Canyon National Recreation Area downstream. The Hells Canyon Creek Information Station, at the dam, is open to visitors during the summer months. On the Idaho side, Snake River Road winds along the edge of the reservoir, providing great views of the river.
Local guides and outfitters offer guided fishing trips and jet boat tours of the reservoirs and the rapids within the canyon. The Hells Canyon National Recreation Area holds 652,488 acres and a wealth of wildlife including black bear, mountain lion, white-tailed deer, mule deer, Rocky Mountain elk, Rocky Mountain bighorn sheep, mountain goats, pronghorn antelope and a few shiras moose. Many species of birds are attracted to the water, with the mud flats exposed during low water. For birders, Idaho Power provides a birding guide to help identify all of the species and describes their habitat. Many of these species can be seen from the Hells Canyon Reservoirs. Portions of the recreation area are open for hunting in season, with appropriate licenses. All types of outdoor adventures await visitors to Hells Canyon Recreation Area, where horseback riding and hiking carry the day, and whitewater rafting carries the river!
The Snake River is an important tributary to the Columbia River. From its headwaters in Yellowstone National Park, the Snake meanders across six states on its trek to the Columbia. Its most spectacular section is the Hells Canyon Gorge, where the river tumbles through the deep canyon surrounded by sagebrush and overlooked by spectacular mountain peaks and remote wilderness. Native American tribes once lived here, sheltered from the harsh winters of the surrounding high plateau. Pictographs and petroglyphs attest to their passing: local guided tours lead visitors to view these ancient works of art. Eventually, European settlers attempted both mining and farming along the river banks, with little success. A few ranchers still graze livestock here, but the surrounding area remains wild and unspoiled. The Wallowa-Whitman National Forest abuts the Recreation Area and provides hundreds of miles for hiking, wildlife viewing, horseback riding and refreshing solitude. New visitor needn't feel overwhelmed by the choices however; a number of facilities offer lodging, meals and guided rafting and canyon tours of various lengths and degrees of difficulty.
Several forms of lodgings are available near the Hells Canyon Reservoirs and the gorge. Besides conventional hotels and motels near the larger towns, many guest ranches and lodges exist, as does the occasional bed-and-breakfast. Although real estate on the reservoirs themselves is unlikely to be found, there are often existing homes or buildable lots available on the tributary creeks and rivers. Whether it is white water rafting, jet boat tours, fishing or hiking the many trails, something at the Hells Canyon Reservoirs appeals to just about everyone. A visit to the Hells Canyon Reservoirs is the destination of a lifetime. Come see this natural wonder and take plenty of photographs!
*Statistics shown are for Brownlee Reservoir.
Custom Hells Canyon Reservoirs house decor
Read our full review of these personalized lake house signs.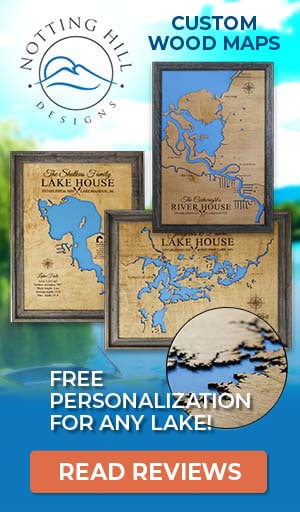 Things to do at Hells Canyon Reservoirs
Vacation Rentals
Fishing
Boating
Whitewater Rafting
Camping
Campground
Picnicking
Hiking
Horseback Riding
Hunting
Wildlife Viewing
Birding
State Park
National Park
National Forest
Fish species found at Hells Canyon Reservoirs
Catfish
Crappie
Perch
Pumpkinseed
Rainbow Trout
Sturgeon
Sunfish
Trout
---
Best hotels and vacation rentals at Hells Canyon Reservoirs
The Hells Canyon Reservoirs map shown above is a simple and stress-free way to search for trip accommodations. But if you want to take a deeper dive to find the ideal waterfront home, cabin, condo, hotel or resort, visit our favorite lodging partners by clicking the buttons below.
Note: These are affiliate links so we may earn a small commission if you book through them. While there is no extra cost to you, it helps provide resources to keep our site running (thank you)! You can read our full disclosure policy here.
---
Hells Canyon Reservoirs photo gallery
New photos coming soon!
Hells Canyon Reservoirs statistics & helpful links
We strive to keep the information on LakeLubbers as accurate as possible. However, if you've found something in this article that needs updating, we'd certainly love to hear from you! Please fill out our Content Correction form.
Advertise your Hells Canyon Reservoirs vacation rental
LakeLubbers will soon offer homeowners and property managers the opportunity to to showcase their vacation rentals to the thousands of lake lovers searching our site daily for accommodations. If you'd like additional details, please contact our advertising team here.
Looking for the Hells Canyon Reservoirs forum?
LakeLubbers previously offered visitors the ability to create accounts and participate in lake forums. When we overhauled the site's content management system in 2021 we had to disable those features. We're evaluating options and welcome your comments and feedback here.
We also encourage you to join our lake-lovin' community on Facebook and Instagram!
Spread the word! Share our Hells Canyon Reservoirs article with your fellow Lake Lubbers!